Giving USA: The Annual Report on Philanthropy is a leading annual provider of US charitable giving data. The 2014 report shows promising data for the nonprofit sector.
Here are a few key findings from the report:
---
• Total giving by American individuals, foundations, estates and corporations rose 4.4% to $335.17 billion in 2013.
• Giving by individuals comprised 72% of total giving in 2013.
• Total giving rose for the fourth consecutive year in 2013.
• All subsectors experienced a growth in online giving; 6 out of 9 subsectors saw double-digit increase.
• Most subsectors saw a greater increase in online fundraising receipts, compared with overall giving.
---
Charitable Giving Jumps to New Heights
In general, the report bears good news for the entire charitable sector; overall giving continues to climb for the fourth year in a row. The single largest driver of this increase was the growth of individual giving, which generated an additional $9.69 billion over 2012.
Evidently, individual donors are becoming increasingly more confident in giving to worthy causes. In fact, the report finds that the rise in gifts made by individuals exceeded the growth in Gross Domestic Product (GDP) of the last two years. That means the growth of charitable giving may be outpacing the growth of the economy, overall.
Online Giving and Engagement Continue to Rise
Unsurprisingly, online fundraising continues to rise at a rapid pace. Total online giving grew 13.5% in 2013, making it more urgent than ever for nonprofits to elevate and enhance their web presence.
An optimized digital presence is crucial for capturing donors and driving them to action. A 2013 study conducted by Google, which analyzed donor behavior in line with the organizations they ultimately donate to, found that as donors research and select which nonprofits to give to, their decisions are heavily influenced by how an organization engages with them online.
Rather than turning to traditional resources, 75% of donors go online to research nonprofits. 80% of respondents said online videos were helpful during the research process, and 57% of donors gave after seeing an online video.
These findings align with nonprofit marketing trends that highlight video as an effective online engagement tool. This is no surprise. Video is a powerful visual storytelling device that can connect supporters to an organization's mission, invoke an emotional response and motivate them to take action. As nonprofits look to enhance their digital presence, they would do well to consider implementing video into their website and online communications.
Generational Giving: Millennials
The report also highlights a strong online presence as an incredibly important way to engage the young Millennial generation. Nearly half of this 80-million member generation (47%) donated online in the last 2 years.
But Millennials want to do more than simply give money to worthy causes. According to a study conducted by the Dorothy A. Johnson Center for Philanthropy and a multi-generational philanthropic advising firm, young donors want to build close relationships with nonprofits that extend beyond donations; they want to have more active, integral roles and involve their peers.
This finding is in line with the rising popularity of peer-to-peer fundraising. A large part of peer-to-peer's appeal is that it allows supporters to individualize their connection to a cause and directly impact an organization's progress. At the same time, they become a part of a larger community working to achieve a common goal. And by turning donors into fundraisers, organizations can reap incredible fundraising benefits that allow them to reach a lot more people and increase donations in a short amount of time.
Overall, the collective data indicates promising growth for the nonprofit sector, especially in the digital realm. By optimizing their online presence and engagement strategies, nonprofit organizations can capitalize on these favorable giving trends and maximize donor engagement.
---
Have an Idea for a Fundraising Campaign?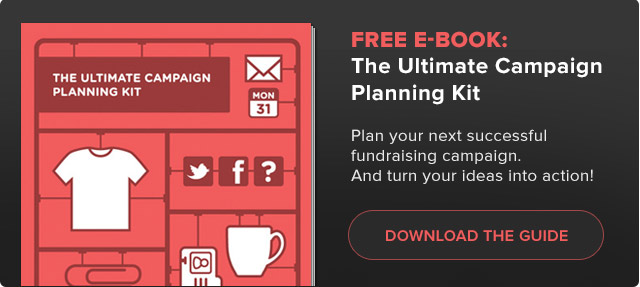 ---
Image Credit:
SumAll