What is Marketing Automation?
Marketing automation is a way to simplify your inbound marketing efforts by using software to plan and execute email campaigns, manage content, schedule social media posts and manage contacts.
Usually, marketing automation software includes the more familiar content management system (CMS), a platform through which you can build your website, add new content, and modify existing content. An important benefit is that a CMS has a user interface that lets you work on your site without needing a coding expert. That doesn't mean all CMS are totally intuitive; many platforms incorporate HTML or other programming languages. If you want to maintain and manage a site while seamlessly incorporating email, social media and analytics without a ton of hassle, marketing automation software can be a valuable option.
In this blog we will go over some of the major online marketing trends that marketing automation software, including a CMS, can help you tap into. While you can probably succeed in these areas without a platform, software like HubSpot or Marketo (among many other options) can centralize and simplify your marketing. This makes it easier to customize and update your website, blog, manage your social media accounts, segment and email donors and track tons of metrics to help you improve your marketing practices or grow traffic over time.
Consistent Content
Online marketing is increasingly driven by the production and distribution of helpful, interesting content (blogs, videos, pictures, infographics etc.). This is a great fit for nonprofits, for example, because donors want impact stories.
Blogging is a popular way to reach your supporters and your marketing automation software's CMS makes it easier than ever to design, post to, and edit your blog. Many of these platforms even come with templates that you can personalize with your brand and imagery. Writing a compelling blog post can be a challenge in itself, you don't need a complicated process to get it online. The right CMS can make the transition from Word document to webpage quick and painless.
To maximize the reach and impact of your blog, however, you need to track how you're doing. Marketing automation software can tell you how many visits each page receives and where these visitors are coming from (organic search, inbound links, social media etc.). Using your software's CMS not only makes the process of adding to your blog simple, it also gives you the tools to see what content performs best. Once you get an idea of what content gets your community's attention, you gain more insight for planning future posts.
Social Media Marketing
A key component to content marketing is reaching audiences through social media. Americans who use social networks spend an average of over 3 hours a day on these platforms.
If your organization doesn't have strong social media presence, you're missing out. As we mentioned above, a CMS allows you to build social sharing and follow buttons onto your website. But many marketing automation platforms also allow you to write, schedule, and publish posts on Twitter, Facebook, and many other networks.
Just like with your blog, the software tracks the engagement with your posts. With information on all your different networks you can identify which ones are most worth your time.
Staying on Top of SEO
With Search Engine Optimization, the constant shifts in ranking and algorithms mean you have to continually adapt to stay visible. One way to improve your SEO is by frequently updating and adding to your site, which can be easy to do with software.
Many marketing automation options have tools to optimize other SEO factors. They can suggest new keywords and show where you land in current searches. HubSpot even has a checklist to make sure you cover all your SEO bases. It incorporates titles, headers, and meta-descriptions, all of which you can edit through the platform.
You can use your marketing automation software to track inbound links and other off-page SEO factors. Because all your content (across your website, blog, and social media) is in one place, you can make the small, thoughtful changes that will help every piece of content reach more people.
Creating Email Campaigns
We all know how important email appeals and campaigns are to a nonprofit organization. They support your efforts both year-round and during time-based campaigns. This is where a marketing automation system can really save you time and effort, as well as provide you valuable insights to how engaged email recipients are to your appeals.
Marketing automation software allows you to create professional, branded emails, usually without any special coding knowledge. (Many even provide customizable templates, so you never have to start from scratch). Most importantly, you aren't limited to just one email for your entire list of contacts. Target specific lists of people with unique messaging that will be most effective for that group.
For example, you might create a series of messages for an upcoming fundraising campaign to nurture those contacts who aren't yet ready to donate. Afterwards, review metrics on your open and click rates from the platform and use those data to create a list of contacts that seem more interested in your cause than the others (i.e. those who both opened and clicked through the email). During your next campaign, you might send that new list of contacts a donation appeal. Just like with blogs and social media, marketing automation software can help with nearly every step of an email campaign.
Some Tips on Choosing Marketing Automation Software for Your Nonprofit
As you can see, there are many benefits to adopting a marketing automation system. These platforms are uniquely suited to help you adapt and thrive in the fast-paced world of online marketing. But with so many different options available, you should put some thought into what kind of system will be best for your nonprofit.
Earlier this year, StayClassy asked Monika McMahon of Heller Consulting, a consulting firm that helps nonprofit organizations, for some pointers on choosing and implementing a Content Management System. While content management is usually just one part of a marketing automation software, these questions and pointers still apply. In brief, here is some advice:
• Ask "what do you really need your website to do?"
• Set goals and track measurable results
• Seek help from a consultant or expert
• Make sure the system complements and serves your organization's overall technology plan.

You can read the full post here.
Along with the details of cost, security, and customization options, your choice of marketing automation software will depend on the overall marketing strategy of your organization and the technical skills of your staff. Whatever you choose, you stand to gain a lot by managing your content creation and process in one place!
---
Want Funding, Year-Round? Power It With Inbound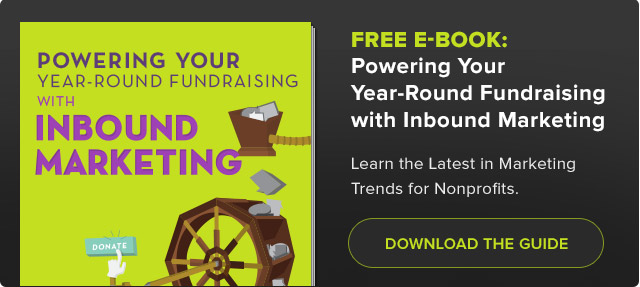 ---
Image Credit:
Flickr User Creative_Tools