Social Media for Nonprofits: Building Online Communities
Reading Time:
3
minutes
For years now, you've heard the buzz about the wonders social media can do for nonprofits and their causes. Yet, despite joining Facebook and Twitter and every other hot social network, you're not seeing the results promised.
Your efforts on social media will fall short if you think it's as easy as talking about the work your organization does and asking for donations.
To inspire and move people to join your organization, you have to build community online. Building online communities is what nonprofits who are excelling at social media have in common.
What is community?
A community is a group of people united around a common set of beliefs, interests, and/or goals. Your nonprofit's community is made up of the people who believe in your cause and are willing to join you in the fulfillment of your mission. Your community is made up of your donor, volunteers, staff, board members, and those you serve.
Nowadays, many of those people are online and social media is a great tool to reach them and unite them. Building community is all about building relationships and identifying common passions.
Here is a great example by the Malala Fund, which recently ran a campaign that rallied supporters to announce what they were #strongerthan leading up to Malala's birthday on July 14. The campaign generated a huge response and massive participation across social channels, especially on Twitter.
Have you seen this incredible video about #MalalaDay ? This is a story of strength. What are you #StrongerThan?

— Shiza Shahid (@Shiza) July 8, 2014

How to build online community
Start by recognizing what resonates with the supporters you already have. Find online articles, videos, infographics, or other content that captures what your supporters like. Use social media to share that content. Remember, the beauty of social media is that if something you post doesn't garner the response you were looking for, you can try again until you find what works.
Be aware of how your community responds to what you're sharing. Are they retweeting, liking, or commenting on what you're sharing? Are they expressing disagreement or displeasure? Listen to their responses and respond accordingly. Listening to both the good and bad will help you refine your social strategy.
Additionally, pay attention to what your online community is talking about and sharing to learn more about them. The more insight you have into who the members of your online community are, the better you can craft messaging and content that will resonate with them.
Team Rubicon, an emergency response organization made up of military veterans, celebrates their volunteers on social media. This gets a huge response from their digital online community because it demonstrates an understanding and care for their audience and supporters.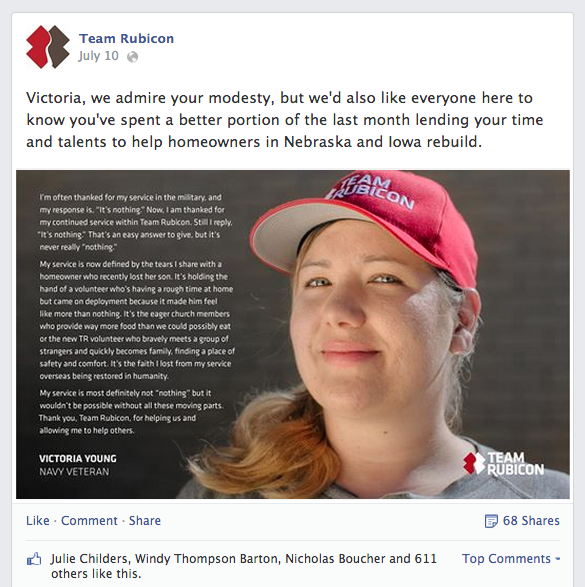 Make time to recognize your online community members to really make them feel like they are welcome, appreciated, and part of something larger than all of you. Shine a spotlight on their contributions to your shared cause, whether they've volunteered, donated or blogged about their experiences your organization.
You can also ask them to contribute by sharing their photos, authoring a guest blog on your site, or sharing their story in your organization newsletter. Giving your community members a role as contributors gives them a sense of belonging and responsibility to your shared cause.
Leverage your online community's strength
Building online community takes time but with a thoughtful approach and effort, you will have the support needed to accomplish your organization's goals online. If you've built real and meaningful relationships online, then you can count on your community to serve as online advocates and amplify your message.
---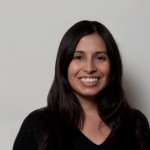 Susan Chavez works with nonprofits to build communities in support of their causes using online and social media tools. Check out her blog and follow her on Twitter @Susan_Chavez.
---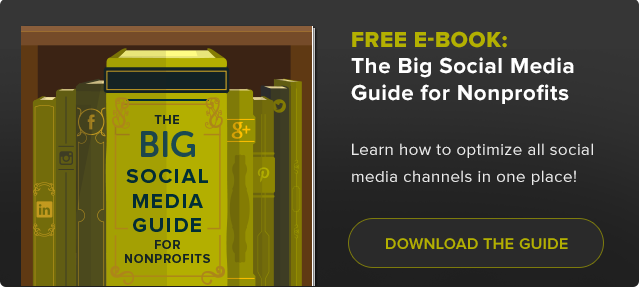 Subscribe to the Classy Blog
Get the latest fundraising tips, trends, and ideas in your inbox.
Thank you for subscribing
You signed up for emails from Classy