Start a Content Calendar to Improve Donor Communication
Reading Time:
3
minutes
Did you know that 60 to 70 percent of first time donors don't donate again? And, 53 percent of supporters that leave an organization do so because of ineffective donor communication? However, these losses can be avoided if your organization puts some thought into coordinating your content creation.
First, how do you improve donor communication?
Remember that being part of an organization or movement is a very personal choice. People donate, fundraise and volunteer because they've adopted and adapted your organization's story as their own. So, they'll naturally want to know and understand how their place in your story is evolving.
Diversify your content portfolio to help current donors find their place among the greater context of your mission and core values and deepen their level of engagement with your organization. Organizations looking to grow their supporter base digitally will be empowered to convert a first-touch into a supporter by building trust through consistent messaging.
Much like different people learn in different ways, supporters won't all gain an understanding of, or connect with, your organization equally. Therefore, by coordinating a variety of content you'll be allowing people to increase their understanding of your organization in whatever way is most effective for them personally.
So, to improve your donor communication with supporters, you need to create great, streamlined content that provides them with the kind of consistent messaging that drives trust.
What makes great content?
Great content is captivating, motivating, and improves a donor's personal connection to your organization. Keep your mission and core values at the center of everything you do, and site visitors are sure to see the "true you" shine through.
Take this example from buildOn, an organization that aims to break the cycle of poverty through education.
From videos to blog posts to e-mails, they drive a consistent message about who they are: they "build" hope.
Building hope through video.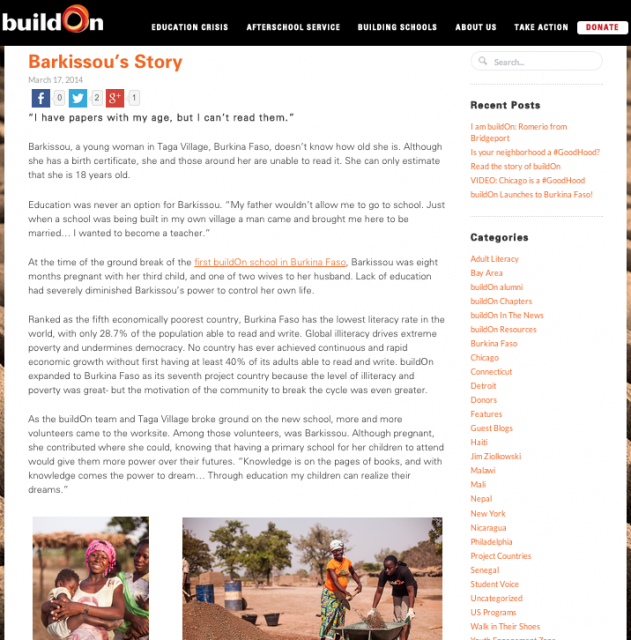 Building hope for a new generation.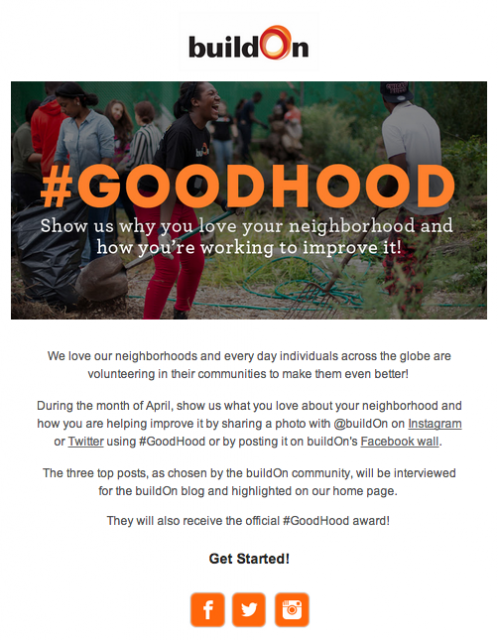 How are
you
building hope?
Through this consistency and coordination, your organization is demonstrating the kind of focus and passion that builds trust.
Maintaining a content calendar that tracks parallel fundraising campaigns, reports and white papers, e-mail campaigns, holidays and special events will help you think about and create consistency.
How to get started with a content calendar
Gain an understanding of your organization's donor lifecycle. How are people finding your organization? What channels or topics might you want to improve on?
Look at a calendar. What campaigns do you have coming up? What holidays or social media chatter might you be able to take advantage of to generate some buzz for your content at those times?
Evaluate your resources. Who will be heading the content marketing program? What native resources do you have to cultivate new content from (e.g. Do you have a dedicated writer? Do you have a field photographer? A videographer?)
Write it down. Create a spreadsheet that will help you track, plan and evaluate everything you'll be publishing. Make sure to include a column for parallel or associated campaigns, donor personas, due dates and accompanying media.
Track your results. Start paying attention to what types of content get the best engagement. For example, you can evaluate performance on social media channels through shares, in e-mail through click-through rates and, if you have a tool like HubSpot, on your blog through a post's conversion assists. You'll then be able to optimize the kind of content you put out and categorize them based on who you're trying to reach and for what reason (e.g. first interaction with your organization versus current donors and supporters)
---
Communications Strategy Guide for Nonprofits
Subscribe to the Classy Blog
Get the latest fundraising tips, trends, and ideas in your inbox.
Thank you for subscribing
You signed up for emails from Classy