The Best Times To Post To Social Media: Introducing the Burrito Principle
Reading Time:
3
minutes
Guest post by Darian Rodriguez Heyman, Founder of Nonprofit Boot Camp and Co-Founder of Social Media for Nonprofits
As the end of the year draws near and nonprofits large and small start thinking about strategies to break through the clutter and raise big bucks, StayClassy asked me to share a simple yet important tip for ensuring that your message is heard when you put together your email appeals and online fundraising campaigns.
You may have the best, most creative ideas for your holiday fundraising campaign, but if you don't effectively convey your message to supporters, people won't be aware of your fundraiser, and the campaign will fail to meet expectations. There are lots of factors to consider when planning and marketing your campaign, but a big one is strategic use of social media – what, how, why, and when you post.
Beth Kanter, John Haydon, and many other top social media professionals have written about the best times of day to post your messages on the world's largest social networks.Often these tips contradict one another, so as we gear up for the biggest fundraising time of the year, I decided to combine some data (via Mashable and NTEN's 2012 Nonprofit Social Networking Benchmarks report) with personal experience and a bit of common sense… et voilà, introducing The Burrito Principle.
The basic idea is that you want to reach people on Facebook and Twitter during their down time, when they're most likely to log in. Your Facebook posts and tweets should be timed to catch people when they have time on their hands:
8:30am— when they're on their way into work
12:30pm— when they're checking their iPhone, like while eating a burrito
5:30pm— on the bus ride home
10pm— after the kids go to sleep, which in general is the single best time to post during the week
Blackbaud's data says that weekdays all perform about the same, but Wednesdays are actually the worst, while weekends provide the best reach, so plan your posts accordingly.
Of course, your mileage may vary depending on whether your audience is made up of professionals or youths; either way, be sure to use tools like RowFeeder's free reports to figure out what time zone your audience is in, and Facebook Insights to track engagement with different types of posts.
Note: Posting on social media is different than email, where according to Constant Contact, the guiding principle is not to be unread message number 42 of 63 when someone gets back to work and clears out their inbox (hence, send your email blasts at 11am or 3pm Tues/Weds/Thurs).
I hope this small tip helps you reel in the big bucks as 12/31 roles around, and if you're interested in learning more about social media marketing, join us at the nation's only conference series devoted to social media for social good: check out www.SM4NP.org or better yet, join us in San Francisco on October 10-11, and use the discount code "Classy" to save $25.
About the Guest Blogger:
Darian Rodriguez Heyman co-founded Social Media for Nonprofits, which educates social sector leaders on how to advance fundraising, marketing, advocacy, and recruitment efforts online. Previously, he served as Executive Director of Craigslist Foundation and he is also the author of the best-selling book, Nonprofit Management 101 and a frequent keynote speaker at nonprofit gatherings around the world.
---
Have an Idea for a Fundraising Campaign?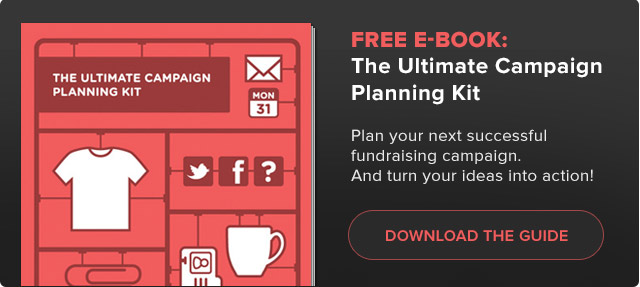 ---
Photo Credit: Flickr User
Vegan Feast Catering
Subscribe to the Classy Blog
Get the latest fundraising tips, trends, and ideas in your inbox.
Thank you for subscribing
You signed up for emails from Classy