FAQs: An Unexpected Source of Donations and Engagement
Reading Time:
6
minutes
Many nonprofit organizations have an FAQ page on their website but few take advantage of its full potential. You might be surprised, but your FAQ section can be an excellent platform to increase donations, address objections and delight donors. If you've been neglecting your FAQ, it's time for a change. Give it the proper attention, and it won't just satisfy visitors and their questions, it can impact someone's overall experience with your organization!
In this post, we'll go over a few best practices that will make your FAQ useful for both your website visitors and your organization. There are two main ways you can optimize your page:
1) By using data to gather FAQs
2) By strategically structuring your questions and answers to increase conversions or improve engagement
Using Data to Create the Most Relevant FAQs
Take the guesswork out of crafting your FAQs. Here are a couple ways you can use data to track down common questions, provide supporters with the resources they need, and make inquiring visitors happy in the process.
1. Track What Your Visitors Are Searching
A key function of an FAQ is to quickly provide your visitors with the information they're looking for. So, your first step would be to find out what they're searching for on your website. Literally.
If you have a search bar built into your website, you can track the phrases visitors are using in your search tool. You can then include the pertinent information and resources on your FAQ page.
There are many software solutions that can help you track this data. StayClassy, for instance, offers an integration with Google Analytics that allows you to collect site search data (and other metrics). All you need to do is turn on its Site Search feature, which lets you track what visitors are punching into your onsite search tool.
Turn on the tracker and enter the appropriate query parameters to start tracking your visitors' site searches. (For a more detailed breakdown of how to set up your Google Analytics Site Search tool, click here.)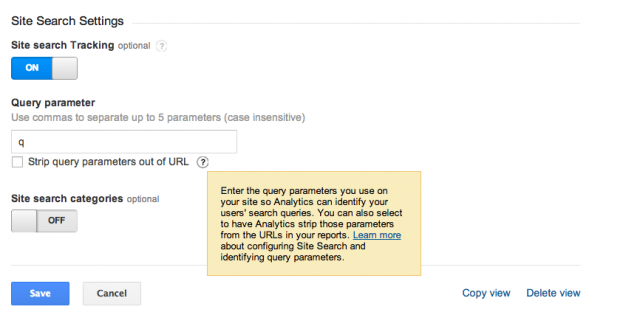 Analyze this data, understand what your website visitors are looking for, and make sure this information is accessible in your FAQs. Including appropriate links in your answer modules will help generate traffic to any underexposed (and/or hard to find) website pages.
Tip: People often use a website's search tool when the information they want is difficult to find. For instance, if a lot of people are searching the keyword "donate," it might be a sign that your donate button isn't prominent enough on your homepage. While you should still provide the appropriate information and links in your FAQs, make sure to work on a more visible solution for your homepage and website navigation.
2. Tag and Track Incoming Questions
What better way is there to collect FAQs than by collecting people's questions?
If your organization has a support center that handles inquiries, you can easily track this data. Using a customer support tool – like Desk.com, Zendesk, or Totango to name a few – you can apply a tag to each issue, or ticket, that comes in. As you collect and track these different requests, you can generate reports to better understand your supporters' needs and identify trends over time.
For instance, how many questions about donation cancellations did you receive this month? How many of this month's tickets had to do with password resets? Identify frequent issues and address these on your FAQ pages. And by providing solutions on your FAQ page, you can alleviate incoming traffic to your help center.
If you don't have a designated support center, don't worry. You can still build your FAQ by tracking and using data. Include a question/contact form on your FAQ page, and provide separate contact options for different types of questions. This makes it easy for visitors to ask new questions, while funneling their inquiries based on context. Track the frequency of questions for each category. Add new questions to your FAQ page as you learn visitors' common pain points.
On their FAQ page, CoachArt offers three different pathways for questions. There are separate contact options for questions about volunteering, programs, and general questions (which emerges by the scrollbar as a nifty pop-up). This three-pronged feedback loop makes it easy to track the types of issues visitors frequently face.
Using FAQs to Improve Engagement
Now that you've collected your questions, you can work on structuring your page and answers to maximize conversions.
1. Categorize Questions to Increase Efficiency
People hop over to the FAQ page to get the answers to their questions, and they expect immediate gratification without much hassle. If your FAQ page is cluttered and unorganized, you run the risk of annoying your visitors and even halting the engagement process. Make questions easy to find to create a seamless experience for the user.
One way you can clean up your page is to group questions together by category. Presenting your information in this well-ordered, logical fashion increases efficiency for the visitor. Let's take Invisible Children's FAQ page for example. By grouping questions into three drop-down categories, the design remains clean and optimizes efficiency for the user. Color-coding the sections add a nice visual touch that further distinguishes question types.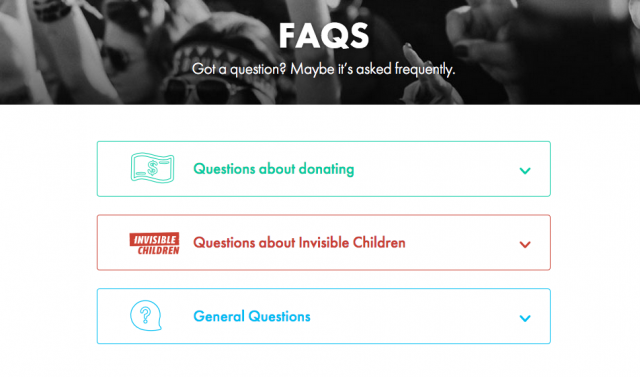 And by batching like questions together, you can expose related questions that your visitor might have forgotten to ask. This gives you the chance to offer comprehensive support proactively, instead of reactively. Improving supporters' experience – even in this seemingly slight way – can increase trust and donor satisfaction.
Under their donation category, IC includes questions about recurring donations. Instead of just informing (and thereby, suggesting) visitors to give monthly, they also explain how donors can update their card information. These early instructions prevent future uncertainty. But perhaps more importantly, including this strategic FAQ recaptures any recurring donors that might later forget to update their information.

2. Use Questions as Opportunities to Take Action
Your FAQ page is more than just a vault of bite-size facts – it's a conveyor belt that ushers visitors further down the conversion process. Use these questions to connect supporters to next steps in the engagement funnel.
For example, many nonprofits' FAQs include the question, "How can I get involved?" There is a clear opportunity to link a donation or fundraising page in the answer module. But whether the answer is a straightforward "donate here!" or not, always provide options to take action within your answers.
Take this example from Barbells for Boobs, a nonprofit focused on the early detection of breast cancer. Instead of just answering this question about event dates ("any day of the year!") and leaving it at that, the organization predicts this FAQ can lead to a supporter hosting his or her own event. They use this question as an opportunity to link their fundraising page and prompt visitors to take action. People interested in hosting events know exactly what to do next.
3. Built Credibility to Rally Supporters
Because it offers hard facts on a platter, your FAQ page is a great place to demonstrate transparency and build instant credibility with supporters. By knocking out concerning issues concisely on your FAQ page, you can dismiss any doubts your visitor might have about your organization or mission. This will help achieve transparency, build a case for supporters' involvement, and incite them to take action on your behalf.
For one, explain how the money will be utilized. What are people paying for? How do general operating costs factor in? What will these funds help your organization achieve? Where is your proof? You'll have this information elsewhere on your website, but providing it on your FAQ page will make it extra easy for your visitors to find.
I love Generosity Water's FAQs about their well programs. Not only do they provide details about each water project, but they also assure visitors they will receive proof of their impact. This promise boosts trust in the relationship and the organization's credibility.
You can also address other issues or doubts on your FAQ. For instance, let's say your organization works to eradicate a disease in certain parts of the world. If the disease finally ceased to exist in those areas, would there still be a reason to support your programs? Speak to any of these doubts or questions, and validate the importance of supporters' involvement in your mission.
Many organizations don't recognize the full value of their FAQ pages. While they usually serve to answer common questions, they can also connect visitors to the next unique step in the engagement process. A useful, engaging FAQ page is worth the time and investment. Track data to collect common questions, provide opportunities for readers to take action, and maximize your return from this valuable page!
---
The Guide to Holiday Fundraising
Subscribe to the Classy Blog
Get the latest fundraising tips, trends, and ideas in your inbox.
Thank you for subscribing
You signed up for emails from Classy
The email you subscribed is