The new President of Global Policy and Advocacy at the Bill and Melinda Gates Foundation, Mark Suzman, recently reflected on his previous work on the Millennium Development Goals. An initiative of the UN, in cooperation with world leaders, the Millennium Development Goals are 8 definitive targets to improve human welfare. With a concrete deadline in 2015, these commitments have already yielded some impressive results since the program began in 2000, including:
Halving the proportion of people living on less than $1.25 per day
Increasing primary school enrollment in developing regions
Narrowing the gender gap in literacy rates
Reducing maternal mortality
Saving millions of lives through vaccines and preventive actions against Measles, Tuberculosis, and Malaria

This progress was made by uniting a number of UN programs and international NGOs. These large-scale partnerships between organizations from different continents and cultures are an example of how independent nonprofits can come together to work toward common goals. Suzman's commentary illuminates the key aspects to succeeding in nonprofit partnerships and the importance they hold in creating long-standing change.

Large organizations partnering with the UN, like UNICEF, the World Health Organization, and the World Food Programme, bring both material resources and organizational expertise to the mission, but Suzman noted that close cooperation with the governments of developing countries was also vital to creating change.

The encouragement of partnerships isn't isolated to the MDGs and other large scale international projects. The Stanford Social Innovation Review has also been closely tracking "collective impact," since two impact consultants coined the term in 2011. (Read here and here). Cooperation and collaboration take long-term dedication and education on expectations, but are well worth the effort.

Smaller nonprofits can learn from the MDG partnerships to solve problems in their own community. When you partner with another nonprofit, you not only unite your organizations toward a common goal, you unite your sponsors, donors, volunteers, and audience in pursuit of that goal.

Here are some of the strategies behind the UN Millennium Development Goals and the partnerships working to meet them, that are useful for all organizations looking to work together towards a common mission.
Measurable Goals
Because the human experience is so complex, it can be difficult to measure the good done by humanitarian organizations. One of the most innovative features of the Millennium Development Goals is that they turn the general mission of ending poverty into measurable goals. We already knew that childhood mortality was a devastating problem in developing countries, but the UN committed specifically to decrease the 1990 under-five mortality rate by two thirds by 2015. Choosing a destination makes it much easier to navigate the mission.
Try taking a hard look at your mission, your capacity, where you feel your organization comes up short that a partnership with another organization in the same sector might fill. Together, you can assess your resources and come up with a realistic, measurable goal and communicate to your organization's supporters how they play a part in reaching the partnership's goals.
Deadlines
Deadlines get a bad rap. We stress about them, we complain about them, and we miss them sometimes, but the fact is that deadlines help you manage your time and motivate you to work toward your goal. Each of the organizations involved in the Millennium Development Goals has a long-term mission, but to focus and motivate the partners on specific goals, the UN set a deadline for 2015. They also set separate deadlines for certain goals, like their goal to achieve universal access to HIV/AIDS treatment by 2010.
Although they missed this goal, working with a deadline creates the sense of urgency such a pressing problem deserves. When working on a deadline with your nonprofit partners, make sure all parties make a very realistic assessment of the resources they can contribute to the partnership's mission. Both your organization and your partners' still need to meet commitments to your own donors, so being honest about how long it may take for the results of a partnership to materialize is important.
Listen and Learn
While the resources and organizational expertise contributed by each MDG partner was a huge benefit to the pursuit of their goals, Mark Suzman learned in his work not to discount the value of localized knowledge.
For example, rather than stepping in and affecting Ethiopia's economy from the outside, the UN worked with the country's government to create the Ethiopian Agricultural Transformation Society. This partnership united the resources and expertise of the UN with the localized knowledge of existing institutions within Ethiopia to support programs improving the country's food security. And although the organization's five-year National Growth and Transformation Plan doesn't end until 2015, Ethiopia has already been recognized by the World Food Prize for its improvement in food security.
[pullquote3]"The wisest mind has something yet to learn." – George Santayana [/pullquote3]
You may not be working on the same scale as the UN and international governments, but utilizing the power of partnerships to link up and listen to other organizations, local leaders and institutions can be extremely valuable to accurately assessing on-the-ground conditions of the communities you are working in.
Partnering with another nonprofit is a unique chance to gain insight into the populations they serve and this knowledge can inform and improve your programs and fundraising. The point of a partnership is to achieve something that neither party could do by itself, so listen to your partners and listen to the people you have united to help.
How have you utilized partnerships to create new and successful programs or events? Let us know! Comment below or tweet to us, @StayClassySD
---
Have an Idea for a Fundraising Campaign?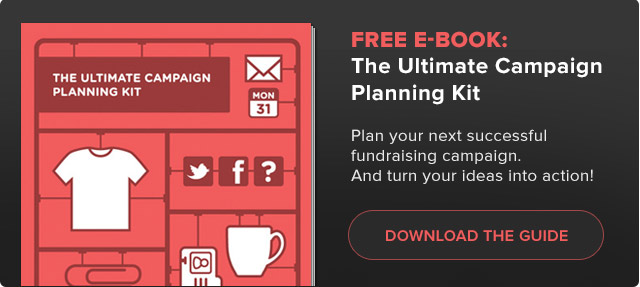 ---

Image Credit: Christian Heinisch