If you've ever run a peer-to-peer fundraising campaign, then you've inevitably run across a particular character in your crowd of individual fundraisers — the "power fundraiser."
Power fundraisers are the one or two supporters that seem to out-fundraise everyone else by orders of magnitude. You never really know when they're going to show up, but when they do they're easy to spot!
We've seen power fundraisers raise anywhere from $10,000 to over $60,000. And we routinely see people raise a thousand dollars or more for the nonprofits they love. But of all the power fundraisers we've had a chance to witness (and there are plenty), there's one that stands out from the crowd…
Our Favorite Individual Fundraiser of All Time
This past fall, the SIMA Humanitarian Fund (the charitable arm of the Surf Industry Manufacturers Association) created an innovative fundraising campaign called StokesMe.  As part of the campaign, individuals and employees from surf gear companies like Billabong and Hurley, created personal fundraising pages to raise money for ten different nonprofit beneficiaries. The top individual and team fundraisers also competed for some pretty cool prizes. Everything from the ability to custom design your own pair of board shorts, to a trip to Hawaii was up for stakes.
At the end of the day, the campaign's top individual fundraiser, Judy G, was able to raise $6,500 from 65 donors. But, the amount of money she raised was not the most impressive part of her story. Judy also happens to be one of the event chairs for the Pipeline-to-a-Cure Gala put on by the Cystic Fibrosis Foundation (one of the campaign's beneficiaries). As the top individual fundraiser in the StokesMe campaign, Judy won the trip to Hawaii. Instead of keeping it for herself though, she decided to give it away to someone affected by cystic fibrosis. We wanted to make sure we gave Judy a nod for her outstanding generosity and fundraising skills. But we also wanted to highlight this story because it showcases some important qualities that the best individual fundraisers seem to share.
Attracting Your Own Power Fundraisers
Power fundraisers almost always have a serious zeal for the cause and they are independently motivated to make a difference. And if you think about it, that makes a lot of sense. In order to go out and raise thousands of dollars for a nonprofit, you need to believe pretty strongly in the mission of that organization. You also need to have the determination to keep pushing to reach your goal. So, keeping this in mind, how can your nonprofit attract people like this to fundraise for you?
Well, the good news is that you probably already have some potential power fundraisers in your crowd of supporters. If you have people that are passionate about your mission, then you've got the first step covered. The real problem (like we mentioned before) is that you never really know exactly when a power fundraiser is going to pop up. If you conduct a few sporadic fundraising campaigns throughout the year, you may be lucky enough to stumble across a few of them. Then again, you may not be.
That's why the best strategy for bringing power fundraisers into your fold is to cast as wide a net as possible.  The more opportunities you give for supporters to start fundraising under your banner, the more likely that you will discover the power fundraisers that are hidden in your crowd of supporters. So practically speaking, what does this mean?
It means adding a year-round peer-to-peer fundraising option to your website.
By adding a permanent fundraising option to your website and promoting it via your regular supporter communications (like e-newsletters) your supporters will always have the option to start raising money. This frees up your most motivated supporters (the ones most likely to raise large amounts) to start fundraising anytime that they want to. And that is the key to uncovering the power fundraisers in your midst!
---
Ready to Raise More Money Online?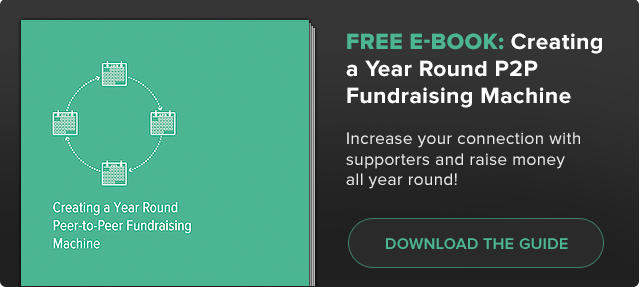 ---
Photo Credit: Flickr User epSos.de