During our latest product launch at StayClassy we rolled out a feature that's been heavily requested for some time now–  a combined registration and fundraising page creation process.
This has been a huge priority for many of our clients, particularly because it's so useful for fundraising runs and walks. Now that it's done, we wanted to take you through a quick tour of how the new process works. Although this combined process can be used for a wide-variety of fundraisers, since spring is coming up and it's the most straightforward use-case, we'll take a charity run as our example.
1. How do I create an event like this?
Ok, so let's say you are in StayClassy and you want to create a combined registration and fundraising event for your new 5K run "My Charity Run." Well, everything starts out exactly the same as it always does. You go to the fundraising tab and select the option to create a new event.
After you do that and you scroll down on the next screen, you will see a new option to choose from, "Registration with Fundraising." As you can see from the screen shot below, once you select this option, you will be able to enter in different registration options AND set the default individual fundraising goal.
From here, you simply continue as you would for any other event or campaign by setting the custom design for your pages and the default text for your emails and fundraising pages.
2. What do my participants see?
When you finish your design and open up registration for your race, people will land on the main registration page which will include three different options for getting started. Visitors can either create a team, join a team, or participate as an individual. It will look something like this: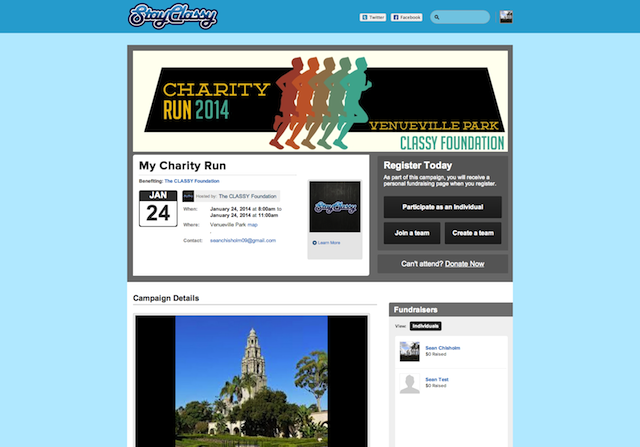 It should also be noted that you can simply grab the three registration links on this page and embed them on a custom page you create using any other CMS. This might happen, for example, if you were creating a microsite for your race event and you wanted additional customization or the opportunity to leverage the StayClassy API's. In any event, let's go through the process as an individual participant to see how the basic process works.
After clicking to participate as an individual, you will land on a page that looks like this:
Once you select the number of tickets you want to purchase you will land on a checkout page.
If you are purchasing this registration for yourself, you simply click on the "This is my personal registration" box and the extra fields will disappear (the extra fields are there in case you are purchasing a registration for someone else).
When you submit the payment successfully you'll land on a confirmation page that prompts you to go to your fundraising page (you will also be sent an email receipt).
After you click on the button link, you will land on your personal fundraising page, which you can edit and customize to your liking.
3. What about if one person buys multiple registrations?
When an individual buys multiple registrations (or a single registration for another person) the transaction will process and an email will be sent to the other registrants that looks like this:

When the other registrants click on the button link, they will either be prompted to create a password or login with an existing account.
Once the registrant has either created a password or logged in with an existing account, he or she will be redirected to the personal fundraising page. Before that person can edit the fundraising page though, a few additional questions will appear. These will include prompts to title the page, set a personal fundraising goal, and choose whether or not to include a vanity URL.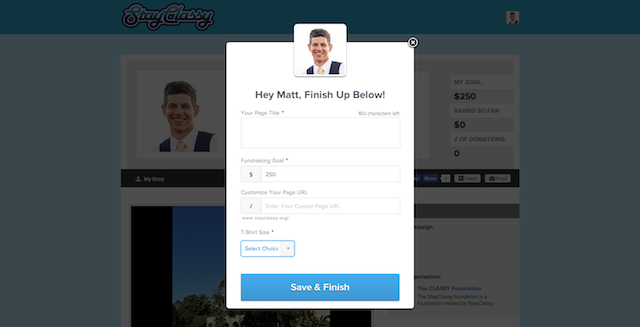 4. What happens to custom questions?
When an individual goes through the registration process that person will only be presented with custom questions for his or her individual order. In the picture below, two registrations are being purchased by one person, but the custom question (T-Shirt Size) only appears for the order selected as "This is my personal registration."
The other person (or people) you purchase registrations for will be asked the custom questions when they go to claim their individual fundraising pages. As you can see in the image below, the T-Shirt Size custom question appears in the final step before the registrant lands on his personal fundraising page.
5. And what about creating teams?
If you start by clicking to create a fundraising team (instead of registering as an individual participant). You will be brought to a signup screen like this one:
After you sign up, you will be prompted to create your fundraising team on page that looks like this:
Now you will be brought into the registration process, where you can select the number of registrations you are purchasing and checkout.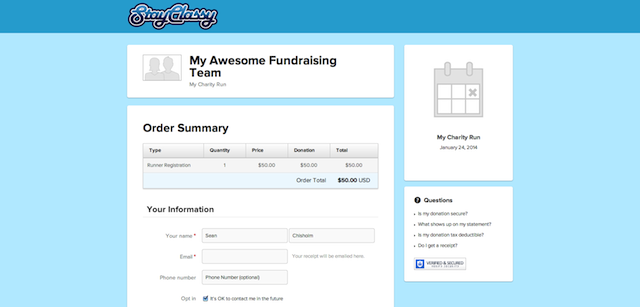 When the transaction is processed successfully, you'll be brought to a landing page with details on the transaction (again, email confirmation is also sent) and you'll be directed to continue on to the team page.
Clicking the button link will bring you right to the team page: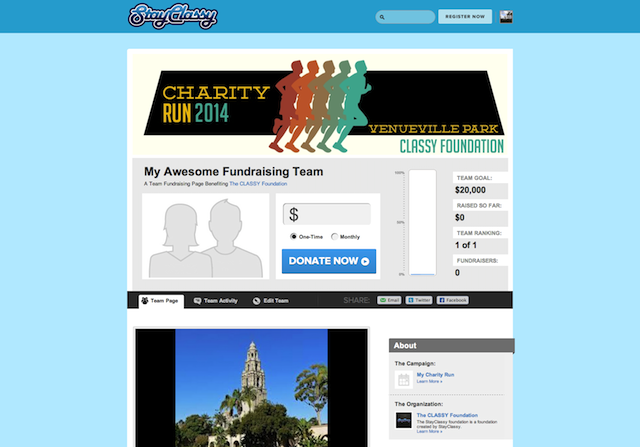 It's important to note that the person going through the registration process by creating a team, will also have an individual fundraising page. This will be emailed to that individual. Any additional registrations purchased for other registrants while creating a team will result in emails being sent to those registrants so they can claim their individual pages which will automatically be tied back to the team they were created under. Finally, even those who register as individual participants can join up with a fundraising team later on if they want to!
6. How do I keep track of all this?
We've created a combined event dashboard for registration with fundraising events that will give you a summary of everything that is happening in one place. You can quickly see the total number of fundraising pages created, registrations sold, and the total money raised.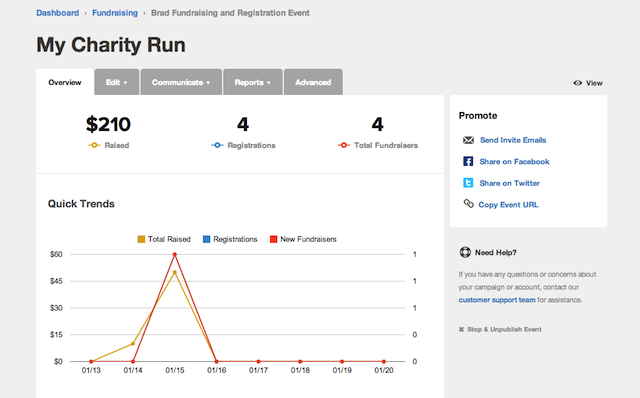 ---
One Stop for Everything Peer-to-Peer
---