Ross Campbell
UX Developer
So What Exactly is a Microsite?
Rather than start with a dictionary definition, let's just jump right in and look at an example.  Below, we have two webpages.  The first one is Invisible Children's official homepage. Below that we have another website produced by Invisible Children. Take a look back and forth between the main charity homepage and the page below. As you can see, there's a different visual language being spoken on each site.
---
---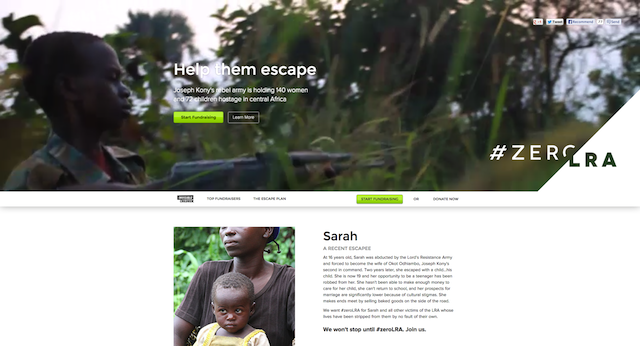 There are different colors, fonts, and images, but more importantly, the page on top has a wide variety of options to learn more about the organization while the page on the bottom is focused narrowly on a single campaign and a single message.  As you might have already guessed, this bottom page is part of a microsite.
The microsite acts as a deep-dive into one aspect of the charity. It affords the organization the opportunity to focus one hundred percent on a specific campaign or issue. In this case, Invisible Children doesn't have to try and balance its normal website content with specific campaign content; the microsite acts as a focused lens exclusively for the campaign.
You can think of microsites as thematic webpages that focus on a single overarching message.
It's really that simple.  Microsites generally have a distinct visual language from an organization's main website and they are focused around a singular message.  That's why they're often used for individual campaigns or events.  A campaign, by its very nature, has a focused story — a particular appeal within an organization's overarching mission.  By using a microsite, you can remain steadfast to the campaign's identity because there is absolutely no distraction from this highly focused story.
Rolling Up Our Sleeves
So far we've been speaking pretty abstractly about microsites, so let's roll up our sleeves and really examine one in detail (we'll be using  Surfrider as our example). Let's start by taking a peek at the main org website.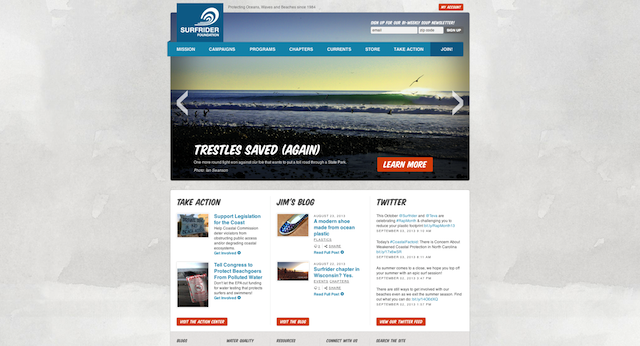 As you can see, the focus of the homepage is on the organization as a whole. The homepage provides a friendly introduction to the organization's mission, story, ways to get involvemed, and the like.  Additionally, there are links to ongoing campaigns and efforts that Surfrider has going on.  What you don't see is a highly focused and direct appeal for any one program or campaign.
Now, look at this next image:
This is Surfrider's microsite for its Quad Youth Service program.  It's immediately apparent that this site has its own look & feel, its own branding, and its own messaging.  It is a self-contained site that completely focuses on a single program.
At a quick glance here are some of the key features of this microsite:
The logo, colors, and branding are all distinct from the main website
The calls to action revolve around this particular program
Featured elements and imagery on the page again relate directly to this campaign and aren't varied in theme
The copywriting is incredibly personal and acts as a direct appeal to get involved
If you look at enough of them, it becomes obvious that successful microsites follow a basic pattern. They're focused, unique, and often look to encourage engagement. The basic formula is as follows:
Microsite = focus x unique identity x personal appeal
Why do they follow this pattern? Well, like many things that are replicated over and over again, the pattern has proven its value.  In fact, it may be worth applying to your own efforts.
Building a Microsite of Your Own
As is often the case with "web" anything, it takes a lot of work and energy to create web-based content.  A microsite is no different.  The most frequent critique of microsites is that they're a "tremendous amount of work for just a single campaign."  It's tough to argue with a statement like that because at first glance, microsites are individual, custom websites.
But we're not going to settle on just the "first glance."  We've rolled up our sleeves once, so let's do it again.
It's true that building your first microsite may take a bit of extra work and resources.  But what's often left out of the conversation is that with a little bit of foresight the same template that you use to build your first microsite can be used for other microsites you might want to build. That initial investment can pay huge dividends down the road for future campaigns.
Don't believe me? Let's run through something together quickly. Just below, I've created an example microsite template. Of course it doesn't have every bell and whistle, but it does give you a sense of content, layout, and some basic branding.
What I'd really like to do is have you imagine that this microsite is your own.  And you've invested in its creation (you've done a wonderful job, I might add! ). Now imagine that you have a second campaign in the near future and you want to brand it to fit this new campaign.  With a few modifications you can easily adopt your existing template .To see this "swap out" approach, interact with the template options below.
As you can see with the simplified example here, it's quite possible to change the general look and feel while maintaining the underlying template's structure.
Preview:
The bottom line is that microsites can provide a centrally focused and creative environment for campaigns, programs, and other individual efforts your organization takes on. Customized to fit each unique scenario, a strong microsite template can go a long way to personalizing your organization's seasonal efforts. Perhaps it's time that you considered building one.
To that end, we wanted to provide you with the source code for the above template so you can use it within your own organization.  It's free to download (just click the button above) and it's yours to do with as you please.  Feel free to hand it off to whomever works on your website.
It goes without saying that you can reach out with any thoughts or questions — we're always happy to help!
---
Ready to Raise More Money Online?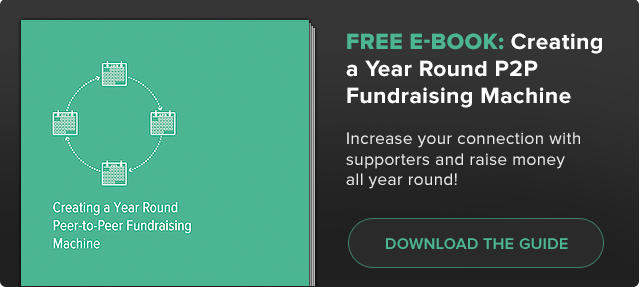 ---
Title Image: Flickr User toolstop
Image Credits: Invisible Children, Surfrider Foundation