We recently released version 3.2 of the StayClassy integration with Salesforce (nicknamed "Pacific Beach"). This latest release marks the next step in our continual effort to provide our nonprofit clients with the most robust Salesforce integration possible.
Up until this point, despite the many improvements we have made to the integration, one request has come up again and again: the ability to send custom questions and answers captured through StayClassy back to Salesforce.
Well, welcome to Pacific Beach.
In the new release, clients using the StayClassy-Salesforce integration can send data from custom questions added to fundraiser registration, ticket sales, or donation checkout back to Salesforce in real time. Let's take a quick look at how it works.
We will use a donation page as the example because it's the simplest option, but keep in mind that custom questions can be added to any type of fundraiser you create on StayClassy. Let's say we are spinning up a donation form for an end of year Holiday appeal. Here's the familiar interface for adding custom questions to the checkout experience:
You can see that we've added two questions to our form. One is a pick list to capture tee-shirt size and the other is an open-ended question asking donors why they support the organization.
After the donation is completed, the custom questions and their answers are sent to Salesforce via two custom objects (conveniently named custom questions and custom answers). You can see in the image below that the answers will populate on the individual's contact record automatically.
The name of the campaign, donation page, or event where the questions were asked will also automatically be associated with the answers that display on the contact record. (Note: these answers will also be included on the opportunity that is created along with the donation.)
If you want to zoom out from an individual view and take a look at the custom data you are capturing on a campaign level, that's easy to do too. Just click on the name of the donation form, peer to peer campaign, or event and you will see an aggregated view of the information you are collecting. From this view you can easily find a particular supporter and dial into her/his record.

Taking the Salesforce-StayClassy Integration Further
So what are some of the practical implications of adding custom questions to the integration?
There are undoubtedly many potential use cases, but here are a few that come to mind immediately. You can now use Salesforce to…
Manage Tee-shirt size selection and fulfillment for races and other special events
Manage donor premium selections for special appeals
Record a donor or fundraiser's favorite program or area of interest
Collect feedback to gain insight into donors' mindsets and personalize your follow up
And much much more.

We hope you like the new release and look forward to continuing to develop the most comprehensive Salesforce integration for nonprofits out there!
---
Have an Idea for a Fundraising Campaign?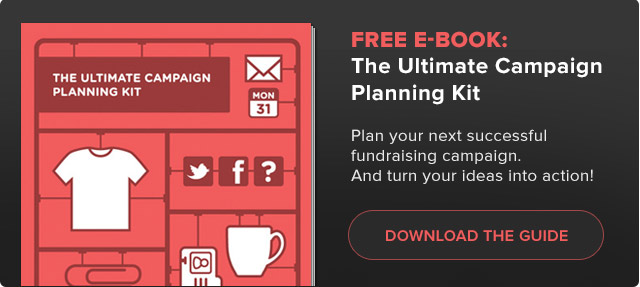 ---

Image Credit: Gary J. Wood