News
The Inconvenient Truth About Charity Videos
Two things here: One, super interesting to use Medium.com as a – well, er – medium for your organization. If you have a great writer on your team, it might be a worthy place to get some attention about your cause and practice, as well as get involved in a new community. Two, the post is a really great read on the ins and outs of campaign videos and a must read if you're planning on embarking on producing one.
---
---
Clear Measurement Counts
The discussion around measuring social impact isn't going anywhere, and is only garnering increased nuance and seriousness, in a sector required rigorous demonstration of performance. A great and necessary read for any organization serious about tracking their impact.
Lists
92 B-Corps with the Biggest Impacts
More impact! Forbes compiles a list of 92 B Corporation making the "most positive overall social and environmental impact" – from small to large businesses. There are a lot of lessons to be learned here and, besides, makes for a really interesting read.
---
6 Apps to Simplify Fundraising Tasks
Everyone wants to make fundraising either! Development directors and fundraising professionals will know how difficult it can be to keep track of everything you need to successfully fundraise. This list provides some productivity tools for the career fundraiser.
---
11 Experts Offer Social Media and Technology Advice for Nonprofits
I loved this idea! Nonprofit Tech for Good asked 11 nonprofit professionals at #14NTC last week to record social media and technology advice for nonprofits via Instagram Video. Here's one frame from TechSoup's Alexandra Bezdikian, but make sure you watch all the videos in the link!
---
5 Tips for Leading Great Meetings
If you're still using post it notes or even a word document for your to do list, it might be time to try something a bit more 21st century. Asana is amazing – I swear by it as a productivity tool – that allows you to track your work and personal projects and collaborate with teams, large and small. Here are some great points of advice from the company blog on how to lead great meetings, increase team productivity and reduce time wasted at unorganized meetings.
Fundraising and Marketing
26 Tips on Management, Marketing, Hiring and Productivity Told in AMAs
What happens when you get top founders and marketers in the tech world to hold Reddit AMAs (Ask Me Anything)? A TON of great advice, applicable too, for non profits. Here, Zapier compiles some of the best AMA conversations with key takeaways for managers, marketers and other professionals.
---
Resource: How to Activate Unlikely Fundraisers
A couple weeks ago, we held a fun webinar about how to activate unlikely fundraisers. If you missed it but still want to uncover new sources of support, don't worry. We've compiled some takeaways, along with a free download of the entire webinar, right here.
---
5 Steps to Success on LinkedIn
LinkedIn is, no doubt, a social media powerhouse for professionals. It the platform of choice for true "professional networkers." We chronicle why your nonprofit should absolutely be on LinkedIn, and how you can be successful at it!
---
Maximize Conversions from Your International Audience
KISSMetrics writes a great blog post about how to attract and convert people who visit your site from abroad. Since we're increasingly interconnected, and more people are on the web everyday, it's becoming a requirement to effectively communicate missions to multiple cultures and in multiple languages.
More SXSW
---
Good Stuff
HuffPost: Love146 Fighting Child Trafficking
Last week, we posted an amazing illustrated video put together by a Love146 supporter. Now, the organization (and the video) are getting some spotlight time on Huffington Post. If you're interested in the background of Love146 and the work they do, definitely give this a read.
---
How to Profit Modestly by Moving to a Nonprofit
A really interesting piece in the New York Times profiles a former executive at a commercial real estate developer turned affordable housing nonprofit professional. A heartwarming read on why nonprofit professionals do what they do, with love and dedication.
---
Women Lead Philanthropy Symposium
If you're in Chicago April 2-3, look into attending this symposium. "At #WomenLeading Philanthropy learn from leaders in philanthropy, social innovation, and enterprise who apply innovation, disrupt the status quo, create true impact, and effect social change in their communities and across the globe." Awesome!
---
Have an Idea for a Fundraising Campaign?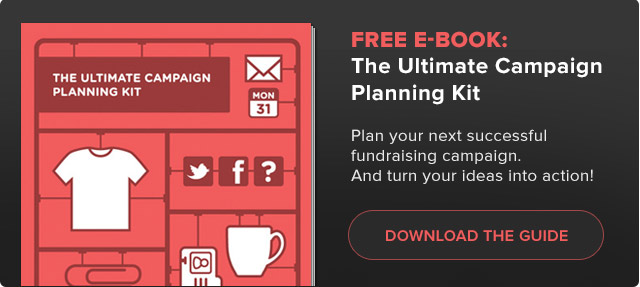 ---