There's a lot of long-form journalism in this week's round up, but it'll be worth your while. Get your mind going on innovation, self-improvement and global solutions to difficult problems.
News
The NP Engnage blog aggregates 50 fascinating nonprofit statistics – a very useful overview of the state of the sector.
You've probably heard about the upheaval in the San Francisco Bay Area over the explosive growth of the tech community there in the last few years. As companies move into historically low-income neighborhoods thanks to cheap rent and tax incentives, non-tech communities are feeling increasingly alienated. A great read that takes a look into why the charity provided by Silicon Valley doesn't necessary make up for moving in, unwanted.
Just today I read a statistic posted by the Grameen Foundation on Twitter: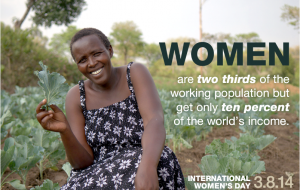 The Clinton Foundation and the Bill & Melinda Gates Foundation are launching a project to collect data on the economic, social and cultural participation of women and girls worldwide and analyzing that data to mark progress on their respective missions.
Problem Solving
Many nonprofits rely on Salesforce for their CRM needs – whether that's through the Starter Pack or more complex solutions. This is a great account by the Stanford Social Innovation Review about how the Salesforce Foundation became what it is today – definitely a worthy and interesting read!
The Knight Foundation provides a long list of grants to projects driving change in a variety of subjects, but they really try to highlight the importance for openness of, and access to, information. This is a really interesting read about how community foundations and organizations can try to connect with government to get the raw data they need to solve problems within their respective communities. Some really great tips here.
I've talked about the Buffer blog before, and they're at it again with a great post on improving productivity through small changes. Check it out!
Social Impact
Who hasn't heard of TOMS? The company inspired social entrepreneurship world wide and the buy-one-give-one model became important for a plethora of socially responsible ventures. This model has been translated into, believe it or not, housing! Very interesting read about the potential for creating good out of luxury real estate.
Social Impact investing is based on the idea that the investor does not make money unless the public benefits too.  This is an interesting article that provides introductory information on the topics and looks into the pros and cons of the trend.
Nonprofit Marketing
Here is a really cool article by nonprofit digital strategist Daniel Melbye, full of thoughtful suggestions on how to use Twitter for nonprofits.
With all the talk about the importance of storytelling in the nonprofit world, sometimes it can seem a daunting task to be a "great storyteller." Storify is an awesome tool that helps facilitate storytelling by allowing you to aggregate all sorts of media – photos, Tweets, text and video – into one, embeddable storyline.
Nonprofit Fundraising
Team Rubicon conducted a little experiment during their last peer-to-peer fundraising campaign, which resulted in almost 3 times more gifts contributed for some active fundraisers. Read about the experiment and download a free packet to try your own.
Want to raise money for clean water? Of course you do! UNICEF has created an incredible app that allows you to do just that without spending a dime. Simply go to uniceftapproject.org on your phone's browser and for every 10 minutes you don't touch your phone, UNICEF's sponsors donate enough money to provide clean water to a child for a day.
Chideo.com (charity + video = chideo) lets users access celebrity videos via their Apple device and "by letting fans chip in to get their favorite celebrities to film one-of-a-kind, fan-driven video clips," which in turn results in money for celebrity-sponsored charity.
Good Reading
Medium's Center for Investigative Reporting Presents:
---
Want Your Fundraisers to Be Great?
Get the Free Fundraising Tips Packet
---