This week on the Weekly Roundup we take a look at what's happening in the world of some of our awesome clients! These amazing organizations are working hard, day in and day out, to stand for their cause and elevate a wide-range of communities around the globe. Clients use a variety of engaging written and visual content to update and educate supporters about their work in the field, their cause sector and their beneficiaries' lives. From education to hunger to healthcare, we're rounding up some of the best nonprofit organization blog updates.
SHOFCO: Baba Diana & The Kibera School for Girls
Shining Hope for Communities is a grassroots organization battling poverty through education in some of Kenya's poorest neighborhoods. Rather than a blog roll, SHOFCO creates beautiful videos that demonstrate their work and highlight a beneficiary's story. Watch this incredibly touching video about how the Kiberia School for Girls is impacting the life of one family there.
---
Possible: Crowdfund Health, 8 Months Later
Possible is an organization that provides top-notch health care to some of the poorest communities in very remote areas of the world. Their blog is probably one of my absolute favorites. Like many organizations, they write amazing client stories, but their focus on culture, management and operations really makes them stand out. It's fascinating to get an inside look at what it takes to run a successful and impactful international organization in some of the most remote areas in the world. Definitely, definitely give their entire blog roll a glance.
---
LiNK: Nat Kretchun Gets Nerdy About North Korea
Liberty in North Korea works hard to empower the North Korea people. They've facilitated the rescue of 241 refugees, coordinate resettlement and activate the support of thousands for the North Korean people. This blog post features a video about the effects of foreign media on the North Korean people.
---
Generosity: Elisil's Story
First of all, I absolutely love that Generosity, an organization that brings clean water to communities who need it most, is using Medium as their blog roll. (Medium is a publishing startup focused on high quality storytelling. You can read about Medium for Nonprofits, here.) Medium is a great way to build a following without the hassles of up-keeping a blog on your own website. In this post, Generosity provides a story from the field, of a woman named Elisil and how a clean water well will impact her and her family's lives.
---
Blood:Water: What It's About
Blood:Water partners with African grassroots organizations to address HIV/AIDS and water crises. This blog update doesn't come from the field, but rather from a fundraising event that seemed like it was going to completely flop. Read on to find out what happened and how you can apply this positive thinking at your next event!
---
Love146: A Potential for Therapy
Love146 battles human trafficking through survivor care, professional training and prevention education, among other activities. A staff member reports on a grueling week out in the Philippines after Typhoon Glenda, where both the home for girls and home for boys were partially destroyed.
---
PCI Global: The Fight Against Trafficking
PCI Global works on a huge variety of pressing challenges. This particular blog post provides readers with important information on the major challenges organizations face when fighting human trafficking. In addition to stories from the field or constituent spotlights, educating supporters (and new site visitors) about the challenges of your cause, news from the region in which your working or specific elements of the cause-sector you're working in is hugely important to providing people a context to your work. The more they know and understand about your cause, the more motivated they might be to take action.
---
Action Against Hunger: 9 Million Lives
Action Against Hunger is an international organizations combatting food crises in many very challenging contexts. This blog posts demonstrates the enormous impact the organization has had on hungry communities. They've embedded their detailed 2013 Progress Report, along with key stats and figures.
---
Oxfam: What It Takes to Flee
Oxfam barely needs an introduction for their work on a huge range of issues on an international scale. In this awesome post, an Oxfam staffer writes about how her and her family escaped from persecution in Romania.
---
buildOn: Why Build a School in Malawi?
Among other education-focused programs, buildOn empowers urban youth in America by building a new school every 3 days in some the poorest countries in the world. I love this post because it demonstrates to readers why their involvement in this cause is so important. It prompts potential donors to take action and shows current donors why their support is critical to the organization and its constituents.
---
Want to Get the Most Out of Your Fundraising Efforts?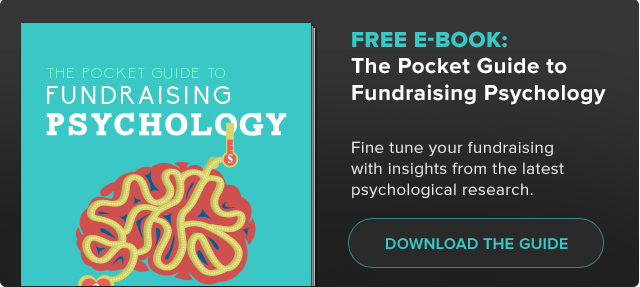 ---