3 Creative Nonprofit Fundraising Ideas
Reading Time:
4
minutes
At Classy we get to see hundreds of different nonprofit fundraising ideas implemented every month. Lots of them are pretty standard- your tried and true fundraising fare. Some of them, however, are anything but garden-variety. Certain campaigns stick out from the pack as creative, unique, or downright unusual. And while they don't always work out perfectly, they're certainly fun to watch when they come around.
Below are three of our favorite creative (and successful) nonprofit fundraising ideas along with some lessons you can learn and implement for your next campaign.
1. A Man in a Cage!
Towards the end of 2011, Invisible Children, launched its Frontline campaign. The goal of the 4-month campaign was to raise two million dollars to help fund the organization's "protection plan," a multi-pronged effort to protect civilians in central Africa from the violence perpetrated by Jospeh Kony's Lord's Resistance Army. In typical fashion, Invisible Children planned out a compelling campaign which included top fundraisers winning the opportunity to join the IC team in Uganda for a week. But none of this makes the Frontline campaign particularly creative…
The creative bit happened towards the end of the campaign. With the deadline looming and a long way to go towards their astronomical two million dollar goal, the Invisible Children team decided to shake things up. One of their team members, Timmy, created a personal fundraising page and decided to put himself in a cage in the IC office until the campaign goal was met (don't worry it was a human sized cage).
To make a truly original idea even more noteworthy, Invisible Children live streamed the whole event over the Internet! What followed was 24-hour coverage of Timmy in a cage interacting with an audience of rotating viewers and continuously exhorting them to get involved with the campaign. While Timmy didn't raise a million dollars on his own, he did raise $26,000(not too shabby for one guy in a cage) and the Frontline campaign was able to close a lot of room towards the overall goal, ultimately finishing with $1.7 million raised.
The takeaway: While voluntary confinement is certainly not for everyone, being willing to adapt and seriously shake things up during a fundraising campaign can help any organization overcome internal campaign plateaus!
2. You Stink (Literally)
The Decibels Foundation, a 2011 national CLASSY Awards winner, partners with the Caroline Bass Fund at Children's Hospital in Boston to provide services to children with hearing loss and to their families. Their signature fundraiser "Stink Week" has grown up around a central idea: hearing loss stinks!
Embracing that concept in its most literal sense, the 2012 Stink Week campaign invited participants to create a fundraising page, set a personal goal, and then…well, stink. The rules varied depending upon your level of commitment to smelling bad (and perhaps the willingness of those around you to tolerate the smell). At the mild end of the spectrum were the "Cheddar Rules."
In this version you had to wear your official stink week tee shirt all week, but you could wash it and bathe. On the other end of the spectrum were the "Muenster Rules." Those willing to go all the way to raise funds for hearing loss, committed to not bathing and not washing their stink week tee shirts for the whole week. Yikes!
The takeaway: A great fundraising idea can start with something as small as a clever phrase. Taking a humorous approach can also help make the process fun which leads to greater participation and fundraising results!
3. Go Big or Go Home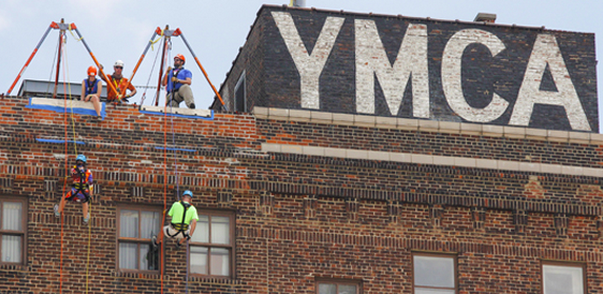 The final creative nonprofit fundraising idea we want to highlight comes from Episcopal Retirement Home's (ERH) 2015 "Over the Edge 4 Elders" event. ERH works to improve the lives of older adults through innovative senior living communities and in-home and community services. They also offer affordable housing options for low-income seniors. With their "Over the Edge" event, the foundation sought to raise money for low-income senior housing, and to do so with a little flare.
The idea for the fundraiser was simple but bold. Get fundraisers, or "Edgers," to raise at least $1,000 and rappel down the side of a 10-story building. In fact, one of the participants was a 94-year-old senior. With the participation of 9 other celebrity Edgers, the idea really took off. The fundraiser was ultimately able to hit its goal and bring in more than $95,000 for a worthy cause!
The Takeaway: Sometimes making a big splash can really pay off. When you commit to doing something intriguing and bold, people will naturally be more interested in getting involved. Plus, donors are often more willing to give when the fundraiser is facing some sort of challenge or obstacle to overcome.
Bring Your Campaign Idea to Life
---
Title Image: Flickr user
seatbelt76
Subscribe to the Classy Blog
Get the latest fundraising tips, trends, and ideas in your inbox.
Thank you for subscribing
You signed up for emails from Classy