Thanks for checking out the new and improved StayClassy! We are tremendously excited about the progress that we have made with the product and we look forward to seeing you use it to strengthen your organization's fundraising.
While we are confident that the redesigned StayClassy is more powerful and easier to use, we are also aware that any change in technology is going to bring up questions. To help you get the lay of the land, we've compiled the top ten questions clients have about the new design. Take a look, and if you have other questions, please don't hesitate to contact our customer support team directly.
 1. Will my existing campaigns and events go away?
Don't worry- they're safe. All of your existing campaigns and events (and the data for each one) is safe and sound in your new Dashboard. If you want to view or manage a campaign or event just click on the "Campaigns & Events" tab.
From there you'll be able to access all of your active and past campaigns and events. You'll also be able to view any drafts (campaigns or events you've started creating but haven't yet published).
 2. What happened to e-mailing?
We used to have standalone e-mailing, but people weren't really using it much. Instead of keeping the disconnected e-mailing feature, we chose to integrate e-mailing into the places in the product where it makes sense to be sending e-mails.
For example, if you want to promote a campaign or event, just click "Manage" for the desired event or campaign; then you can send e-mails to supporters by clicking on "Send Invites" under the "Promote Tab."
When you are in your reporting you can filter your report and e-mail the filtered contacts. Want to e-mail only donors that have given over $250? Want to e-mail fundraisers that haven't collected any donations yet? Or how about e-mailing the fundraisers that have been actively receiving donations? No problem. Just filter your report accordingly and click "Send Email to List"
3.  How do I edit my Settings?
Starting from your main Dashboard click on the little widget icon on the top right corner or your screen. It looks like this:
Once you've clicked on the settings icon, you'll see a horizontal row with the different components of your StayClassy settings. Just click on the section you want to edit and go from there!
4.  How do I use the reporting? 
Start by clicking on the "Reports" tab at the top of your screen.
When you do, you'll land on a page that looks like this:
As you can see, there are two drop down menus on the main reports screen. The one on the left allows you to select a specific campaign or event (or all of your campaigns and events) and the one on the right allows you to select the type of report you want to run.
When you have made a selection in each dropdown menu, click "Build Report" and the report will load.
<
Once you've loaded a report, you'll notice the filtering options on the bottom left portion of your screen: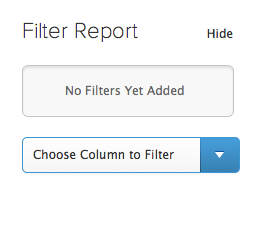 You can select the column you wish to filter from the drop down. After you select the column you want to filter, just type in what you want to filter for and click "Select."
Once you click "Select" the filter will be added. Now you can either add additional filters by repeating the process you  just went through, or you can hit "Filter Report" and generate the report with the filter that you've already added.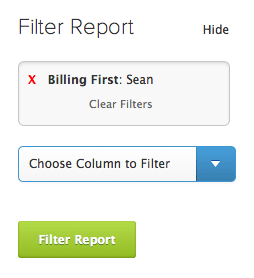 After you've filtered a report to your liking, you can easily export that data or e-mail the contacts from the filtered report.
5.  How do I view all of my contacts?
Click on the "Reports" tab
You will then land on your main report screen, which looks like this:
Keep the left hand scroll bar on "All Events & Campaigns" and use the scroll bar on the right to select "Contacts"
Now just click "Build Report" and your contacts report will load.
6. How can I view my account statement?
 Go to your reports screen by clicking on the "Reports" tab from within your Dashboard.

Keep the left hand scroll bar on "All Events & Campaigns" and use the scroll bar on the right to select "Account Statement"
Now just click "Build Report" and your account statement will load.

7. What are Extensions?
Extensions are tools for connecting StayClassy with other web platforms and with your organization's own website. The extension section contains tools like:
– Widgets you can place on your website to display your StayClassy activity in real time
– Domain masking, so supporters see your website's URL instead of ours when they visit your StayClassy pages
– Custom donate now button builder, you choose the size and color and put it anywhere on the web
– Google analytics integration, allowing you to track conversions on your StayClassy pages with your existing Google analytics account
– MailChimp integration, allowing you to push contact data from StayClassy to Mail Chimp's e-mail marketing platform in real time
– The Get Involved page, which allows you to display all of your donation and fundraising options to your supporters on one streamlined page
To access your extensions, go to your main Dashboard and then click on the extensions icon in the top right hand corner of your screen. The icon looks like this:
8. How do I add administrators or contacts?
In your main dashboard scroll down until you see this on the right hand side:
Click on the relevant field and follow the steps to add new administrators or contacts. Keep in mind that you can also add (or manage) new administrators by clicking on the settings icon and selecting "Account Admins."
9. Where can I provide feedback?
At the very top of your screen next to the search bar you will find a link to our support center, you can provide feedback by sending us a message there.
10. Where can I get help?
At the very top of your screen next to the search bar there are links to our help center and to chat with our customer support team.