Classy's Top 10 Blog Posts of 2019
There's a chill in the air, lights are twinkling everywhere, and people are reminiscing and talking resolutions. This is a particularly reflective time as we're approaching a new decade, but in addition to listening to the top songs and rewatching award-winning movies of the 2010s, nonprofit professionals are focused on year-end campaigns and bringing in those final donations.
To help keep your fundraising hat on amidst all of the excitement, take a look back at the content that resonated with the Classy community this past year. From forecasting 2020 giving trends to inspirational quotes that will re-energize your team, these are the top 10 posts from the Classy blog in 2019.
Classy CEO and co-founder Scot Chisholm shares his predictions for 2020 fundraising trends in this blog post. He discusses the following five areas:
Big Results for Nonprofits That Embrace Flexible Work Environments
The Resurgence of the "Election Effect" as the Political Climate Heats Up
A Call for Greater Financial Transparency and Global Effectiveness
The Concept of Integrated Giving Empowering Everyday Donors
The Rise of Giving Experiences and Conversations About Sustainable Impact
Some of these topics have been long-discussed, but check out the full post to find out how industry leaders are approaching the themes as we are closing in on the new decade.
When you spend your days tackling some of humanity's greatest struggles, there might be some times when you need a quick infusion of optimism. During those trying moments, reading motivational quotes from other philanthropic leaders can give you the momentum needed to march forward.
Bookmark this post so you can come back to these quotes, share them with your team, and feel energized in your dedication to working towards social change.
With recent estimates showing that just 19% of first-time donors return to make another donation, donor retention should be a focus area for all nonprofits. Furthermore, it costs an organization more to acquire new donors than retain existing donors—so what are you waiting for?
Use these 13 email templates to create a stellar donor engagement strategy and effective communications cadence to nurture new donors.
In June 2019, Classy hosted the sixth Collaborative event where attendees came together to share ideas, gain strategies, and create connections with like-minded changemakers in the social sector.
Following the event, we shared a robust recap of sessions, workshops, and experiences in eight themes that popped up over the three-day event. Find out what the 2019 event entailed and then get your early-bird tickets for the 2020 event scheduled for June 9-11 in Boston.
To help you stay on top of industry trends, we collected 21 of the most interesting points from recent nonprofit reports. In addition to the data points, we include tips, resources, and related content to learn more about the content you're most interested in. Cozy up with a cup of hot cocoa and read on to make sure you're caught up on predictions and trends going into the new year.
Nonprofit professionals know that every dollar can make an impact, but there are a few industry trends that make small donations more valuable than ever. The post discusses how small monthly gifts contribute to a diversified fundraising strategy, there is an influx of younger donors who can't afford to give large gifts, and more.
Find out about the power of small donations and learn three tips for asking for small donations so that you can leverage this tactic during year-end and when planning your annual strategy for next year.
For National Nonprofit Day on August 12, we shared questions that charitable organizations can use to spark conversations with their teams. We then asked several nonprofits to share their responses and individual experiences.
Questions included:
What Is Your Favorite Thing About Working at a Nonprofit?
What Accomplishment or Moment Are You Most Proud of From This Past Year?
What's One Thing About Your Nonprofit (or Mission) You Wish More People Knew?
How Do You Show Appreciation to Your Nonprofit Community (Donors, Fundraisers, Volunteers, Employees)?
Read on to feel inspired by the 13 organizations we spoke to including Bike & Build, World of Children, The Pablove Foundation, and Operation Broken Silence.
The summer slump is a real hurdle for nonprofits to tackle. Donors and fundraisers alike are less engaged than usual because they're busy going on vacations, hosting BBQs, and soaking up the sun. Make sure your nonprofit team is making the most of these slower months with these 11 activities that include reading recent reports, planning your Giving Tuesday campaign, cleaning up your email lists, and more.
The second edition of our annual report focused on return donor behavior to understand what happens after someone makes their first one-time donation. The report is full of new insights and exclusive data around demographics and referral sources, how campaign type impacts retention rates, the most common follow-up actions that a one-time donor takes, and so much more.
Use these findings to inform your fundraising strategy and help you to better nurture and retain supporters.
Avengers: Endgame was one of the most highly-anticipated movies of 2019, and amidst all of the excitement for its release we realized that nonprofit professionals are basically superheroes themselves. To celebrate this community, we shared 14 GIFs that show how the everyday heroes of the social sector are as courageous, loyal, strategic, and strong as the costumed heroes of the silver screen.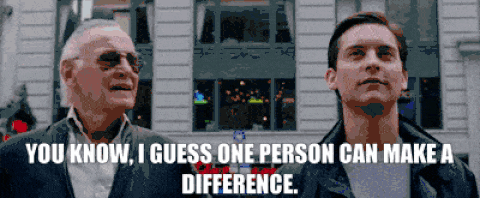 We hope you've had a successful 2019 and enjoyed the content we shared this year. Subscribe to the blog below so that you can get our posts, resources, and news delivered to your inbox in 2020.
Subscribe to the Classy Blog
Get the latest fundraising tips, trends, and ideas in your inbox.
Thank you for subscribing
You signed up for emails from Classy