Top Nonprofit Industry Questions from LinkedIn, Answered
Reading Time:
5
minutes
LinkedIn is an amazing professional learning resource. Like-minded nonprofit professionals join LinkedIn groups for different reasons – maybe they want to keep up with industry trends or maybe they are seeking advice from their peers. Regardless of the reason, LinkedIn groups are a great place to connect, start conversations and learn.
There are at least one hundred nonprofit groups that discuss a range of topics, like marketing, fundraising, management, and donor communication.
If you aren't very active on LinkedIn or not a member of any nonprofit groups (and you might consider joining!), you may be curious…What are people talking about?
Here are 5 frequently asked questions that you might stumble upon in a nonprofit LinkedIn group.
1. Why don't relative nonprofits work together?
This question was definitely a conversation starter. Since being posted over a month ago, 76 people have weighed in and shared their opinion. It's obvious this is something nonprofit professionals are eager to talk about. When you have a moment, skim through the comments and you will find yourself inspired by some of the ideas that have been shared.
Barbara Van Dahlen, Founder and President of Give an Hour, wrote a great piece on the CLASSY Awards – Collaborative Exchange about the importance of funding collaborative projects to fuel social change. I think this paragraph really speaks to Barbara's point:

"If it were easy to solve the difficulties confronting our military and veteran community, if it were easy to end domestic violence in our nation, if it were easy to prevent homelessness, we would have successfully addressed these issues long ago. No single community-based organization can solve complex challenges such as these, and we cannot and should not expect our government to do so either. Each organization, each agency, each initiative must add its unique contribution to a collective effort that, over time, can create a comprehensive and integrated system that supports the continuum of care and intervention required for the problem identified."

In another instance, Tony Sasso, the creative director of Liberty in North Korea, also made a very powerful statement that speaks to the need for collaboration among nonprofits:
He says, "We want more 'competition/energy' because it will be supplemental to the work we are doing towards collective action in this cause category…rather than win the category, help the category win."
2. Which nonprofits do a great job in telling the story of their brand and why?
This is a great question. Before I answer it though, I thought it would be appropriate to first define the term. Earlier this spring, we wrote an introduction into nonprofit branding and marketing. Brand is the identity of an organization – the who you are. Therefore, it is crucial for nonprofits to know how to effectively tell their story because this is how they can build brand awareness.
Daniel Melbye, a digital communications expert who works with nonprofits, did a guest post for us that explained why storytelling is so important, with some pretty powerful nonprofit examples. The common denominator between all the nonprofits Daniel discussed, is that their brand is at the core of their story. Donors know and remember these nonprofits (and consequently their brand name) because they have learned how to effectively communicate who they are.
I encourage everyone to check out the nonprofits Daniel highlighted as fantastic storytellers.
Social media is a popular topic. I have found that people are constantly looking for new social media strategies and want feedback on whether or not their social efforts can drive donations. There were a lot of questions to filter through so I decided to focus my energy on two discussions I have seen time and time again.
This comes up a lot. There is a lot of debate around whether or not social media can actually be used to drive donations. People can like a cause on Facebook, but are they making a donation to that cause or volunteering for it? Critics refer to this habit as "slacktivism" and argue that social media advocacy does not translate into real action. However, a recent study found that this may not always be the case; some contexts convert passive supporters into active ones.
This finding adds up to some serious value, even if initial interactions on social media don't result in an influx of donations. Social media advocacy increases cause awareness, real-world engagement, and online donations are not necessarily driven by the size of an organization, but how it can leverage its social network.
In conclusion, social media may not be the BEST way to raise money for your organization (and it certainly shouldn't be the only way you're soliciting donations) but it is a critical marketing and awareness tool that nonprofits need to be taking advantage of.
How can you tell if your social efforts are paying off? There is no simple answer to this question because to gauge your social media success you have to track and measure many different variables. However, there a few things you can do to ensure that you aren't blindly trying to build your social presence.
I strongly suggest reading, Getting Data Driven On Social Media. It is a great resource that walks through how to determine which social platforms work for an organization, how to choose content that will engage your audience, and how to use data to make informed decisions when posting on social media.
Remember that figuring out what works on social media requires trial and error. There is no magic trick that results in a thousand new likes overnight. However, tracking your successes and failures is the key to being effective on social media.
5. On customer service for donors: Large numbers of donors can make contact difficult. How do nonprofits handle this responsibility and keep the fundraising process personable?
This question linked to an article, which made some excellent points about how to better manage donor contacts. The highlight of the piece was that although there isn't enough time to get to know each and every donor on a personal level, nonprofits can establish a donor management process that improves communication with donors and leaves them feeling satisfied.
How does all this relate to customer service? Unlike for-profit businesses, donors are not receiving something in exchange for their money. However, as we recently discussed there are a lot of things nonprofits can learn from the for-profit customer service model. At the core of donor satisfaction is effective communication.
Research has shown that around 53% of donors who failed to donate more than once to a nonprofit didn't do so because of ineffective communication. Therefore, e-mail marketing, story-telling, personalized thank you's, and social media shout outs are all things that nonprofits need to be doing to strengthen their relationship with donors.
There are a lot of lessons nonprofit organizations can learn from businesses in terms of "customer" service and satisfaction that will benefit an organization's brand and deepen donor engagement.
---
Want to Get the Most Out of Your Fundraising Efforts?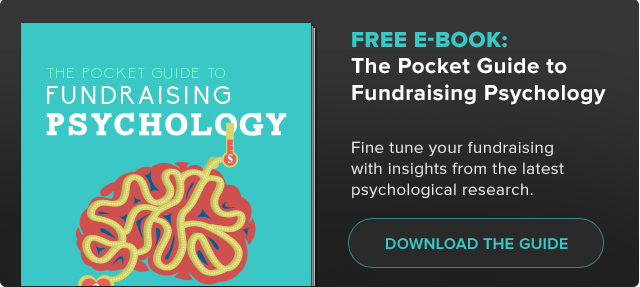 ---
Image Credit:
Veronique Debord Lazaro
Subscribe to the Classy Blog
Get the latest fundraising tips, trends, and ideas in your inbox.
Thank you for subscribing
You signed up for emails from Classy
The email you subscribed is