From hosting entertaining events and asking for individual donations to seeking grants from the government and corporations, nonprofits have more opportunities than ever to fundraise.
However, most nonprofits are overlooking two important ways to generate revenue that don't require the effort that grant requests and fundraising events do — matching gifts and volunteer grants.
These two corporate giving programs are relatively easy ways for your nonprofit to increase donations. While each company has different requirements and stipulations for their programs, having a baseline knowledge of what these programs are and how to promote them to donors can help your nonprofit raise more money.
Matching Gift Basics
Matching gifts are donations that a company makes to an eligible nonprofit after an employee has made a contribution. The employee must submit paperwork either through an online company portal or to the HR department.
Companies usually match gifts at a 1:1 ratio, doubling an employee's donation. However, some employers will match contributions up to a 4:1 ratio, depending on the amount of the donation and the type of nonprofit it was made to.
Top Companies With Matching Gift Programs
Johnson & JohnsonThe healthcare company based in New Jersey matches donations to nonprofits starting at $25 and goes all the way up to $20,000. Part-time and full-time employees are eligible to have their gifts matched at a 2:1 ratio, while retirees can have their donations doubled at a 1:1 ratio.
Soros Fund ManagementThis U.S. investment management firm knows how to match employee donations! Like Johnson & Johnson, the minimum donation is only $25, and Soros caps matched donations at $100,000 (employee and partner contributions). Employee donations are matched at a 3:1 ratio, while partner contributions are matched at a 2:1 ratio.
The Ford FoundationFounded in the 1930s by father and son duo Henry and Edsel Ford, the Ford Foundation seeks to improve human welfare. One of the ways they accomplish this mission is by offering their employees a generous matching gift program. Although retirees are not eligible, part-time and full-time employees can have donations ranging from $25 to $30,000 matched at a 3:1 ratio.
Check out Double the Donation's list of the top companies that offer matching gift programs.
How to Promote Matching Gifts to Donors
While some employees are fully aware of the matching gift opportunities that their employers provide, others have no idea that they can make their donations go twice as far just by filling out a little paperwork.
You can market matching gifts to donors:
On your website
Using social media
Throughout the donation process
A comprehensive matching gift marketing strategy would incorporate elements of all three of these outlets. Let's take a look at each one separately.
On Your Website
Include a dedicated matching gift page or create a section about matching gifts on your "Ways to Give" page.
Take a look at Adrian College's dedicated matching gift page on their website. It tells donors all they need to know about doubling their donation and provides donors with a tool that can help them determine if their employer offers a matching gift program.
With Social Media
With the growing number of social media users, your nonprofit can't afford to miss out on promoting matching gifts on sites like Facebook and Twitter.
When using Facebook, keep posts consistent and to the point. Donors don't need to read a novel in a Facebook status. Include links and graphics so that your post stands out.
The National Kidney Foundation offers a great example of how to effectively market matching gifts on Facebook. By posing a question to followers and then providing them with quick information and a link about matching gifts, the foundation was able to reach a large audience. This single post was liked by more than 450 followers and was shared nearly 200 times.
On Twitter, take minimalism to the max. Cut right to the chase. Donors don't need fluff, they want facts. You should still link followers to more information, but the tweet itself should be quick and to the point.
The Pikes Peak chapter of CASA demonstrates how to send out an effective tweet that grabs followers' attention and encourages them to learn more about matching gifts. They also incorporate information about an upcoming fundraiser. This tweet kills two birds with one stone.
Throughout the Donation Process
One of the best ways to market matching gifts to donors is when they're already giving to your organization. You can appeal to donors' charitable moods while they are making online donations to your nonprofit and encourage them to look into matching gift programs that their employers might offer.
You can do what The Association of Former Students at Texas A&M does and incorporate matching gift information as an option on an online donation page. Not only does the page feature a link that takes donors to more information about matching gifts, it also lets them input the company they work for and the ratio at which their employer will match their donations.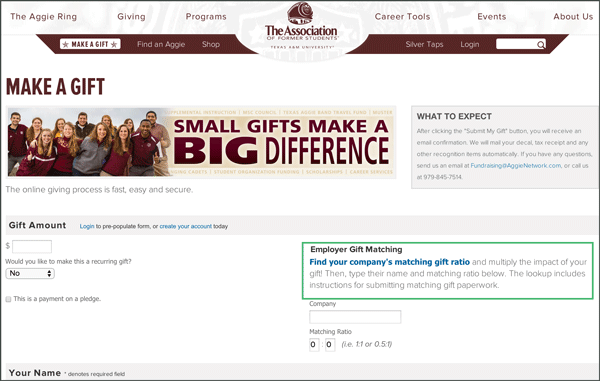 Additionally, nonprofit organizations can let donors know about matching gifts by promoting on confirmation screens immediately after an online donation has been processed.
The Piedmont Foundation lets donors know that they received and appreciate their donations while also informing them about matching gift programs that their employers might offer. The Piedmont Foundation gives donors basic facts about matching gifts and provides a searchable tool that helps donors check to see if their employers offer matching gift programs.
Volunteer Grants
Also known as Dollars for Doers, volunteer grant programs are corporate giving initiatives that reward employee volunteerism with monetary donations to the nonprofits that employees dedicate their time to. Even though there is often an overlap between donors to your nonprofit and volunteers who participate in fundraisers and events, you can still promote volunteer grants to both groups.
Nonprofits often overlook volunteer grants, but they could greatly benefit from learning the fundamentals of how volunteer grants work and which companies offer them.
Not all companies offer volunteer grants, and those that do tend to have different criteria by which they distribute funds to nonprofits. Some programs require employees to cross a certain threshold of volunteer hours, while others have a set rate per hour spent volunteering.
Top Volunteer Grant Companies
ExxonMobilEmployees of ExxonMobil can take advantage of the corporation's volunteer grant program after volunteering at a nonprofit for at least 20 hours. ExxonMobil gives nonprofit organizations $500 per 20 hours of employee volunteering, and workers can apply for up to four grants in a single calendar year.
Allstate InsuranceAllstate offers a volunteer grant program that donates $500 for a minimum of 25 hours that a single employee volunteers with a nonprofit. Additionally, Allstate will give $1,000 to an organization when an agency owner volunteers for at least 25 hours.
Dell, Inc.When Dell employees volunteer for a minimum of 10 hours per quarter, the company will donate $150 to the nonprofit of the employee's choice. Employees can request a maximum of four volunteer grants per year.
For more companies that have great volunteer grant programs, check out this list.
How to Promote Volunteer Grant Programs to Donors
In addition to the strategies you use for marketing a matching gift program, you can talk directly to volunteers about the different programs that their employers might offer while they're volunteering with your organization.
This can be a great way to connect with volunteers on a personal level, learn more about them, and help them maximize the time that they're putting into your organization.
Nonprofits organizations should take advantage of the generosity of corporations and businesses by letting donors and volunteers know about matching gift programs and volunteer grant initiatives. While organizations should not solely rely on matching gifts and volunteer grants for revenue, they can be great ways to bring in extra money to help your nonprofit's cause.
Adam Weinger is one of the leading experts on corporate giving programs. He's the president of Double the Donation, a company which helps organizations raise more money from employee matching gift and volunteer grant programs. Adam is a frequent contributor to many leading nonprofit magazines and blogs in addition to Double the Donation's blog.
---
Bring Your Campaign Idea to Life
---