How to Easily Unite Your Giving Tuesday and Year-End Campaigns
Reading Time:
5
minutes
Giving Tuesday is a great time to kick off your year-end fundraising campaign. The surge of momentum generated on one of the social sector's biggest giving days can carry you all the way to January if you play your cards right.
Some nonprofits may look at these two periods as separate events in a busy time of year. After all, nonprofits raised more than $2.47 billion in the U.S. alone on Giving Tuesday 2020 and nearly one-third of all annual giving comes in the final month of the year.
However, if you think of Giving Tuesday and year-end together it opens up new possibilities to maximize your fundraising potential. For example, you can take a page from The Salvation Army Western Territory and transition a rousing Giving Tuesday campaign directly into a year-end campaign.
Below, we'll walk you through how this low-lift tactic can help you increase your fundraising revenue and how Cory Gaudaur, digital fundraising and operations specialist at The Salvation Army Western Territory, orchestrated a seamless transition.
What's the Benefit of an "All-In-One" Approach?
It can be difficult to begin a campaign from scratch, generate hype around it, and get those first donations to start rolling in. Thinking of Giving Tuesday and year-end as one in the same can help diminish that roadblock though. When you combine the two initiatives, you go from starting and stopping to one seamless transition that builds and builds toward an ultimate goal.
Instead of starting from scratch with a year-end goal after Giving Tuesday, you can leverage Giving Tuesday to help donors feel empowered. Think of it like getting started on year-end early.
For example, the earlier you engage your avid supporters to contribute to your Giving Tuesday campaign, the higher your chances that other newcomers will get in on the action as well. This is what's known as the goal-proximity effect: making progress on your goal early in the campaign motivates new supporters to get involved because they feel like they're helping you cross the finish line.
While this applies to the day of Giving Tuesday and your goal for that moment in time, it also applies to your larger year-end goal. After Giving Tuesday, instead of starting over, your organization already has momentum built that shows how much people believe in your work and your ability to make a difference.
At the same time, bringing in more supporters builds social proof, which can influence other communities to also participate. People trust recommendations from their friends, family, and coworkers.
Further, since the campaigns would use the same link, it helps bring in supporters who potentially missed the boat on your initial promotions for Giving Tuesday. For example, if someone opens a Giving Tuesday email on December 5 and clicks the campaign link, it will still take them to an active page they can donate to.
The key is to know how to "flip" your campaign properly, like The Salvation Army Western Territory did. Thankfully, it's a relatively low-lift tactic that any nonprofit can use.
How'd They Do It?   
When Cory and her team began creating their Giving Tuesday campaign, they decided that the right strategy would be to unite it with their year-end effort. Once Giving Tuesday was over they would go in and alter parts of the campaign page to transition it fully into a year-end appeal.
Take the time to sit down and map out your strategy before you start building. Make note of sections that you'll need to update when you transition the campaign page. Then, when the time comes to change from Giving Tuesday to year-end, you're only making quick minor edits and you know precisely what to update."
Pro Tip
Cory used her Giving Tuesday and year-end campaign as a template for future efforts. If you'd like to learn more about saving time with templates,
read more here
.
As The Salvation Army Western Territory started building their Giving Tuesday campaign, they made strategic decisions as a team for what would change and what would remain once they flipped to year-end. All told, they:
Changed out the main hero image on the campaign page
Rewrote some of the text on the page from Giving Tuesday to year-end
Updated the donation form to fit a year-end appeal versus a Giving Tuesday one
Filled in extra details about their year-end campaign in the "About" section
Here's a visual breakdown for you of what The Salvation Army Western Territory's transition looked like:
The Hero Image
The Salvation Army Western Territory were able to maintain their campaign aesthetic across both Giving Tuesday and year-end with their hero images. While each image represents a different campaign, they're both united by a consistent brand, color palette, and font: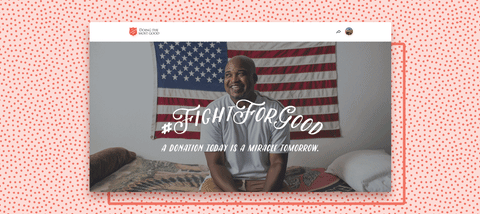 The "About" Sections
The Salvation Army Western Territory was able to easily update the copy in this section to reflect the mission driving each campaign:
The Impact Blocks 
While the copy changed in the "About" sections, Cory and her team made the strategic decision to keep the impact blocks the same across both campaigns. They sat down, mapped out the images and text, and created assets that would play well with both themes:
The Results
The Salvation Army Western Territory combined their campaigns to:
Generate fundraising momentum going into Giving Tuesday
Capitalize on the Giving Tuesday hype, on Giving Tuesday
Flip their campaign aesthetic easily into a year-end theme
Avoid starting a new campaign at $0 raised
Kick their year-end giving period off with a large pool of supporters and social proof
At the end of the day, they also exceeded their fundraising goal by 40 percent and saw checkout page conversion rates of 43 percent for Giving Tuesday and 27 percent for year-end. For frame of reference, we see most organizations fundraising on Classy land in the 25 to 30 percent conversion rate range.
While you have the creative freedom to make any changes you want, it can be a good idea to maintain some consistent elements across both campaigns, like photos, impact block images, or text. This shows supporters the two efforts are linked and can help mitigate confusion for anyone entering from an older email or social media promotion: your branding and aesthetic will look consistent.
If you can rethink your strategy around Giving Tuesday and year-end, you can help drive results, increase performance, and alleviate workload. Instead of viewing these two times as separate, each requiring their own campaign, try looking at them as complementary efforts that build off one another.
Use this example from The Salvation Army Western Territory to help inform how you might build a campaign that's easily transitioned from Giving Tuesday into year-end. If you'd like to get even more resources to make this Giving Tuesday your best yet, grab our Giving Tuesday toolkit below.
---
The Smart Guide to Strong Year-End Fundraising
Subscribe to the Classy Blog
Get the latest fundraising tips, trends, and ideas in your inbox.
Thank you for subscribing
You signed up for emails from Classy
The email you subscribed is