Are You Using Your Nonprofit's CRM to Its Full Potential?
Reading Time:
4
minutes
Nonprofits should become data-driven to take the guesswork out of their decisions. In order to track and measure data—and make decisions based on that information—organizations turn to powerful constituent relationship management (CRM) solutions, like Salesforce, to centralize and organize their information.
One nonprofit tapping into the huge potential of their CRM is Pencils of Promise (PoP), an organization dedicated to providing every child with access to quality education. We hosted a webinar with their Senior Data Operations Manager Jackie Roshan, who oversees the organization's CRM and data analysis. She opened the curtains on how PoP uses Salesforce to drive their daily operations, improve donor engagement, track their impact, and grow their programs.
Roshan provided a ton of valuable insights, but here are just three ways your nonprofit's CRM can automate and improve your operations. Get the full scoop by clicking the link to the full webinar below.
1. Foster Collaboration Across Teams
One of the biggest benefits of using a cloud-based CRM like Salesforce is that it allows multiple teams to access the system from any location. This enables PoP's development, marketing, impact, and operations teams to communicate with each other seamlessly and share information across a project. In doing so, you can drive cross-departmental collaboration and action much more effectively.
This collaborative power has improved the way PoP connects donors back to their impact on the ground. For instance, when a supporter donates or fundraises $25,000, PoP builds a school in their honor, creates a personalized plaque, and keeps the donor updated on the entire process. As soon as the gift comes in, a notification is sent to the development team in Salesforce to dedicate a school on behalf of the supporter. Once the school is chosen, the staff on the ground is notified to start building the plaque. These automated notifications continue and alert each team when it's time to execute the next task.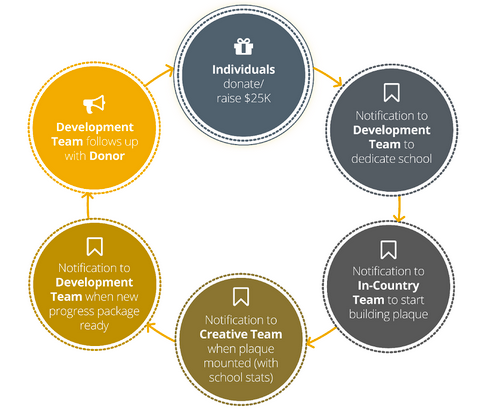 Before PoP used their CRM to automate these processes, it took up to a full year to build and deliver donor plaques, materials, and updates. Now, with these automated backend processes, the organization has decreased their turnaround time to three months.
2. Organize and Access Impact Data
Centralizing their data has enabled PoP to understand and enhance the results of their fieldwork. The ability to log real-time updates from the ground, and access the information right away, has enabled all of their teams to quickly pull, evaluate, and share the impact of their programs.
To track and measure their impact, they used Salesforce to build an Impact Application that aggregates data across their programs. This application also integrates with their website, so their website information automatically updates with the latest records in the system. This transparency allows donors to know where their dollars are going at all times.
Because multiple staff members can access the data from any location, the process of entering and analyzing an endless range of data is quick and efficient across the organization. For instance, in-country teams can input tons of real-time scholarship, attendance, and community metrics from the field into the Impact Application. Then, the organization's evaluation team in New York can instantly access that information and start crunching numbers to evaluate the programs' impact, including attendance numbers or student progression rates.
3. Make Data-Driven Decisions
Salesforce's tracking and reporting capabilities have empowered PoP to make smart, data-driven decisions. Instead of guessing next steps, they're able to use their data to make choices that they know can increase the impact of their work, optimize their efficiency, and grow the organization. They use their data to see how they deliver the most impact, and how they can further advance their mission.
One exciting venture, for example, is the prospect of mapping the geographic impact of their programs. This allows PoP to see where their programs are working, and in what regions. This visual information can help PoP see where they should expand their programs.
This is just a snapshot of how a robust CRM solution has taken PoP's operations to new heights. By helping the organization collect all of its information in one place, Salesforce has helped PoP streamline their reporting, analyze donor engagement, and promote efficient, cross-departmental collaboration. Above all, the organization is able to make educated decisions on how to make their programs more efficient, impactful, and sustainable.
Dive deeper into how PoP customizes and uses its CRM by watching the full webinar below.
---
Photo Credit:
Nick Onken
Subscribe to the Classy Blog
Get the latest fundraising tips, trends, and ideas in your inbox.
Thank you for subscribing
You signed up for emails from Classy