Webinar: Grow Your 5K With This Proven Fundraising Strategy
Reading Time:
4
minutes
5K run/walks are some of the most popular events nonprofits use to fundraise and strengthen their communities. In recent years, the Y in Central Maryland has consistently grown the fundraising results of their annual 5K Turkey Trot. Having made huge strides since adopting peer-to-peer fundraising in 2013, they increased the event's revenue by another 24 percent last year.
Lindsay Chrone, the Y's director of philanthropy, joined Classy account manager Rachel Muhlstein in a recent webinar to explain how they have refined their strategy to raise more each year.
Learn how making fundraising a seamless part of registration, connecting with your community, and prioritizing participant communication sets your event up for growth and success.
The Power of Registration + Fundraising
When the Y in Central Maryland first incorporated peer-to-peer fundraising into their Turkey Trot, participants had to register through one platform and fundraise for the organization through another. While a few devoted supporters followed through, these extra steps made it difficult for most people to start raising money. In 2014, the 5K began using Classy's registration + fundraising option, which automatically creates a fundraising page when someone registers.
"We want it to be very easy for you to get involved with us and deepen your relationship with us," says Chrone. Combining registration and fundraising was a big reason that the 5K's fundraising revenue shot up 46 percent in 2014.
In 2015, they increased the suggested fundraising goal for participants to $250, explaining to supporters that this sum would send a local child to the Y's camp for a week. It's important to connect a fundraising goal with its impact because it gives fundraisers a greater sense of purpose and responsibility. Although fundraising was optional, many participants reached the goal or raised even more.
To encourage participants to start fundraising, the Y in Central Maryland customized their event's registration receipt, explaining why supporters were asked to raise money, what incentives they could earn, and some helpful tips and tricks on how to reach out to their networks. This put all of the participants' important information in one message that arrived in their inbox as soon as they signed up.
Takeaways
Use registration + fundraising to make peer-to-peer as easy as possible.
Connect the suggested fundraising goal with its potential impact.
After registration, immediately communicate why and how participants should start fundraising.
Look Locally to Amplify Your Event
When hosting a community event, local support is very important. Businesses, clubs, and local influencers can all help you spread the word and raise awareness, connect with new supporters, and forge valuable relationships your organization can build on.
Chrone suggests nonprofits focus on recruiting a group of power supporters to promote the event to their networks. The Y fields a group of 100 "community ambassadors" that commit to holding events to promote the run/walk along with raising $250 themselves. Staff communicates regularly with these core supporters to encourage them and help them get the community excited.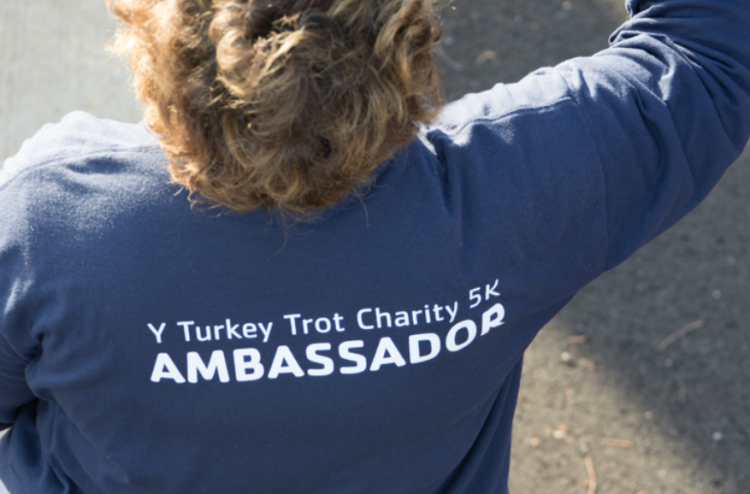 Takeaways
In-person events depend on local buy-in and awareness.
Tap businesses, clubs, schools, and places of worship to spread the word.
Recruit a group pf devoted supporters to become community ambassadors for your event.
Communication: The Unsung Hero
From start times to parking to check-in, a 5K run/walk comes with lots of moving parts. "People want information," says Chrone, "especially around events because people get nervous about logistics." This means that effective communication with participants is a huge element of success.
In the six weeks leading up to the Turkey Trot, the Y in Central Maryland sends registrants a weekly email with updates or any new details. Meanwhile, posts on their website, blog, and social media are available to everyone, building excitement and attracting new supporters.
Chrone explained that the Y also prioritizes follow-up communications. Along with prepping some of their thank you emails ahead of time, nonprofits can…
Create an infographic showing the event's impact.
Personally thank supporters who went above and beyond by fundraising or promoting the event.
Post lots of pictures on social media. "People love pictures from the event. Everyone loves to find themselves in the crowd!" says Chrone.
Donor communications is one of the most important components of a successful run/walk, not only because it recruits and informs participants, but also because it nurtures these relationships for future involvement.
Takeaways
Send a weekly email as your run/walk approaches. Include any new information or tips for training and fundraising.
Prepare thank yous and plan follow-up communications to keep participants involved after the event.
Although the run/walk is a classic nonprofit fundraising event, modern fundraising and communications best practices create lots of room for growth. The Y in Central Maryland's success shows that even a long-standing event can adopt tools like registration + fundraising to boost their results. Watch the full recording below to get even more tips and strategies on how to improve your run/walk event.
Plan a Charity Run/Walk Like a Pro
Subscribe to the Classy Blog
Get the latest fundraising tips, trends, and ideas in your inbox.
Thank you for subscribing
You signed up for emails from Classy
The email you subscribed is