StayClassy and Bernstein Global Wealth Management invite you to join a webinar on December 5 at 10 a.m. PST.
Is Perpetuity Still Possible? Current Issues in Long-Term Planning for Not-For-Profits
Stocks are up strongly this year, but that doesn't mean we can afford to grow complacent about investment returns. The good old days have not returned. Given current economic and capital-market conditions, we project bond returns well below normal and stock returns slightly below normal over the next 20 years. The impact on spending levels could well be dramatic.
Low-return investment markets are a challenge for most endowments and foundations: When returns are subpar, normal spending will likely eat into principal, and if this continues long enough, it can jeopardize a nonprofit's mission of perpetuity.
In normal times, our model shows a bond-heavy portfolio (20% stocks/80% bonds) would support spending at the 3.3% level and still allow a nonprofit to keep pace with inflation. Under current conditions, we believe it will support just 1.2% in sustainable annual spending. Organizations that exceed sustainable levels run the risk of depleting their capital over time.
Revising Your Investment Strategy
There are a number of strategies for meeting this challenge. Shifting to a more growth-oriented asset allocation is one. For example, a moderate asset allocation (60% stocks/40% bonds) should sustain annual spending of 3.3% over the next 20 years—quite a bit more than the bond-heavy portfolio. This might reduce the risk of running out of money over the long term, but at the same time, it would increase the risk of short-term losses in the portfolio. There is no risk-free option here. After carefully weighing both kinds of risk, leaders have to choose an asset allocation that they can live with.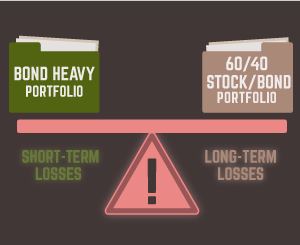 Investing in a broader set of assets could also help. Introducing allocations to inflation-sensitive investments (such as real estate) and to hedge funds could reduce the odds of an uncomfortably large short-term loss.
Fundraising Can Bridge the Gap
When your investments can't keep pace with spending plus inflation, you'll probably turn to fundraising. If you can raise enough to close this gap, you may be able to secure your organization's continued survival. After all, every dollar added to your portfolio can continue to earn investment returns into the future.
But how much fundraising is required? We've used our proprietary Wealth Forecasting System to find the answer. It turns out that a $10 million foundation with a 60% stock/40% bond investment portfolio and a spending level of 4% will need to raise $100,000 per year, grown with inflation, to keep pace under median market conditions. If investment returns are poor and inflation is high, the organization will need to raise $520,000 per year. These results are scalable: A $1 million foundation would need to raise $10,000 under typical future market conditions, and a $100 million foundation would need to raise $1 million.
A Number of Options
We believe that the wise course is to explore what combination of actions makes the most sense for your particular organization. The options include cutting spending somewhat, investing more aggressively (and living with a somewhat higher risk of a large short-term loss), accepting somewhat higher odds that assets will erode over time, and stepping up your fundraising efforts.
Bernstein Nonprofit Advisory Services Can Help
StayClassy and Bernstein invite you to join a 1-hour webinar on December 5 at 10 a.m. PST to address some of the investment challenges common to many of our nonprofit clients, offer solutions to these challenges, and open the floor to your questions. We look forward to an engaging discussion.

---
Signup for the Webinar!
---
For further information from Bernstein, please contact:
Brian Wodar
National Director, Nonprofit Advisory Services
Bernstein Global Wealth Management
561.820.2190
Philanthropy@bernstein.com

---
Ready to Raise More Money Online?