Many nonprofit organizations carefully plan their marketing and fundraising efforts months in advance. They go to great lengths to be prepared for the big day. But what if your big day doesn't come on schedule?
Sometimes an organization gets more exposure and donations from unplanned media attention than it does from any of its planned activities. While unexpected publicity draws attention and donations to your organization, it can be difficult to channel this quick burst of activity into long-term benefits. Even though sudden media attention is often unplanned and sometimes overwhelming, you can still take steps now to be prepared if your nonprofit suddenly finds itself in the spotlight.
Getting Your Big Break
While some organizations "go viral" with a video (such as Invisible Children did with KONY 2012) or through a celebrity endorsement (like Pencils of Promise's support from Justin Bieber), most nonprofits will gain exposure on much a smaller scale. Being featured in a local newspaper or television station can still provide a sudden increase in visibility though. These are great opportunities to grow your community of supporters and create lasting donor relationships.
One of the most recent nonprofit organizations to take the spotlight is the Malala Fund, a StayClassy client that funds and supports worldwide education for girls. It is named for Malala Yousafzai, whose rise to prominence began with her BBC-featured blog on her life as an eleven-year-old schoolgirl in Mingora, Pakistan. Even as the Taliban took power and banned girls from attending school, Malala advocated for education, giving interviews to major news sources and earning a nomination for The International Children's Peace Prize.
On October 9, 2012, the Taliban attempted to assassinate Malala as she was going home on a school bus. She was shot in the head and neck, but survived. After enduring multiple surgeries and months of rehabilitation, she continues to support worldwide access to education.
On the first anniversary of the shooting, she appeared on The Daily Show with Jon Stewart to promote her book, I Am Malala, and the Malala Fund. The interview on The Daily Show allowed Malala to tell her story to millions more people. In the days since, the nonprofit organization has seen an explosion of donations through its donation form.
Be Prepared for Unexpected Traffic
One of the most important things you can do to help your organization make the most of unexpected publicity is to have the infrastructure in place to handle a sudden rise in website visits and donations. This safeguards against the loss of funds from failed transactions or website malfunctions.
Invisible Children, a nonprofit working to end the atrocities of the LRA army in Africa, faced unprecedented traffic when they posted a short film called KONY 2012 on March 5, 2012. The documentary featuring war criminal, Joseph Kony, became the fastest growing viral video in history with 100 million views in six days. The astronomical web traffic took down Vimeo.com and Invisible Children's main website (along with its donation form). Improvising, Invisible Children switched over to a StayClassy checkout page for the remainder of the campaign. At the height of the activity, this single donation page was processing as many as 8,000 transactions per minute!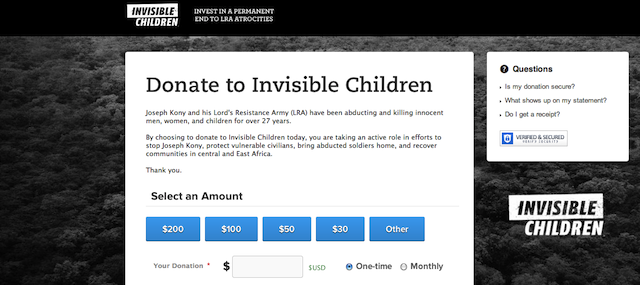 Most likely, your organization's increase in donations won't be so extreme, but this case illustrates the importance of having a reliable and accessible online donation page. When a sudden burst of donations comes through, you want to be absolutely sure your technology will keep pace and allow you to capitalize on the moment.
Another thing that Invisible Children did really well was developing a specific ask for recurring donations. It might not always be possible to shift your appeal to one for recurring support in the heat of the moment, but if you at least have a prominent and simple way to make monthly donations on your checkout page, you'll be better off. The more supporters you can get into a monthly giving program from the get-go, the more likely you will be to retain them over time. This is especially true when the original impetus for giving is a sudden burst of publicity. You can be sure that this moment will fade quickly, but if you get new supporters in the front door as monthly donors they will already be thinking of the arrangement as a longer-term commitment.
In addition to having a simple, reliable donation form, your website should also have visible calls to action to subscribe to your blog, sign up for your newsletter, and follow you on social media. This allows you to stay in contact with people who may not be ready to make a donation immediately. It can also help you promote your organization to supporters' friends and family down the line, giving you a chance to reach an even larger audience.
Continuing the Conversation
Gathering contact information from new donors and automatically sending that information to your main CRM, like Salesforce, will be a BIG help when things slow down and you are ready to thank your new donors and encourage them to continue supporting you. Follow up with your new donors by showing them the results their gifts have made possible. Keep them updated on your organization's activities and events so they can stay involved.
Many of these donors may have given because of emotion or impulse, but informing them of your mission and how their donation has helped the cause will go a long way towards convincing them to give again. The lasting impact of your big media moment will depend on how many casual supporters you can engage and hold onto by familiarizing them with your mission more over time.
In the End, It's Up to You
Your moment in the spotlight may seem like it came out of nowhere, but when the dust settles, you can reflect on what you learned about your organization and your audience. Look back and try to determine what event set off your momentum. How can you use what worked now to succeed in future fundraising activities?
A sudden burst of media attention is an exciting opportunity. Like a pitch right down the middle of the plate, you can let it pass you by or you can knock it out of the park!

---
Have an Idea for a Fundraising Campaign?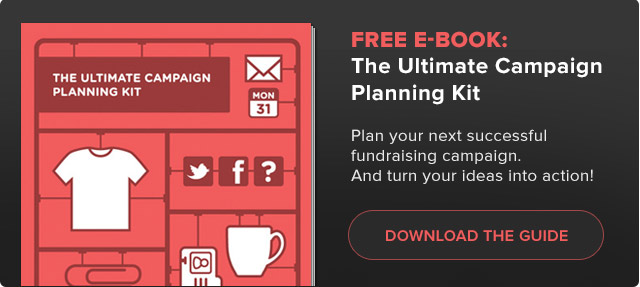 ---
Photo Credit: mrgreen09