Why Facebook's New Algorithm Might be a Good Thing
Reading Time:
6
minutes
We've heard a lot about, or experienced firsthand, the recent Facebook algorithm changes that have led to decreased engagement. Some fan pages have seen engagement numbers drop by 80 percent or more. That means they're reach about 0.5 to 1 percent of fans.
Page owners research, create, and curate content to make Facebook the hub of their social communications. And now, if you want to make that hard work worth it, it seems that you have to pay. 
At first, this didn't seem fair. People complained bitterly and publications were quick to declare the death of the "social media manager".  The nonprofit world circulated a petition asking Facebook to open up an ad grants program similar to the one Google provides.
While we would certainly welcome a Facebook ad grants program for nonprofits, it seems that the anger against Facebook might be a bit unwarranted. In fact, Facebook might actually be on to something: be a better storyteller, provide fans with content that matters to them, and the new Facebook algorithm might help you reach more fans.
There goes our Facebook reach
A music blog I used to work on had, until recently, a pretty respectable level of engagement on Facebook. After reading about the new Facebook algorithm, I checked out the blog's insights page out of curiosity. A startling, very visually apparent, drop in engagement revealed itself – not to mention, out of nearly 10,000 fans some posts were getting as little as 50 "seen bys."
The blog had, unfortunately, hinged its entire marketing strategy on an ability to reach readers through Facebook. Now, reaching fans and supporters would be an even more dizzying task. (Note: the positive reach here came from posting articles to relevant artists' and music labels' walls, directly).
After the new algorithm was implemented, paid post reach was up to 68 times more than organic reach. At first, it simply appeared like we'd never reach more than 200 fans ever again, unless we paid for it. But when I finally truly delved into the insights dashboard, I realized that the reality was a little more nuanced.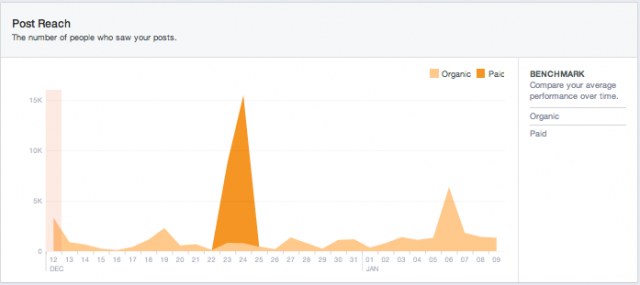 So what was really happening?
This is my review of posts before the new algorithm.
Reviews of new records had very low click rates, likes or comments and thus relatively low reach. They clearly were not great content for Facebook. While the blog might still want to maintain this kind of content on the site for industry credibility, it's not worth time, energy or creativity to make a Facebook post out of it.
The posts with the most interaction, on the other hand, were those that inferred a supporter was missing out on something. For the music blog, this would be a music festival live stream, photos, or other reporting coming directly from high-demand events around the world.
Or, when the fan seemed to be getting something immediately and directly from the page. In our case, posts about free downloads.
Or, photo albums or videos from events, because everyone loves photos and media.
Then, I checked out some posts made after the new Facebook algorithm was rolled out.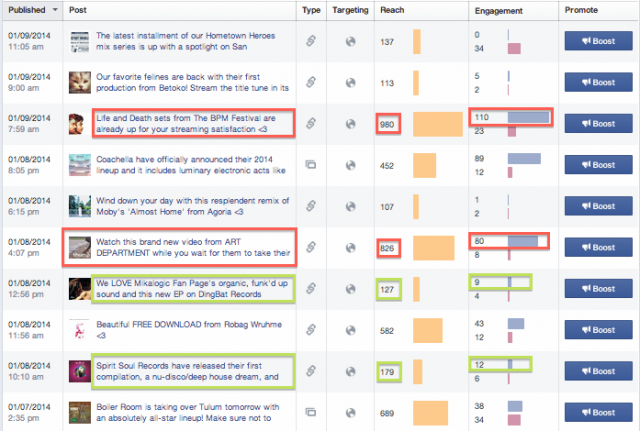 I didn't mark up everything in this screen shot. Still you can clearly see anything having to do with "missing out on something" (a live music stream called Boiler Room in this example), "getting something immediately and directly (free downloads), or media from an event (the BPM Festival in Tulum, Mexico) continued to get great reach and engagement, even compared to our pre-algorithm numbers!
The blog's engagement and reach went up as posts more consistently reflected what Facebook evaluated as "higher quality" content for fans. In short, my experience at the music blog seemed to suggest that this might be a push by Facebook to get marketers to use the newly-reinvigorated Insights feature and discourage repeated posts of content that has historically delivered little value to fans.
Facebook's focus on end users
The cynical view is that Facebook changed its algorithm to generate more ad revenue. The charitable view is that the changes came as a result of Facebook's focus on promoting higher quality content to individual users. While the truth probably lies somewhere in the middle, our anecdotal experience at the music blog seems to square with the more sanguine explanation offered by Facebook.
Posts that historically appeal to our audience are rewarded, and lower-value posts get punished. In many ways this parallels what has been going on with the Google algorithm changes and SEO in general for a while now. It's a prompt for Facebook publishers to focus on "high quality content." Of course this begs the question of what exactly Facebook deems to be high quality…
In their August News Feed FYI update, Facebook posted about what constitutes "high quality content, but the question has generated renewed interest with the latest update to the Facebook algorithm. One area to keep an eye on moving forward is the authority of the sources of content you are posting.
In a recent interview about the new algorithm Facebook's News Feed manager Lars Backstrom was asked, "Are you paying attention to the source of the content? Or is it solely the type of content?" In response, he said,
Right now, it's mostly oriented around the source. As we refine our approaches, we'll start distinguishing more and more between different types of content. But, for right now, when we think about how we identify "high quality," it's mostly at the source level.
This means that Facebook is looking into whether or not the links you share are coming from a particular source that the company deems as the most legitimate sources (for example, the New York Times would auto-rank much higher than some meme site, even if something from the meme site got a lot more engagement).
Other factors to consider
Is it timely and relevant?
Would you share with friends or recommend it to others?
Would you complain about this post or hide it if it appeared in your timeline?
Is it explicitly asking for likes?
Is it low-quality or a "meme"?
I'm also curious if language plays a visible role. For example, had this Boiler Room post read "Boiler Room is taking over Tulum tomorrow for the BPM Festival special edition…" aka mentioning BPM Festival, which was the topic of a few other posts that got really great engagement, would it have ranked even higher in fan's news feeds? It'd be interesting to track a few specific buzzwords that generally do well in posts over a few months.
So what do you do next?
It's  discouraging to see your reach plummet because of changes made to the Facebook algorithm. But it isn't the death knell many make it out to be. If you focus on shifting your posting strategy to focusing on what has historically worked for your page and to align with Facebook's definition of "high quality content" you may even see your performance improve.
The strategy is unique to your brand and based on regular analysis of the Insights dashboard. The new algorithm forces you to think about the sources you use, assess what's important to your fans, and how to build long-lasting, meaningful relationships with them.
The Facebook Algorithm Checklist
1. Look at your insights dashboard. Particularly, the panel that shows you a post-by-post breakdown of reach and engagement.
2. Mark out what types of posts historically had a good reach and those that generally didn't get any engagement. It might feel painful, but cut out content that wasn't get good engagement. You might be able to use other channels, like Twitter, for that information.
3. Identify some sources that Facebook would deem "high quality" and post a few links for those sources each week.
4. Research storytelling.
5. Ask yourself:
How do you get supporters more involved in spreading the word about your organization?
How do you give back to supporters?
What media are you presenting to supporters about the work you're doing?
6. Let me know what you think and what you've experience since the Facebook algorithm changed! The above analysis is based on one case study, so we'd love to hear what other suggestions our readers have. Power lies in communication and discussion.
---
The BIG Guide to Social Media for Nonprofits
Subscribe to the Classy Blog
Get the latest fundraising tips, trends, and ideas in your inbox.
Thank you for subscribing
You signed up for emails from Classy