An Introduction to Medium for Nonprofits
Have you heard about Medium? It's a simple, beautiful and ultra-readable platform where both professional and amateur writers chronicle an eclectic set of topics and experiences. Medium envisions a place where flexibility and artistic control embolden consistently high-quality content. Medium is the perfect medium for your nonprofit organization to craft stories that organically demonstrate the importance of your cause.
Regularly browsing Medium has forced me to reconsider what it really means to tell a story – the platform is truly a community of contributors who are writing for the sake of writing. It's a place where recommendations aren't social proof of your popularity or associations but, rather, are merited through words you've spun into compelling imagery. Shameless self-promotion is strongly discouraged (although self-reflection as a mode of learning is strongly encouraged).
In an interview with The New York Times last month, Evan Williams, one of Medium's founders, said, "We want to create a system where the best ideas and stories reach their widest audience. Some of those are going to come from professionals, but it is better as a whole if it has very wide breadth of content. Right now, the Internet rewards speed and quantity, and we wanted to make a place where quality matters."
The Value of Quality Storytelling
Writing on Medium can act as a valuable supplement to the normal content you push out through your blog and website. While a blog is there to inform its readers, it is also an inbound marketing tool that funnels site visitors towards converting into a particular actor (like donating or volunteering).
But for a moment, forget soliciting donations, activating fundraisers, and self-servingly demonstrating impact. Immerse yourself, as an organization, in a moment of meditative reflection on your core values. The vision you receive from this exercise is the storyline you should share on Medium: What first activated you to be so deeply engaged with your cause, what keeps you motivated, and who has reminded you "this is why I do what I do."
Medium, too, can act as a driver but because it is a tool for unadulterated storytelling its incredible value lies in an ability to create an innate sense of responsibility to a cause, rather than as a platform to make direct appeals.
One might mistake a "recommendation" on Medium to be a form of the pejoratively negative "slacktivism," much as a like on Facebook. However, new research has shown that slacktivism can actually turn people into activists, given the right circumstances.
The team that conducted the research at the University of British Columbia suggests "charities should promote the values underlying their causes if they want to turn more slacktivists into committed, policy-changing activists." This makes Medium ideal for initiating the connection between slacktavist and cause needed to motivate more engaged action.
"Last Walk for Water"
Let's look at an example. Take a compelling story by charity:water co-founder Scott Harrison called "Last Walk for Water." This isn't an immediate appeal to donate towards clean water efforts, ask readers to participate in an upcoming event or tout the organization's successes.
Harrison tells the story of a young girl name Letikiros and fully immerses the reader in charity:water's why. By the end of the story there can be no mistake of why charity:water does what it does and who it affects. You become attached to characters of a story you've encountered without any ulterior expectation of engagement. By feeling more personally connected to the cause, readers might be moved to learn more or donate through the call to action at the end of the post.
Tip: Just because Medium isn't built on being self-serving, does not mean they're interested in dissuading you from including calls-to-action on your work. At the end of your post, add a sincere appeal that includes a thank you for reading and links to your social networks, website and donation page.
Engaging, Beautiful Content – Easily (Really)
Keeping a blog looking beautiful and engaging is a lot of work. Whether you use WordPress, Tumblr or another blogging tool on your website, some level of coding knowledge is required to maintain design consistency.
Because Medium is built for storytelling, they've worked hard to ensure the visual element of a post is well-accounted for and straightforward to put together. Incorporate images and videos in ways you might not be able to on your own blog (or, at least might be too complex and time-consuming).
Images fade and appear as you scroll through a story, photos are perfectly aligned and you'll know exactly how the post will look before you publish it. The editor does a really great job of accurately displaying your post's formatting (difficult to say the same for WordPress…).
Create Collections and Invite Others to Participate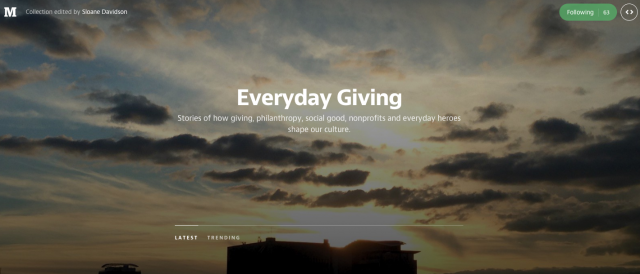 Something Tony Sasso, the creative director of Liberty in North Korea, said once really resonated with me. "We want more 'competition/energy' because it will be supplemental to the work we are doing towards collective action in this cause category…rather than win the category, help the category win."
"Rather than win the category, help the category win."
A really unique feature of Medium is the ability to create and own "Collections." A Collection contains posts that fall within the same topic or series. Collections allow a number of voices to contextualize a particular issue and develop a narrative around a similar storyline (or maybe offer different perspectives on one topic). Create a Collection to help your category win by recruiting other organizations in your cause-sector, your constituents, volunteers or supporters to write about their passion and contribute to your storyline.
The Center for Investigative Reporting, a nonprofit organization that promotes journalism as a tool for uncovering and recording injustices, currently manages two Collections – one called "Solitary Lives" about the use of solitary confinement in the American penal system and another called "Redemption Songs" about how civil war scars the children it involves. Both collections have certainly made an impression on me through featuring numerous voices, and have highlighted why CIR needs to be pursuing long-form, intensive investigative journalism.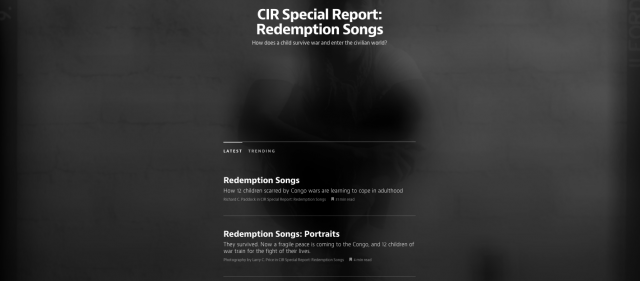 You Will Get Read
Now, for the numbers game. What is the ROI for writing on Medium? In terms of reads and views, you potentially stand to gain a whole lot from publishing on Medium. Contributing to collections with already established followings definitely helps you get seen, but publishing on your own profile can be just as valuable.
Digital marketer Mike Essex reported getting more average number of views within six hours of posting on Medium than his article would have received on his own site in its lifetime.
Because Medium focuses on high-quality stories, the more people who read (yes, Medium mysteriously measures if someone has read a post, not just clicked on it, viewed it or recommended it) the better visibility you will receive on the platform.
Also, before Medium was open to the public, the company set the bar for quality by paying well-respected journalists, professionals, writers, coders and entrepreneurs to publish on the platform and edit collections. This means a wide-range of influencers continue to use the platform, manage collections and could very well encounter your story.
Quick Tips for Utilizing Medium:
➢ DO create a collection and ask others to participate
➢ DO tell your story and unleash your passion!
➢ DO contribute to another's collection
➢ DO follow others
➢ DO comment on, recommend and share content about your cause
➢ DO invest time to write well
➢ DO make your post beautiful and engaging
➢ DO link to your organization's donation page (modestly, of course)
➢ DO visit the Medium Help Center
➢ DO read Medium's rules and take them seriously
➢ DON'T shamelessly promote your organization
➢ DON'T write click-bait headlines (this is about quality, not clicks)
➢ DO enjoy a very unique storytelling experience

Conclusion
I could go on and on about the ways to utilize Medium for your organization. From participating in a Collection to posting photo essays to embedding the beautiful stories on your own blog, there are so many advantages to sharing your passion for your organization's cause through great storytelling. For more, in depth accounts on how to use Medium try:
On getting started here and here (note this latter post is from 2013 and states Medium is "invitation only." It is now open to everyone.)
Inspiration: beautiful stories
On embedding Medium stories on your blog or website
---
Turn New Donors Into Lifelong Supporters
---
Image Credit(s): all via Medium. Users:
Scott Harrison
,
Julia Zhuo
,
Center for Investigative Reporting