How to Win Over Skeptical Donors
Reading Time:
4
minutes
Some donations are harder to win than others.
Some donors, for instance, will give to support a friend's individual fundraising page. Others may give because they are compelled by your well-crafted appeal. But some people—those skeptical donors—will conduct some serious research before ever contributing to a cause. They want to know that their donations a re going to a credible organization that will use their money efficiently and effectively.
It's easier for both your organization and your potential donor if you provide the essential materials they need up front. Here are five types of information you can provide on your website to win over these keen supporters.
1. Provide Your Organization's History
When you meet someone new, you typically lead in with a few icebreakers: where you both come from; the places you've been; and how you both got to where you are. These topics can often start a meaningful conversation. The same idea applies to a potential donor's first encounter with your organization. When they can learn more about your roots, they feel more connected to your nonprofit, its mission, and its vision.
Many organizations have an "About Us" section on their website. This is where you can delve deeper into the history of your organization. What first connected you to the cause? Why did you start your nonprofit? Share how you got to where you are today. Not only does your background story explain your journey, but just like any good storytelling, it can create an emotional connection with a potential donor and compel them to take action too.
The Movemeant Foundation, for instance, shares their founder's personal journey with info about her self-image, health, and athleticism on their website's "About Us" section. This helps site visitors understand and connect with the story behind the foundation, an organization that empowers women through mentorship, health education, and grants that support fitness and physical movement.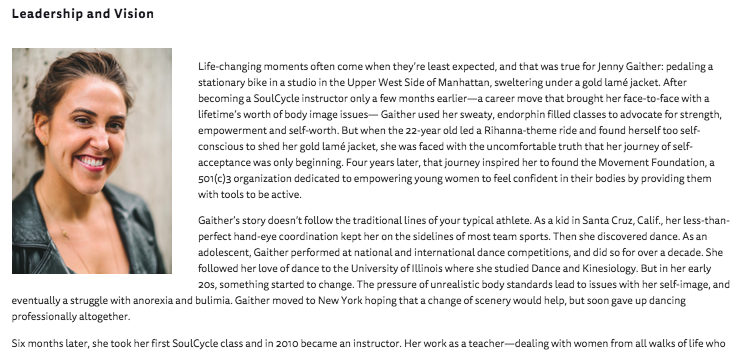 2. Show Off Your Staff Members
In a similar vein, many donors want to see the people standing behind your organization. Connecting faces to your brand can add a human element that helps build trust. Pull back the curtains and highlight your staff and board members on your website.
Check out how Generosity.org lists each of their staff members and their roles on the organization's website. A high-quality photograph puts a friendly face next to each name. A short bio explains how that person became passionate about the cause, and includes a few fun facts to shine a little personality. Note how they also linked each member's social network profiles, so you can reach out them personally.
3. Deliver Proof of Impact
Your ability to maximize support relies heavily on how well you demonstrate your organization's impact. Supporters value transparency, and they want to see proof that their dollar will be used efficiently.
Impact stories are a great way to exhibit your organization's work. In fact, a survey by nonprofit technology firm Software Advice found that impact and success stories are what donors want most in their follow-up communications. Feature stories of individual beneficiaries and completed projects on your website, and provide photos and videos to bring your work to life.
Also consider sharing previous annual reports on your website. For those donors who like to do their research, this is an easy way to see how donations were used in the past, and how your nonprofit delivered on its projects. Liberty in North Korea, for instance, links out to their 2013 annual report, along with a quick breakdown of how much money was raised in previous years.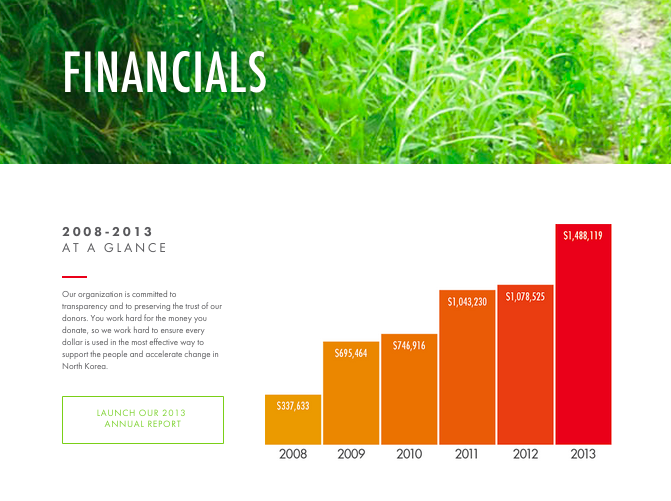 4. Give Updates on Current Projects
While you should provide impact and success stories after the fact, you should start building trust and transparency by providing updates before the project is even over. As you undertake certain projects, consider delivering progress reports as you carry out your work. You can do this either in your emails, newsletter, or blog. By updating your blog consistently, site visitors can see that you value transparency and will keep them up to date on the projects they might support.
On top of giving progress updates, make sure to be up front about any roadblocks or delays your team might encounter. If your well building project got set back because of monsoon season, for instance, let supporters know in your communications. This honesty can go a long way in building trust with both current and potential donors.
5. Specify Project Budgets
Donors always want to know where exactly their dollars will go. To create a tangible connection between their donation and its impact, name what amounts will provide what type of support (e.g. $50 provides a blanket and bed, $100 provides five backpacks of school supplies). This can help donors gain a concrete understanding of the difference their money will make.
If applicable, your website can also say what percentage of the money raised will be allocated to which type of support. For example, you can say "X percent of the total raised will go to local staff training," or "X percent will go to printing materials." This type of breakdown can be fitting for long-term, intangible campaign goals, like funding your operations for the next six months.
Providing this information on your website will help out your organization's efforts in the long run. When potential donors can see your effort in delivering this up front, it demonstrates your value for transparency and boosts your credibility. This can help bring in more donations and new supporters to your organization.
Subscribe to the Classy Blog
Get the latest fundraising tips, trends, and ideas in your inbox.
Thank you for subscribing
You signed up for emails from Classy