Event Details
Select a media type above to begin uploading photos and videos
Welcome to the TRIUMPH mile
The TRIUMPH Mile is a 1 mile walk/run for individuals with mild disabilities with the able-bodied athletes.
The goal of the event is to provide a health enhancing and mentor building opportunity for individuals with disabilities by utilizing a team-based endurance athletic approach.
The event is hosted by the Bellin Run and coordinated by myTEAM TRIUMPH, an athletic mentoring program for challenged community members.
The event will take place on the Friday prior to the Bellin Run and will be held on the streets around Astor Park in Green Bay Wisconsin.
Angels and Captains will also be assisted by a mTT volunteer on race day.
We will be partnering with ASPIRO Inc, NEW Curative, CP Center Inc for this event
Training: Training = Relationships
We will be hosting weekly trainings at each of the host sites in the months leading up to the event!  Days and times TBD
Bellin Fitness Center West
ASPIRO
NEW Curative
CP Center Inc
Angels, you will have the opportunity to train with the Captains, get inspired and enhance the health of individuals with disabilities in our community! Please join us for any of these training opportunities!
Captains, you are able to attend any of the sessions at Bellin Fitness Center, however only Captains who receive services at ASPIRO, NEW Curative or CP Center can attend training at their respective locations.
Cost / Fundraising:
Angel cost: $20
Captain cost: FREE!
Race Day Plan:
3:30: Volunteers arrive to set up mTT tent and receive your assignments
4:15-4:30: Angels and Captains Check in at our mTT white tent. We will have two lines and provide you your bib and Angel or Captain shirt if you don't have one. After that, please proceed to the bleachers for a pre event photo.
4:45: Pre race announcements, reminders, photos and prayer
4:50: Angels and Captains proceed toward the start line. We will not form teams in the normal sense myTEAM TRIUMPH usually does but rather form three waves (running, walking and assisted)! Angels, please remember that you're there to walk or run WITH the Captains and provide them support during the event!  This is LIFE CHANGING!
4:55: Announcements from Bellin Run staff.
5:00: Race starts! Angels support the Captains. Some will run, some will walk. Two laps around Astor Park equals one mile. You can receive water after completing one lap.
Finish: Congratulations Captains will receive their medals! Angels are to sign the Captain's bib. Proceed back to the mTT Tent.
Check out the event area map HERE
Photos: If you are taking photos on race day and sharing them on twitter and instagram please tag @myTEAMTRIUMPHwi and #TRIUMPHmile in your posts.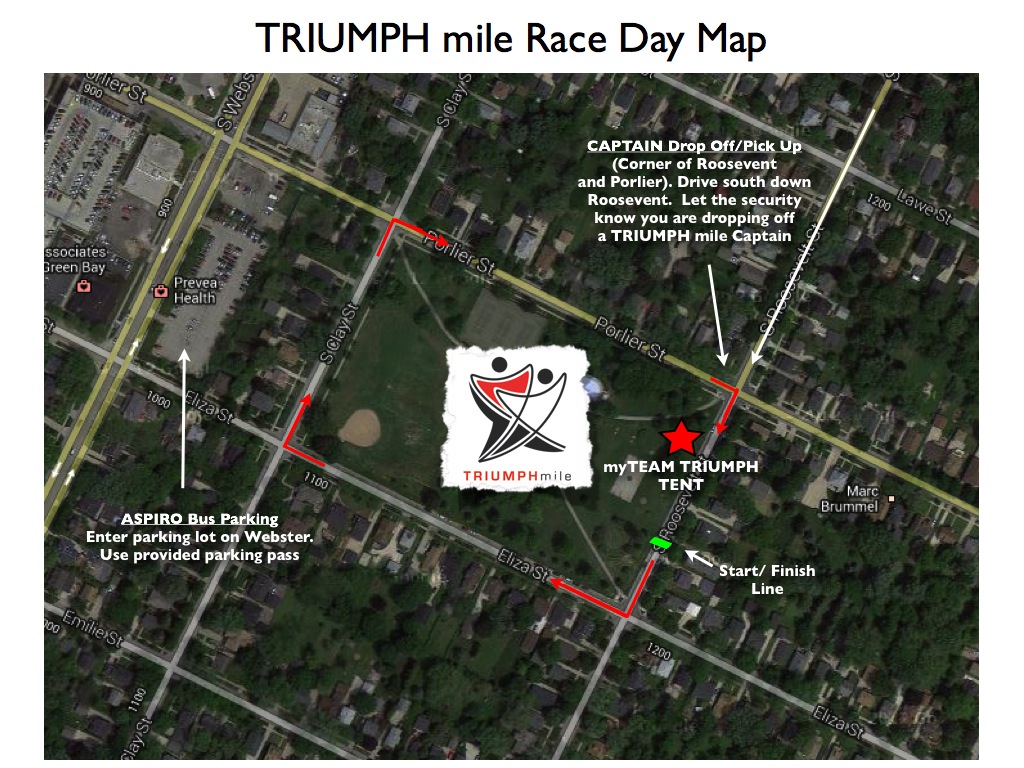 ---
If you looking for more information about how getting involved with mTT works, click the links below...
---
Team Resources: