2015 Wausau Marathon, Half Marathon & 5K with myTEAM TRIUMPH
Event Details
Select a media type above to begin uploading photos and videos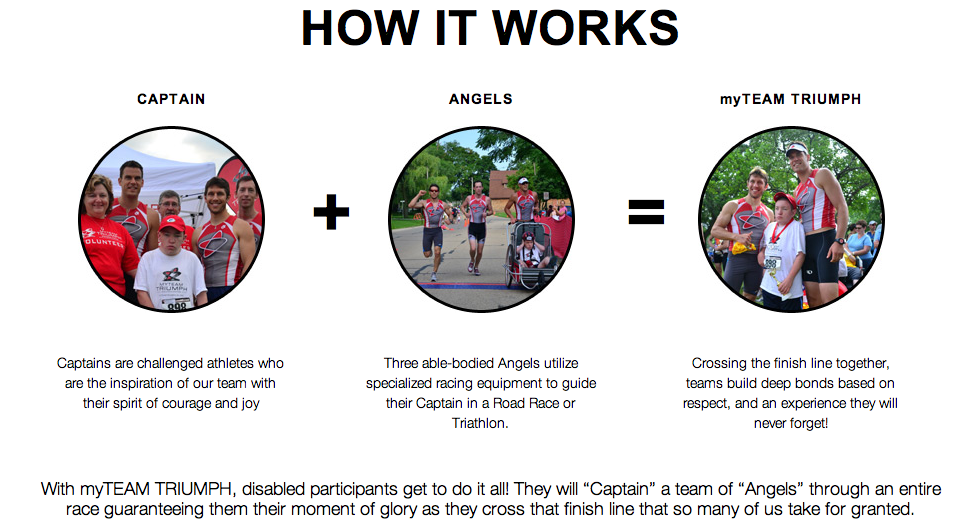 CLICK HERE for live tracking of our Half Marathon teams.  Thanks to From The Finish Line
Thank you for your interest in joining myTEAM TRIUMPH!  You're about to be part of something very special and life changing!
Before you sign up, please carefully read the information on this page and click on the link at the bottom of the page!
Race: Wausau Marathon, Half, and 5K
Captain registration opens: 2/15/2015
VIP Experience Registration opens: 4/6/2015
Team Angel, Volunteer registration opens: 5/4/2015
Elite Angel: angels@myteamtriumph-wi.org
Becoming a Captain:  Individuals with disabilities with a desire to TRIUMPH!
The heart of the team!  You're the leader of your team!  You and your Angel(s) will train, compete and redefine achieve!
Choose your distance and who you'd like to race with!  If you have a preference on distance, you can indicate this during registration.  This is for events that have multiple distances such as a full and half marathon.
You sign up first.  We will start by opening Captain registration at the beginning of the each of the two seasons to allow Captains the opportunity to rank their top events.  This will also allow us to create the Captain line up prior to Angel registration opening.  Captains, when you sign up, you'll have a fundraising page.  Fundraising is not required to be a Captain however if you'd like to fundraise, you are set up!
After you sign up...Angels will join your team and you'll receive info about training runs, fundraising tips, etc!
Becoming an Angel:  Do you have what it takes?
There are different opportunities based on your interests in being an Angel.  Please read the details below carefully
VIP experience!  For select mTT races, we will offer a sweet new experience for Angels.  This VIP experience will allow Angels to sign up early and have a guaranteed spot.  The fundraising minimum will be $250 for the VIP experience.  Perks for participants include:

Registration for VIP is only open for 4 weeks!
Pre event meal and bonding time with your Captain along with others in the VIP experience during the week of the race.
$25 gift card to our online store!
Complimentary post race massage
A Canvas Print of your team
All the additional benefits of the Team Angel included (race entry, uniform, etc)

Elite Angel:  If you are interested in deeper experience by being a one-on-one Angel for a Captain in an event, we can support you!  This experience is open for select races and very different than a Team Angel.  An elite Angel will be the sole Angel with his/her Captain.  This is a much more challenging physical and mental endeavor.  There is a $1,000 fundraising minimum per event.  Registration opens early for the Elite experience and is limited to a small number per races.  Register today and contact us angels@myteamtriumph-wi.org if have any questions!

Pre event meal and bonding time with your Captain during the week of the race.
$25 gift card to our online store!
A Canvas Print of your team
Opportunity to do blog posts on mTT page sharing your journey
All the additional benefits of the Team Angel included (race entry, uniform, etc)

Team Angel: Participate as team of Angels taking turns guidling your Captain to the finish line!  3-5 Angels make up a team.  When you sign up, choose your Captain, distance and pace.  If you have people you want to race with, tell them to sign up for the the team you are on.  Fundraise a minimum of $100 per person, per event. This fundraising supports:

Race entry for Angels as well as for your Captain. We provide free opportunities for Captains
Team shirt / jersey for Angel and Captain
Pre race camp food for entire team
Race day hospitality
Our continued mission
Volunteers:  We need you!  Help support set up, check in, transferring Captains, etc!
Team Volunteer: 

You'll receive a Volunteer T Shirt
You will also have a fundraising page when you sign up.  Fundraising is not required but definitely appreciated!
---
If you looking for more information about how getting involved with mTT works, click the links below...
---
Team Resources:
Fundraisers