[Webinar] Monthly Recurring Revenue Programs: The Fundamentals
Reading Time:
4
minutes
Among a number of benefits, monthly recurring revenue programs generate a predictable flow of income, boost donor retention rates, and increase donor lifetime value year over year. While it's clear that social impact organizations should develop these programs to capture these benefits, they require thoughtful planning and preparation in order to truly be successful.
In a recent webinar with Matt Scott, Chief Development Officer of Classy Certified Partner CauseMic, we took a deep dive into monthly giving best practices collected from industry-leading nonprofits. While the webinar covered everything from fundamental must-haves to tips on growing your number of recurring gifts over time, we pulled three of our favorite takeaways from the chat.
For the full scoop, check out the recording.
Social proof is a fantastic marketing tactic to help grow your recurring revenue program. In the same way that people's buying decisions are often influenced by reviews and popularity, their choices to join certain programs can be swayed based on how many others have already hopped onboard.
There are many ways to demonstrate the larger community backing your monthly recurring revenue program. Let's say, for example, that you're launching a time-based campaign to kick-start your program. In this case Matt suggests,
You can have measurable goals specific to the day. For example, 'We want to add 25 recurring donors by the end of day.' That's an example of social proof. As people begin to sign up, communicate 'We're at 23, we're at 24.' That allows people to realize, 'Wow, other people are invested in this, and I want to be too.'
For a longer-term tactic, you can have a section on your website that displays the existing members of your recurring revenue program. You might also list them by gift size or in the order in which they sign up. The main point is to highlight the community that is working towards a shared goal.
2. Take Advantage of Your Website Real Estate
In order to grow your monthly recurring revenue program, it's important to make it easy for site visitors to get involved. Make sure your homepage has CTAs that drive traffic back to your dedicated microsite, page, or donation page. Matt says,
We're huge advocates for front and center on the homepage, preferably on the left hand side of the actual donate button so when you're reading left to right, you have the give monthly call to action that's right there. We actually encourage our clients to change the color of the give monthly option so it really stands out to potential donors.
Check out how Possible Health pulls this off on their homepage.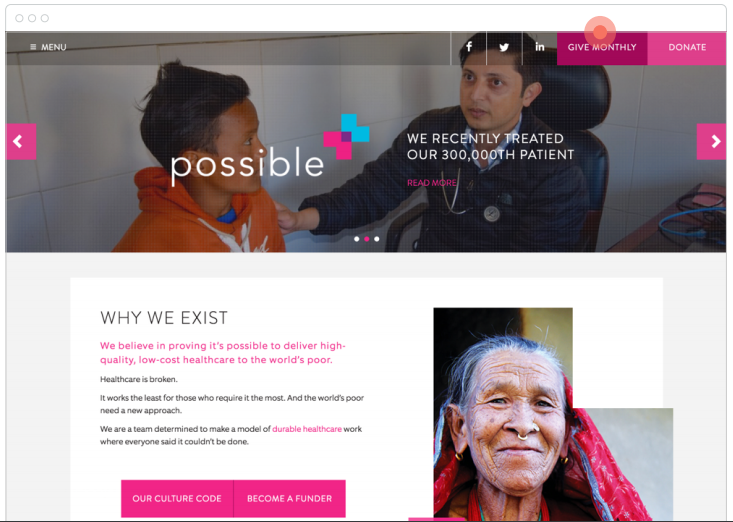 A separate CTA that calls out your monthly giving option can actually have quite the effect on your conversions.
In an A/B test conducted by World Wildlife Fund, one version had a single donate button on the organization's homepage, which then linked to a choice that allowed visitors to give monthly. Out of 361 site visitors who came and donated, 65 (around 18 percent) selected the monthly giving option.
In the test version that promoted a monthly giving option directly on the homepage, 307 donors committed a gift, and 141 of them (or 46 percent) converted into recurring donors.
These results show that when you put a bold, contrasting monthly giving CTA front and center on your homepage, you're more likely to generate a higher conversion rate than if you were to take donors through a multiple-step process to make a recurring gift. This in turn generates more recurring revenue for your organization that you can rely on.
In the same vein as showing off your community, you want monthly donors to show off their contributions and commitment. For starters, your software should give them a social sharing option once they've gone through the donation process, like Classy enables here.
But you should also go beyond that to encourage sharing. Matt says,
We like to create visual elements that tie back to an individual giving level. If somebody is giving $25 a month and it has a certain programmatic outcome, it's important to send them a visual element that says, 'Hey, you should share this on social media.'
For example, if a donor's gift provided equipment for your disaster response team, then you can send them a photo of your staff with new gear in hand. You can send your monthly donors these images to share with their networks. Not only does this remind them of the continuous impact their gift makes, the ability to share their involvement can also build further social proof for your program.
These tips on how to build a sustainable monthly recurring revenue program are just a few of the many mentioned in the webinar. Check out the full recording for more, including:
How to communicate the benefits of being a monthly donor
Strategies to customize the monthly giving experience
How to recruit monthly donors to support infrastructure rather than programmatic outcomes
Brainstorming strategies to establish your program's unique branding and marketing
Best practices to renew and upgrade donors
Watch Now
Subscribe to the Classy Blog
Get the latest fundraising tips, trends, and ideas in your inbox.
Thank you for subscribing
You signed up for emails from Classy
The email you subscribed is