Fun and Unconventional Fundraising Ideas to Spark Your Creativity
At Classy, we're lucky to have a front-row seat to some of the most fun, unique, and out-of-the-box fundraising ideas in the nonprofit sector. And because creativity begets creativity, we thought it would only be appropriate to share these innovative campaigns with you!
Here are two creative nonprofit fundraising ideas that were particularly out-of-the-box, along with firsthand insight into their communication and marketing strategies. We've also included takeaways for both, so you use these engagement tactics to boost your next campaign's results.
THE 24-HOUR DONATION CAMPAIGN
Blood:Water—The Real Game of Thrones
Blood:Water partners with African grassroots organizations to address the HIV/AIDS and water crises. Through technical, financial, and organizational support, they have provided clean water and HIV/AIDS support services to nearly one million people in eleven different countries. In a creative effort to engage supporters, their recent 24-hour donation campaign used the combined powers of pop culture, humor, and bathroom puns to raise money to build latrines throughout Africa.
The theme of their campaign? "The Real Game of Thrones."
A nod to the popular television series about royal battles and power struggles, "The Real Game of Thrones" brought attention to the actual battle in Africa for proper sanitation and latrines, or "thrones." The campaign aimed to raise enough money in 24 hours to build 21 latrines in Cyanika, Rwanda.
With just 24 hours to engage supporters, the organization focused its communication strategy primarily on digital outreach and social media.
You've Got Mail
The campaign's opening email was sent in the morning, with a clear reason for the campaign, distinct call-to-action, and a design that pulled all the messaging together for supporters. Another email was sent later that evening, updating supporters on the campaign's progress and motivating them to take action. The email even included a progress bar to visually demonstrate how many latrines were funded (and needed) at that hour.
First e-mail:
Progress e-mail:
Time Crunch? Go Social
A big part of keeping up the campaign's momentum and visibility throughout the day was the organization's social media presence. Blood:Water marketing coordinator Laura Blucker says, "Our main focus was social media. We worked our own network of friends and family to have them help us get the message out. We also targeted tweets to big bathroom companies, such as Charmin. Lastly, we aired humorous ads on WAY-FM."
To spread the word even further, they encouraged supporters to share campaign posts on Facebook, Tweet bathroom puns, and share pictures of their own thrones (excluding selfies, thankfully). By the end of the day, "The Real Game of Thrones" raised enough funds to build 20 of the 21 latrines!
TAKEAWAYS:
Keep it social— During a 24-hour donation campaign, every minute counts. So what's the most important thing to do to keep people engaged throughout the day?
"Social, social, social," says Blucker. "Keep people talking about it. Give progress updates, while simultaneously stating goals and need."
Humor can go a long way—Although your organization may be doing some serious work, adding humor to your campaigns can humanize your brand and make your marketing much more accessible. Whether humor is splashed throughout your social media posts, a creative email campaign, or the theme of a full-on fundraising campaign, a bit of lightheartedness can go a long way in delighting your supporters and keeping them committed to your cause.
THE SPECIAL EVENT
Athletes 4 Cancer—Kiteboarding 4 Cancer
Through adventure-based experiences like snowboarding, skiing, and surfing, Athletes 4 Cancer provides empowering programs and resources to help young adults overcome unique challenges after surviving cancer. The organization recently held its eighth annual Kiteboarding 4 Cancer (KB4C), This cornerstone event founded Athletes 4 Cancer as an organization, and has become North America's largest amateur kiteboarding event.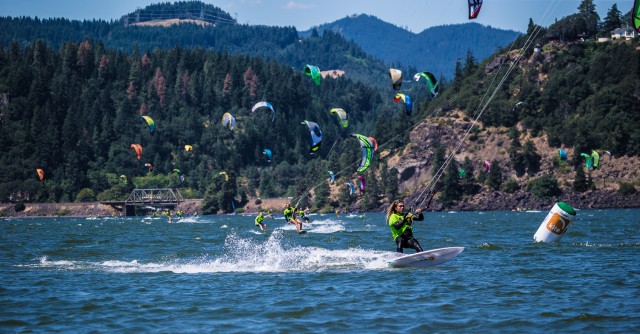 To raise funds for the organization's survivorship-based program, the 3-day event included silent and live auctions; interviews with supporters, survivors, and sponsors; kite relay races; and the famous kiteboarding derby that challenged athletes to race a 3-mile course for 6 hours. Every year, the main source of the event's funds comes from participants who fundraise for entry leading up to the weekend.
Calling All Fundraisers
This year, with the help of UpRaise Consulting—a consulting firm that helps nonprofits meet at the intersection of technology and human behavior to take on the challenges of raising awareness and money in the digital world—the campaign's fundraising strategy focused on maximizing fundraisers' individual success.
Matt Scott, the co-founder of UpRaise Consulting, says that an important part of their strategy was to launch a timed email campaign and send highly targeted emails to all fundraisers. To keep the messages personal and relevant, they segmented a few large groups and customized the emails accordingly.
"For example, if a fundraiser had raised $750 and had a goal of $250, we reached out to congratulate them, while suggesting that they increase their goal to $1,000. If a fundraiser had signed up to fundraise but had not yet raised anything, we reached out with helpful tips and sample copy to use when engaging their supporters," Scott says.
Fundraisers for KB4C '14 raised $74,000, which is $15,000 more than last year (a 26 percent increase).

Social Media Made Simple (and Effective)
This year, the organization worked hard to really tailor the social media experience around the event. One person was designated to handle social media throughout the day, so as to streamline posting and provide a consistent voice to the event. Facebook posts and Tweets were published at each stage of the event, taking care to add professional photos to boost engagement and reach. At the end of the event, they curated a collection of compelling photos for people to share.
The live feed and photo sharing boosted the event's social media presence. According to Facebook analytics for the event page, Kiteboarding4Cancer 2014 experienced triple digit growth in total social reach over 2013.
TAKEAWAYS:
Empower and motivate your fundraisers— Because a peer-to-peer campaign leverages your network's network, your fundraisers are the ones asking for donations, so you want them to be as motivated and equipped as possible. But because fundraisers will perform differently, you need to target your communications based on their needs and motivate them accordingly.
Segment your fundraisers into different groups and strengthen your individual relationships. Whether you offer a fundraising tips sheet, design resources for personal campaigns, or sample social media posts, provide the resources and encourage your fundraisers need to succeed.
Ramp up your social presence with quality content— While visual content engages supporters on social networks, nonprofit marketers need to remember that quality content increases your chances of being shared. Pauline Lewis, also a co-founder of UpRaise Consulting, says, "There is always a pressure to share photos as things are happening, especially at an event. But sometimes, it is worth waiting for the professional shots as those photos tend to be more vibrant and capture the essence of the moment in a way that makes it more compelling to share."
Whether you're planning a 24-hour campaign or a special event, we hope these unique fundraisers have given you ideas on how to market and fundraise for your next initiative. With some strategic planning and a creative spark, you can launch a fun campaign that will engage supporters and achieve success. For more inspiration, check out our other fundraising ideas.
---
Image Credit:
Flickr User Katerha</a
The Anatomy of a Successful Fundraiser
Subscribe to the Classy Blog
Get the latest fundraising tips, trends, and ideas in your inbox.
Thank you for subscribing
You signed up for emails from Classy