4 Nonprofit Organizations That Move Mountains
At Classy, one of our core values is to "stand for something." Whatever it may be, standing up for what you believe in begets change.
Nonprofit organizations are driven by this very value. Their missions arise from a passion to see something shift, to make the world a different place. They don't waver in the face of adversity, and they prove that standing for something can really move mountains.
Here are four organizations whose passion, perseverance, and refusal to back down are making a mark on the world.
1. No More LRA: Invisible Children
Since 1986, Joseph Kony and his rebel army, the Lord's Resistance Army (LRA), have committed many atrocities in Uganda, including kidnapping children and forcing them to become soldiers.
Invisible Children is a nonprofit organization dedicated to permanently dissolving the LRA through a wide variety of initiatives and grassroots organizing. By addressing both immediate and long term needs, IC's work has made broad strides towards ending LRA violence. LRA killings have dropped 92-percent since 2011, 2,624 abducted soldiers have returned to their families since 2010, and more than 6,000 Ugandan scholarship have been awarded since 2004.
In addition to their central programs in Africa, the organization prioritizes political advocacy, mobilizing supporters to rally and call on influential leaders to create lasting change. In fact, IC's efforts–and those of their committed activists–have spurred the passage of two bills through U.S. Congress.
In 2010, Congress passed the LRA Disarmament and Northern Uganda Recovery Act, the most widely supported Africa-related bill in U.S. history at the time. It required President Obama to develop the first official U.S. strategy to stop LRA violence and assist affected communities. In 2013, the Rewards for Justice Expansion bill passed to increase U.S. efforts to locate and arrest Joseph Kony, the head of the LRA.
IC's mission has not only rallied a global community of supporters and activists, but it has also generated significant Congressional actions to end Africa's longest running armed crisis. Through its lifesaving programs and grassroots advocacy, the organization is moving our world closer to an LRA-free reality.
2. LGBTQ Lifeline: The Trevor Project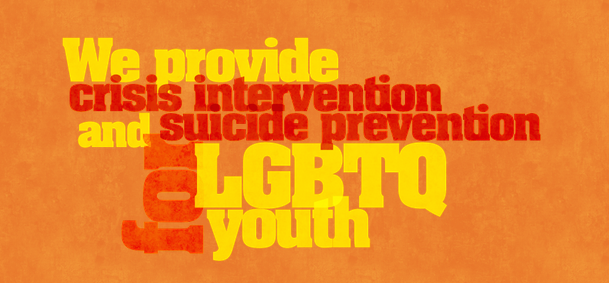 In 1998, the award-winning short film Trevor–the story of a bullied LGBTQ teen who attempts suicide–was set to air nationally on HBO. After securing the airing, the filmmakers searched for a support line to include for young viewers who might relate to the character Trevor. No such resource existed. Thus, on opening night, the creators launched The Trevor Lifeline: the first nationwide, 24-hour crisis lifeline for lesbian, gay, bisexual, transgender, and questioning youth.
Since then, The Trevor Project has become a leading organization providing crisis intervention and suicide prevention services to LGBTQ young adults. It operates the only national 24/7 crisis lifeline for LGBTQ youth, receiving hundreds of thousands of calls from young people in crisis. On top of the hotline, the organization has created life-saving digital programs, like instant message and text services, as well as TrevorSpace, the largest online social networking community for LGBTQ people.
In 2011, the White House honored the Trevor Project as part of the Obama administration's "Champions of Change" initiative. Recognized as a leading innovator in suicide prevention, the organization is a key resource for the initiative StopBullying.gov, and it also plays a leadership role in the National Action Alliance for Suicide Prevention. Since its inception, The Trevor Project has spearheaded the way people respond to LGBTQ crisis intervention and suicide prevention.
3. The Modern Underground Railroad: Liberty in North Korea
Thousands of North Koreans try to escape to China every year. While in search for freedom, they face life-threatening risks like forced labor, sex trafficking, and capture, and many are never able to find the resources or connections to leave China.
To address this crisis, Liberty in North Korea has committed to rescuing North Korean refugees and empowering them to succeed in their newfound freedom. Through meticulous research and strategic networking, the organization has established a 3,000-mile "modern underground railroad" through China and Southeast Asia, an escape route facilitated by trusted aides who help transport refugees safely to freedom. Cost-free to refugees, the passage prioritizes their dignity and security throughout the entire journey.
But that's not where LiNK stops. Once North Koreans make it out of China, the organization helps them resettle in safe countries like South Korea or the United States. It provides personal development, career development, and financial services that help refugees navigate their new societies and fulfill their personal and professional potential.
To date, over 300 refugees have been rescued and over 200 refugees have undergone resettlement services. Through their free passage model and capacity-building programs, LiNK is helping people reach and begin their new lives in freedom.
4. A World Without Slavery: Polaris Project
Named after the North Star "Polaris," Polaris Project is an organization working to end human trafficking and modern-day slavery, both in the U.S. and globally. By advocating for stronger laws to help victims, and offering vital resources to survivors, the organization offers lasting solutions to the trafficking crisis.
Among its many programs, Polaris operates the National Human Trafficking Resource Center hotline, a national, 24-hour toll-free hotline that answers calls in more than 200 languages. While maintaining caller anonymity, the NHTRC instantly connects victims to specialists who assist them in planning their escape and accessing local services, including crisis response, emergency housing, and counseling. In late 2013, the hotline received its 100,000th call.
The hotline, which has fielded calls, emails, and online tip reports since 2007, operates one of the nation's largest data sets on human trafficking. This map, for instance, locates potential trafficking cases reported to the NHTRC from 2007 to 2012.
Since 2004, the organization has also successfully pushed for federal and state laws to support the fight against trafficking. In 2013, its efforts played a key role in the passage of the Trafficking Victims Protection and Reauthorization Act, a bill that increases tools for survivors, protection for victims, and the ability to prosecute those who exploit individuals.
Polaris Project has established itself as leading resource for tools for survivors, policy expertise, and training and technical assistance to a global community. Their efforts continue to amplify our nation's power to combat human trafficking at home and abroad.
Countless nonprofits aim to create change, and many truly make a difference. Behind each of these organizations is a group of people who won't stop until they achieve their mission. Steve Jobs defined these individuals to a tee:
The people who are crazy enough to think they can change the world are the ones who do.
Now, back to you. We'd love to hear about your proud moments. What was a triumph you experienced in your mission? Answer in the comments below!
Subscribe to the Classy Blog
Get the latest fundraising tips, trends, and ideas in your inbox.
Thank you for subscribing
You signed up for emails from Classy