Behind Classy's Core Values: Lead by Example
Reading Time:
4
minutes
This post is part of a series giving you a closer look at the core values that define the Classy culture. This post focuses on how we aim to "lead by example." Earlier we introduced you to the sales team and what the principle "create meaningful value" means to them.
The Classy culture is driven by a set of core values that we seek to embody at every level of the company. One of those values, Lead by Example, isn't unique to our organization, but it is one that we try to incorporate every day. From our CEO to our newest employees, we work to be leaders in the nonprofit space by getting directly involved and practicing the innovative fundraising strategies we encourage our clients to use.
Founded by Fundraisers
Back in 2006, our founders Scot Chisholm and Pat Walsh built an organization for the same reason nonprofit founders do: they wanted to make a difference. Scot's mother had battled breast cancer and they wanted to fundraise to support research. Because they were a couple of young guys in San Diego, they hosted a pub crawl. This led to more fundraising events, such as festivals and concerts. The problem was that there wasn't an efficient system or platform for third-party fundraisers.
So they built one.
Well, with a lot of hard work and a lot of help and a lot of trial and error, they built one. Having spent the last few years organizing fundraising events, they were familiar with the challenges nonprofits faced and decided to lead the sector into a new era of accessibility and mobilization.
The Classy platform was launched in 2011. Since then, we have added new features and refined old ones, but Classy's leadership is still fundraising for the causes they love. On Scot's most recent birthday, he fundraised for the Flatwater Foundation, which provides mental health support for people fighting cancer.
Running Our Own Campaigns
When Classy hires a new employee, we don't just want them to become experts on our product. We want them to be experts on nonprofits and development. The ongoing training and education in the space ties in with another of our core values, Always Be Learning. But our employees aren't content to watch from the sidelines.
As they are introduced to new nonprofit partners and learn about their work, Classy employees frequently start their own peer-to-peer fundraising campaigns. For example, Account Executive Brad Harris made a fundraising page to celebrate his birthday. The Emilio Nares Foundation had recently visited Classy to tell us about their work, giving rides to children in San Diego who need transportation to their cancer treatments. Brad was inspired to ask his friends, family, and Classy coworkers to donate to his fundraising page in lieu of birthday gifts.
Before he joined Classy in San Diego, Brad lived in Chicago. "It's amazing to see friends and family back home giving to my page, even though they are 2,000 miles away, because they are so supportive of me," he said.
After working with Watts of Love, a nonprofit that provides solar-powered lights to help lift people out of poverty, Classy staffer Jeff Strnad wanted to get involved. He had been training for his first half-marathon and saw a great fundraising opportunity.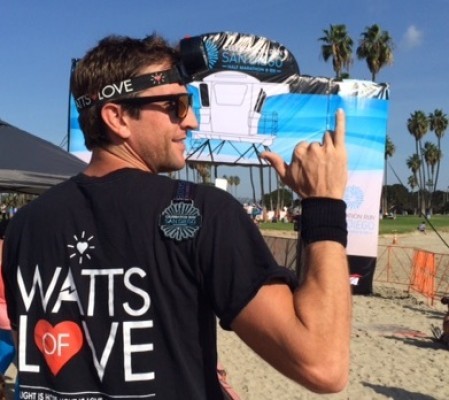 Jeff ran his half-marathon and raised over $1,000 for Watts of Love. And he's not the only one to get involved after working with a nonprofit.
Account Executive Tyler Johnson became a supporter of Classy client March Mullets, who fundraises for mental health services. "Like many illnesses, prevention and early diagnoses of mental health diseases increase the chance of survival and a happy healthy life. My family has been touched by mental health and that is why I chose to fundraise," he said.
After telling coworkers Carolina Houston and Rachel Muhlstein how the nonprofit was using bad haircuts to raise money for mental health services at the San Diego Center for Children, the trio formed a Classy fundraising team.

The Classy family has grown by leaps and bounds in the past year, more than tripling in staff size. One of the most exciting results is that there is nearly always someone in the office fundraising for their favorite cause.
At Classy, we want to be a driving force for social good, and that's why we don't just sell our product and move on. We work with nonprofits to help them raise more money and increase their impact. Whether it's serving on the board of nonprofit organizations, hosting email workshop webinars, or volunteering our time, we want to lead the sector by modeling how anyone can get involved and make a difference.
Subscribe to the Classy Blog
Get the latest fundraising tips, trends, and ideas in your inbox.
Thank you for subscribing
You signed up for emails from Classy
The email you subscribed is