Creating a Year-Round Fundraising Community: 5 Webinar Takeaways
Reading Time:
4
minutes
Fundraising for a nonprofit is a big job, but even if your organization doesn't have the budget for more development associates, you don't have to go it alone. Creating a year-round fundraising community empowers your donors and supporters to spread your mission far and wide. We recently hosted a webinar explaining how a fundraising community can help nonprofits of all sizes reach beyond their network and break through the barriers of a traditional fundraising model.
If you missed the webinar, we've compiled 5 key insights below and a link to the full video at the bottom of the page. You can also Tweet us questions and comments, right here.
Any questions about creating a #fundraising #community? Ask away! #CLASSYEdu

— StayClassy (@stayclassysd) February 20, 2014
1. A fundraising community diversifies and evens out your revenue
The traditional nonprofit fundraising model creates a very uneven stream of revenue. As you can see below, donations spike at a few points in the year, but the rest of the time, the organization can only rely on their base of recurring donations.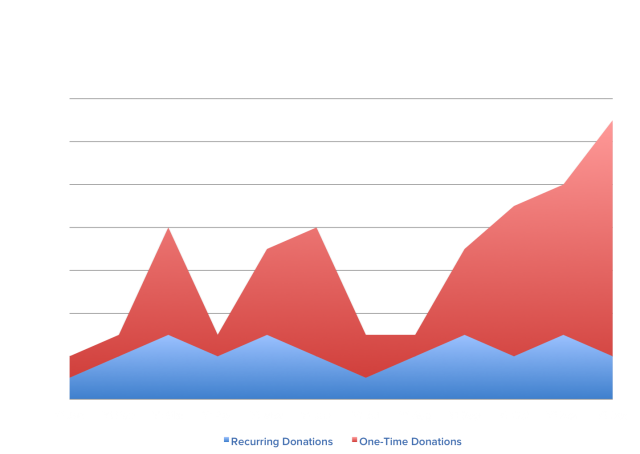 This creates a "feast or famine" mentality that makes it difficult to budget and plan future programs. But with a year-round fundraising community, you are receiving donations throughout the year.
You may only have one or two big fundraising campaigns for the year, but a fundraising community allows your supporters to create their own campaigns for birthdays and milestones. And because the fundraisers reach out to their own network, you can reach far more people than you would with a traditional, single-tier system. By empowering your supporters to fundraise outside of your own events and campaigns, you can always have some kind of campaign going, but reach new donors every time.
2. Create marketing synergy by uniting programs and fundraising
Fundraising and Programs are natural allies. Fundraising provides financial support for programs and programs produce the stories and impact that fundraisers need to reach donors. This is becoming more and more apparent with the shift in marketing strategy.Both for-profit businesses and nonprofits are tapping into permission-based marketing, which offers content like blogs, newsletters, and social media to persuade the audience to engage with their brand. For nonprofit organizations, programs will be the biggest source of content for your inbound marketing materials.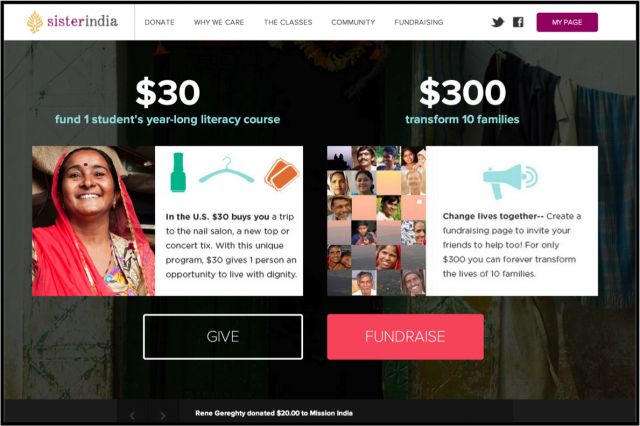 Sister India does a great job of uniting their impact and their fundraising image. By matching a donation with the good it will do, they are not just asking for money, they are giving people the opportunity to make a difference as a collective effort.
3. ASK for what you need, SHOW what you have done
One of the great things about a year-round fundraising community is that it allows people to help in more than one way. This is important because you need people to participate to build a community. Make your calls to action vibrant and visible on your page. And don't be afraid to display a few calls to action, part of a fundraising community is letting people choose how to help.
Showing people how they can help is key, but to keep a fundraising community motivated and growing, it is important to show progress. Seeing what your organization has accomplished already builds trust and makes people want to be a part of your winning team. For a great example, check out Liberty in North Korea's website.
4. You CAN reach Millennials
Another advantage to creating a year-round fundraising community is that it appeals to the tech-savvy and independent-minded millennials. Here are a few ways you can use your fundraising community to engage the donors of the future.
Show us the enemy – Millennials respond to having a clear, tangible adversary – be it hunger, illiteracy, or Malaria. The advancement of web design has made it easier than ever to portray your cause in a compelling light. You can show photos of the devastation caused by a natural disaster or upload a video of your program's impact. Showing millennials exactly what they are up against motivates them to attack the problem.
Let us define our involvement – The next step in mobilizing the millennials is to allow us to take charge of our own involvement. This makes a year-round fundraising community a perfect fit. By offering us the opportunity to launch our own campaigns and set our own goals, nonprofits make fundraisers feel more directly involved.
Celebrate progress – If your goal was to play in the NFL, you would still celebrate winning your high school championship or making a college team. The same idea applies to a charitable cause. It may be many years before it is possible to eradicate HIV, but along the way we can celebrate medical breakthroughs and increased survival rates. Because a fundraising community has campaigns going year-round, there are many beginnings and endings for your supporters to celebrate.
5. Optimize your site for engagement
In creating a fundraising community, you give your fundraisers the power and responsibility to contribute to your cause. But you still want to make it easy for them to help. Optimizing your site's functionality is an ongoing process of experimentation and refinement.
When you are first building an online fundraising community, try to think from the point-of-view of your user. How will they navigate your site? Begin by sketching out the structure of your website.
Displaying a couple of clear calls-to-action on your landing page is a must. From there you can use simple A/B testing to determine which CTAs and which pages lead to more conversions. Don't forget to make your online community mobile-friendly! Surveys have shown that up to 61% of people will leave a site if it is not mobile-friendly.
Our webinar has actionable details of what was covered here and many more aspects of year-round fundraising communities. If you want to learn more or start building your own fundraising community, you can watch the whole presentation below.

---
Ready to start your fundraising community?
---
Image Credit:
CalsidyRose
Subscribe to the Classy Blog
Get the latest fundraising tips, trends, and ideas in your inbox.
Thank you for subscribing
You signed up for emails from Classy
The email you subscribed is