Get to Know a StayClassy Staffer: Marshall Champions Customer Success
Reading Time:
5
minutes
Marshall Peden is the Director of Customer Success at Classy. After working in defense contracting for 10 years, he co-founded Classy. He worked in the Sales Department before transitioning into his current role, which he's held for two years. Having grown up in the Equality state (Wyoming), Marshall is an avid outdoorsman, hopes to one day grow a respectable mustache, and is a huge fan of wolves, owls, meerkats, and his 3-month-old son, Max.
*Note: Marshall was proudly wearing a wolf t-shirt during this interview.
Can you give us some insight into how you got involved with Classy… Did you start working in Customer Success or was that something you transitioned into?
My journey here at Classy is unique. I am one the founders but I didn't work here full time for the first four years that Classy was in existence. I was just chipping in whenever I could, until I joined full time a little over two years ago in April.
So no, I did not start working in Customer Success. My path is different, but the thing I love about working here, which I think rings true for most people who have been here a few years, is everybody's willingness to fill in where the help is needed. For example, I was hired into a sales role, but wasn't in that role for a long period of time.
What was it like working here before the team really started to expand?
A lot of us had to be really flexible and agile – to be able to go when and where the work demanded us. Especially, back in the day before we had a dedicated CLASSY Awards team, everyone just kind of chipped in. The willingness of everyone to be flexible and help others out when it's not their expertise has been a hallmark of our company culture and continues to be today.
I think this is intriguing to incoming employees too – just because you are hired into a certain role, if your skills set or desires start to point you towards being successful in a different role, you are never going to be pigeon holed into the role the you were hired for in the first place.
You just got back from attending the Customer Success Summit, in San Francisco. Why was this an important conference for you to attend? And have you attended the conference before?
It was my first year attending the Customer Success Summit, hosted by Totango. It was really important for us to attend because we have been in the process of structuring a more defined customer success program. The Summit validated a lot of the processes we have in place and the processes that we are working on implementing. It was great to hear that we are on the right track in terms of what we are seeing across the industry.
There was also a big emphasis throughout the Summit on the difference between customer service and customer success. In a nutshell, customer service is reactive and customer success is proactive. It's really nice to see this designation and how different organizations and industries approach those necessary functions in the business setting.
Is this idea of proactive vs. reactive customer service the so-called "new model" of customer success that businesses and organizations are adopting?
Yes, exactly. Back in the 1990s customer service was more of a line item in any businesses' budget, which everyone tried to minimize.
The standard was to try and minimize the amount of customer interaction and customer management because it was too costly.
Today, people are recognizing the importance of engaging, nurturing and interacting with their customers for a multitude of reasons, one being word of mouth referrals. SaaS companies, like us, realize that if our customers aren't successful we aren't successful. This is one of the reasons why a new model of customer success has evolved.
What were the key takeaways that you can see yourself applying here at Classy?
Primary takeaway is the need to find some metric to measure how our clients move through the customer lifecycle. From a discovery in sales, through a fully on-boarded and successful client maximizing the tools of the platform. We need to map out the different stages of that life cycle and pinpoint the metrics that reveal how and when they graduate from one piece of the life cycle to the next.
Who were some of the thought leaders at the Customer Summit that really stood out to you?
My favorite speaker at the conference was definitely Kerry Bodine, who gave a presentation on the customer experience ecosystem. Through an incredible analogy that revisited the benefits of reintroducing wolves to the Yellowstone National Park ecosystem, Kerry cited the need for a new approach to customer success management. This approach takes into account the effects of every interaction a customer has with any employee, how those interactions affect the customer's overall experience, and how meaningful improvements to that experience can be made and implemented moving forward my mapping out that entire experience.
Customer empathy was another key component of her presentation, stating the importance of customer onboarding and including empathy as a key component in the process, and with all ecosystem players. She also elaborated on that point, asserting that we must appeal to the three H's: Hands (the doing), Head (cognitive), and Heart (empathy).
Perhaps my favorite part of her talk, however, was that Customer Success should be a company-wide priority, and that the CEO needs to provide political air cover for the customer experience players as customer success will get into everyone's role and responsibilities. Some great sound bites from that portion of the talk: 81% of customers are willing to pay more for a better customer experience, great customer experience = great company performance, it's not business-to-business or business-to-consumer anymore; it's all about people.
You mentioned when you got back from the Customer Success Summit that it was the first time you had spent the night away from your son Max. Can you tell me what that was like?
It was really tough leaving him. I hadn't left him since he was born in December… But I did get 7 hours of uninterrupted sleep, which was really nice.

What's the biggest challenge of balancing work life with a newborn?
The toughest part is walking out the door everyday and knowing that I am not going to get to see him again for another 8 or 9 hours. The good thing about this job is that it is flexible at times – I have been able to work from home a few days here or there when we're having some difficult times with Max. He was also born right before Christmas, so I was able to spend more time at home. Besides, my wife is an all-star.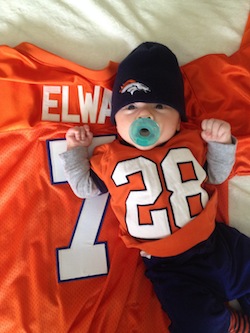 I also try to make a concerted effort to leave work at the office, but still periodically check in under the guise of looking at Instagram. I'm fortunate, however, in that our development team has built such a great product, which makes after-hours firefighting relatively uncommon.
Is there anything else you want to share about yourself? Hobbies, interests etc?
Well, I used to have a lot more hobbies before my son was born, but basically anything out doors. I was born and raised in Wyoming so I was really into hiking, hunting and fishing. Those have always been big pieces of my life. Obviously, in San Diego there are not as many opportunities to hunt, but I still do like to get out and hike up around the Cleveland National Forest.
I tried surfing for awhile and realized I was terrible at it. I play a little golf here and there, but anytime I can get outside is a good day. I'm hoping to pass that along to my son as well, only he falls asleep every time we are outside…so hopefully he will get more satisfaction out of it in the future.
A Nonprofit's Guide to Customer Service
Subscribe to the Classy Blog
Get the latest fundraising tips, trends, and ideas in your inbox.
Thank you for subscribing
You signed up for emails from Classy