How Broadway Cares/Equity Fights AIDS Brings in Half a Million with P2P Fundraising
Reading Time:
4
minutes
HIV is the leading infectious cause of death in the world. In the United States, more than 1.2 million people live with HIV and nearly 1 in 8 (12.8 percent) are not aware of their infection. While effective treatment can control the HIV virus, there is still no known cure and many do not have access to necessary care and treatment.
In 1992 Broadway Cares and Equity Fights AIDS, two organizations founded in 1988 in response to this crisis, joined forces in the fight against HIV/AIDS. Unlike many direct service nonprofits, they operate as a grant awarding organization and fundraise year long to provide funding to other direct service organizations. Their grants are divided among more than 450 AIDS and family service organizations in all 50 states, and the Actor's Fund, an organization providing valuable social services to anyone in the entertainment industry.
To meet their fundraising goals, BC/EFA uses the talents and resources of the theatre community to put on signature shows. While their overall fundraising strategy is events focused, they also employ a diversified mix of other fundraising methods. They run several smaller initiatives throughout the year and are also supported by affiliate organizations, nationwide fundraisers, an online merchandise store, and a growing pool of recurring donors. When physical events are a large component of your fundraising strategy, there is a concern of reaching a plateau and facing stalled growth. BC/EFA rose to this challenge and became an early adopter of peer-to-peer fundraising in 1999. Through leveraging the networks and competitive nature of their volunteers, they've managed to expand the impact of their enormously successful events even further by becoming experts at peer-to-peer fundraising.
A Case of Healthy Competition
Broadway Bares is one of BC/EFA's most successful and loved events of the year. With the introduction of the Stripathon, the peer-to-peer component of their event, BC/EFA has found a creative way to engage the volunteers for their event even further. The chance to perform as a dancer for the Broadway Bares Burlesque show is a coveted opportunity. Despite the nearly 200 spots to fill, the casting process is very competitive. The show is not only a way for dancers to show how much they care about the cause, it's also a great opportunity for them as a performers. To promote the peer-to-peer element of the event, past personal fundraising success has become a criteria for being cast in the show. In this way, the peer-to-peer fundraising element of Broadway Bares has grown into one of the single largest components of fundraising for the event and brings in about one third of the total money raised. BC/EFA has used the Classy platform for their personal fundraising pages since March 2014, and the Stripathon saw a 35 percent increase over last year, a record for the Stripathon. Overall, Broadway Bares raised 1.6 million dollars, with $591,663 of that coming from the Stripathon.

Branded Personal Fundraising Pages
Each year, the Broadway Bares show and the Stripathon take on a new theme. Classy's customizable features allows BC/EFA to design creative fundraising pages year after year with new, exciting messaging. From a marketing perspective, it's important that these rebranding efforts are reflected in the donation process and that the messaging is consistent for the user throughout the entire event experience.
The experience of the fundraiser is also very important to BC/EFA. They want their fundraisers to feel empowered by a tool that is easy to use. For dancers returning to fundraise year after year, BC/EFA needed a tool that would make this process simple. With the ability to log in with Facebook and customize their individual pages, fundraisers are able to make the pages their own and quickly turn their focus to raising as much money as possible.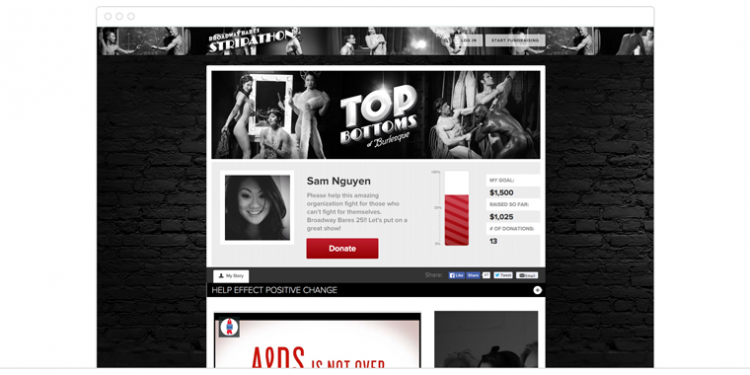 According to Marketing Manager Lane Beauchamp, "We evolved to Classy as we recognized the need to really find a lead niche product that is super easy for the folks participating in the fundraising and super easy for folks looking to donate, that would also allow us to layer in a level of creativity…we have to make it look and feel incredibly special."
BC/EFA is dedicated to consistent, creative messaging and making the donation process as simple and special as possible. This dedication plays a large role in their fundraising success and is in part why they are able to award millions of dollars in grants every year.
---
Learn more about BC/EFA and the power of P2P fundraising
---
Subscribe to the Classy Blog
Get the latest fundraising tips, trends, and ideas in your inbox.
Thank you for subscribing
You signed up for emails from Classy
The email you subscribed is