How to Get Supporters to Donate Birthdays to Your Cause
How do you get supporters to donate birthdays to charity? charity:water did it, and you can recruit these fundraisers too. It's actually pretty easy.
Implement a year-round peer-to-peer fundraising program.
By adding a permanent fundraising option on your website, you can allow supporters to use their birthdays – athletic goals, weddings, milestones, or any other life events for that matter – as the perfect occasion to support your cause. And because your donor base will no doubt be celebrating birthdays and other life events all year round, you can create a consistent revenue stream, just from this one campaign initiative.
Sounds great! So, how do you optimize your online presence to promote your rolling p2p program, and encourage supporters to donate birthdays to charity?
In this post, we'll talk about the two main ways that you can push for this fundraising option:
• Your website
• Your email messaging
Optimizing Your Website
1. Easy Navigation to Your Fundraising Page
Just as a well crafted website can be a serious asset to your organization, a poorly crafted one can be a huge limitation. If donors are having a difficult time navigating your website, chances are they can't find out how to get involved with your organization, donate or start a fundraising page.
You might have a "Donate Your Birthday" option available, but it won't do you much good if your supporters can't find it. Make it clear to visitors that you have a rolling p2p program in place, and then make it as quick and easy as possible for them to get involved.
Take Keep A Breast's website as an example. The navigation from the homepage to the fundraising section is intuitive and easy. In fact, their drop-down menu explicitly lists the option to donate birthdays to charity, allowing supporters to land on a fundraising registration page in just one click.
Place your p2p fundraising call-to-action prominently on your homepage's top navigation and make sure it's a direct link to the fundraising registration page. If you want supporters to donate their personal life events to your cause, it's your job to make it easy for them to find your year-round fundraising program, sign up and get started.
Here is the white-labeled Classy p2p fundraising page you land on directly after you click "Donate Your Birthday" on Keep A Breast's website:
2. Suggest the Idea
Here comes the next step to getting people to donate birthdays to charity. Once your supporters click through to your fundraising section, they will likely already have an interest in being actively involved with your organization's mission. However, they might need a few creative ideas to kickstart their personal fundraising campaigns. This chunk of space is where you can directly suggest that they donate their birthday for your cause.
Pencils of Promise's "Take Action" dropdown has a dedicated "get started" page to guide first time donors, fundraisers and site visitors. On this page, they've added a "Fundraiser Ideas" section to encourage donating a life-event for their organizations. I love the copy here too, especially for the birthday option – "Use YOUR favorite day of the year to change the lives of children eager to learn." This creates both personal recognition of the fundraiser's sacrifice as well as the direct value of fundraising for the organization.
Also note how each of the calls to action are bold, clear, and backed up with helpful graphics and include unique, compelling copy that demonstrates fundraisers' impact. Consider these elements as you use your own fundraising section to motivate supporters to donate birthdays to charity and to a worthy cause.
3. Build a Visible Community of Birthday Donors
When supporters decide to donate birthdays to charity, they've committed to turn a celebration of themselves into a celebration of your cause. This deep level of engagement becomes strengthened when supporters see that others are just as equally invested in the mission. Show that you've built a larger peer-to-peer fundraising community that is regularly dedicating birthdays and life events to your cause. Placing social proof on your landing pages and fundraising sections can encourage a prospective fundraiser to join all the other supporters who have already pledged their birthdays!
On top of devoting an entire page to birthday fundraisers, charity:water lists the number of people who have already committed their birthdays directly onto the form. Check out how they showcase the people who donated birthdays to charity.
You can also share personal stories of successful fundraisers to make the feeling of community even more tangible. Liberty in North Korea shows photos of current supporters on their website, along with a short description of their campaign and link to their personal fundraising page. Whether it's an interactive display, video testimonial, or real-time feed, showcasing the faces and personal stories of your fundraising effort – including those who are donating their birthdays – can increase the perception of your social proof and encourage others to do the same.
Email a Reminder
Email Them an Early Happy Birthday
So you've added rolling p2p as a clear and permanent fixture to your website. Your online fundraising process is smooth and simple, and your calls to action are eye-catching and compelling. You even have a distinct "Donate Your Birthday" button. But there's still another proactive step you can take to encourage supporters to donate birthdays to charity…
Implement your most effective online marketing tactic: e-mail. When a supporter's birthday rolls around, you can send them a message asking them to donate their big day and raise money for your programs.
Take this awesome example from Liberty in North Korea. They sent this email a month before a donor's birthday, making sure they stay top of mind when that donor starts thinking about what to do for their birthday.
You're likely already capturing birthday information from donors and by using a fundraising software like Classy that can seamlessly integrate with a CRM like Salesforce, your organization will be empowered to create compelling, personalized campaigns that encourage donors to become fundraisers.
Leverage software with email marketing tools, such as HubSpot, ConstantContact, or MailChimp to deliver targeted birthday e-mails to your fundraisers. Tailoring your communications in this way will make them more impactful for your donors, as well as help generate high returns for your organization.
Include a Specific Ask
Who doesn't like being wished a happy birthday? When your supporter opens your email, they will feel valued that you reached out to them in such a personalized and meaningful way. But remember that this, in its truest nature, is a fundraising email. That means you have to ask for something.
In your copy, frame your ask as an opportunity, rather than a solicitation. (In the case above, consider the #LifeChangingBirthday hashtag and, below, "an individual can be brought to safety and freedom."). Ask your supporters to give their friends and family an opportunity to invoke change with their birthday gifts. At the end of your message, present a clear call to action that lets the reader know what they can do next.
LiNK's motivating ask is clear both through the copy and their call-to-action button. There's no question about the next step the reader should take. Note that the button also states the explicit action they want the supporter to do – to create a birthday campaign – rather than simply to "click here."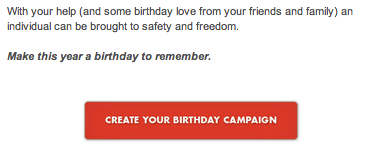 If your nonprofit hasn't already implemented a rolling p2p program, it might be a good time to consider doing so. When your fundraisers can turn their birthdays and life events into a fundraising opportunity for your organization, you get the chance to strengthen a year-round fundraising community and build a balanced stream of monthly revenue. If you're looking to encourage more supporters to donate birthdays to charity, we hope these tips will put you on the right path!
---
Image Credit: Omer Wazir
Creating a Year-Round P2P Fundraising Machine
Subscribe to the Classy Blog
Get the latest fundraising tips, trends, and ideas in your inbox.
Thank you for subscribing
You signed up for emails from Classy