I'll let you in on a little secret. Despite working in marketing, I'm not too crazy about SEO (search engine optimization). The intricacies of becoming discoverable online has forced us to think much more about how a machine, rather than a human, is reading our content. (Apparently, I'm not alone in this sentiment).
However, if you've read more than one blog post on marketing then you know SEO is absolutely necessary for people to find your brand through Google, Bing and other search engines. And despite its importance, SEO can seem like a big and scary beast that you don't want to tackle. Where do you start? Aren't there a lot of technical questions to be answered? URL and site architecture to think about?
It's true, there are a lot of very technical components to consider when thinking about ranking well on search engines, but the most recent trend has been to not reward those that are trying to get ranked solely through technical details like meta titles, links or guest blogging. I.e: Google has declared, "We're getting smarter – don't try to trick us if you're not serving our customers good, valuable content."
Search engines want to serve up the most relevant results to their customers, so they're constantly altering the way they rank sites. In fact, there are entire blogs and websites dedicated to following SEO trends and reporting on them, which means you could potentially study and implement best practices endlessly.
You want your organization to be easily discoverable, but you probably don't want to (or have the timeto) spend every hour of your day search engine optimizing. This post will help you identify a few key SEO strategies for nonprofits that you can implement in under thirty minutes to improve your standing with Google and other search engines.
1a. Natural Keyword Research
This is a first step in considering SEO for nonprofits. While there are tons of tools to help you determine keywords, the research can often take hours, and is usually an ongoing process.
I imagine you use Google (or Bing or Yahoo) daily, from finding the nearest bakery to news articles about your cause sector. As Niel Patel, co-founder of Kissmetrics, has written, "Every search is a lesson in SEO. Every search engine results page is a lesson in SEO." He recommends you ask three key questions as you look at the results from your search query:
1. What did I search for?
2. Now what do I see?
3. What does this mean for search?
Based on your answers you can determine how you might want to structure the content you publish, based on what you've learned from the results. You can determine what search query (combination of keywords) yielded the most relevant, valuable results and what attributes of the top results allowed them to rank that way.
Two of the biggest takeaways from this exercise reveal:
Popular sites rank well.
Not-so-popular sites with lots of content rank well. Which leads me to point 1b…
1b. Create GOOD, relevant content
All of this keyword brainstorming is for not if you fail to produce great content – a cornerstone of SEO for nonprofits. This passage from LinkBird sums it up best:


With every major action Google is taking, it's telling us to stop using tricks and loopholes to get a better ranking; instead focus on creating amazing content and engage with your audience in a genuine way. Then your goals, your customer's goals and Google's goals are aligned perfectly.
You can improve your authority and increase traffic by consistently posting shareable, valuable, relevant content about:
News in your cause sector
Your partnerships
Data, reports or white papers
Compelling stories about your constituents
Your organization's culture, financials and management
Your latest fundraising efforts
2. Optimize Your Post
Now that you know what you should post about to improve your rank, you can optimize your awesome content in a couple minutes or less. This is a very easy checklist, created by Salesforce, to help you hit the most important attributes for quick SEO of your content.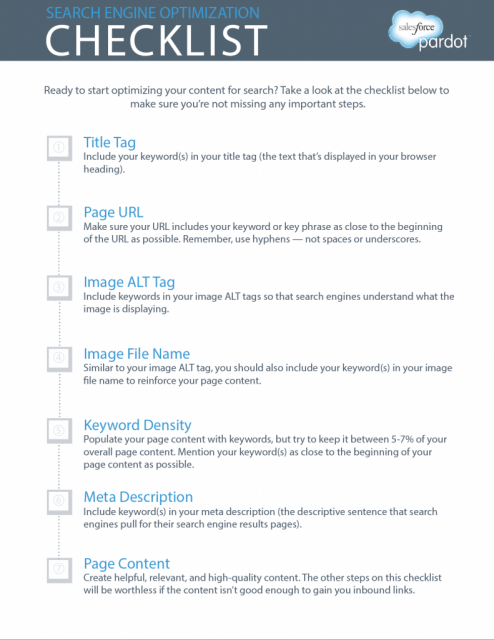 These very simple technical details make it a lot easier for search engines to crawl your content, understand what your post is about and then serve up the most relevant results to someone using their search service.
TIP: If you use WordPress, you can try the Yoast Plugin to ensure your content checks out before you hit publish.
3. Use Google+
Google's social network, Google+, doesn't necessarily have the same social traction and chatter as Facebook or Twitter, but it's actually a very relevant platform that organizations should pay attention too. (Remember that not all social channels are created equal and, oftentimes, there isn't simply a "best" platform overall but rather the best platform for a particular purpose).
Google+ relies on how many circles you belong to and how many followers you have to improve how your organization appears in search results; posting, alone, on Google+ does not improve your search engine ranking. Make sure you're connecting with thought leaders, other nonprofit organizations, relevant authoritative figures in your sector, news outlets and staff. The more you build out your interconnected web on Google+, the better chance you have that another person connected to someone in your network will encounter your organization's content in search results.
Here are what a few experts had to say about Google+ influence on SEO:
---
@DavidAmerland: G+ connections play key part in serendipitous discovery in search.
@MarkTraphagen: Yes! Google "Google+ page analytics" for example. Has been ranked for 2+ years now. First line of post is treated by Google like title meta tag (include keywords there). Personalized search big factor in G+ SEO. Peeps who circle you will see your content elevated in their searches. You build profile authority on G+ by who engages with you the most. Surprising to many: follower count alone is low correlation to search authority from G+ Relationships count!
@TannerPetroff: I've seen Google Plus pages ranking for all sorts of stuff. Authorship markup is huge for SERPs, too.
---
A note on authorship:
Authorship has recently changed at Google. It's unclear how they'll utilize authorship tags in the future, but for now the small profile picture registered authors have enjoyed on search engine results pages will be removed.
Search Engine Land, a leading SEO news site recommends the following:
"So my take would be that even if what many see as the top benefit of using Authorship now (their face photo next to search results) is gone, using Authorship still has its advantages, and it may be wise to continue as a long-term investment toward Google's coming author rank."
There Are Other Search Engines Too

Sometimes it feels like a shocker given how much it is talked about, but Google isn't the only search engine! In fact, Yahoo's monthly unique visits are nearly on par with Google's (and sometimes accounts for slightly more traffic), and while engines like Bing, AOL, and Ask trail behind in traffic they still get good engagement from users.
Remember that search engine optimization is part practice, part formulaic know-how but also a whole lot of educated guesswork.
Algorithms change rapidly, and even when you are on top of SEO trends for nonprofits nearly daily, there is always something new to learn, tweak or try out. You don't have to be all or nothing about SEO to improve how people find your organization through search, so don't be afraid to try out whatever your can. Always, and above all, tell the stories that you know matter to those who are interested in your cause.

---
Top SEO blogs and learning resources