The Technology That's Flipping Education Upside Down
Reading Time:
4
minutes
This post considers the impact of technology on the education sector, and is written by Akansh Murthy, a former Classy Awards Fellow. The Fellowship program gives those interested in social entrepreneurial endeavors a chance to engage with top leaders and innovators from around the world. Fellows work with the Collaborative + Classy Awards team to gain expertise in their sector and then apply their newfound knowledge, unique perspective, and creativity as a voting member of the Leadership Council. Former Classy Awards Fellows were asked to write about emerging trends and important problems happening in their cause sector. As young social entrepreneurs, their insight offers a fresh perspective on important topics.
Technology is rapidly evolving and its influence on traditional sectors has become increasingly more evident and important. Within education, teachers and administrators are now tasked with integrating technology into the classroom. This is exemplified by the rise of the tablet. A tablet is essentially a more portable computer that replaces keyboard and mouse inputs with a touchscreen. Because of their portability, and this more interactive format, tablets have a unique ability to drive engagement.
One would be inclined to believe that this trend is seen only in the Western countries with access to such technology. There's no denying that. For instance, recently in Los Angeles, a school district appropriated $50 million to provide 30,000 students with iPads. More and more schools in the United States are shifting towards electronics in the classroom. As of 2012, approximately 2,000 school districts throughout the country were using electronic devices to improve education.
But the fascinating aspect of the tablet trend is that it is global. One Laptop per Child (OLPC) is an organization doing great things by providing children in Africa with tablet devices in areas where teachers are a scarcity. Aakash, the world's cheapest tablet produced by a company in India, provides an educational environment for students to explore educational apps, such as programming games, in a manner that can be easily adopted by many. This model of inexpensive deployment is especially important in developing countries since the bottleneck is really the affordability.
The impact of tablets in underprivileged areas is much higher since the devices provide access to information that teachers can only dream of. Learning through online courses, electronic encyclopedias, and dynamic content from world organizations are but a few types of accessible information. This is the only time in history in which students can have so much actionable knowledge at their fingertips due to technological advancements.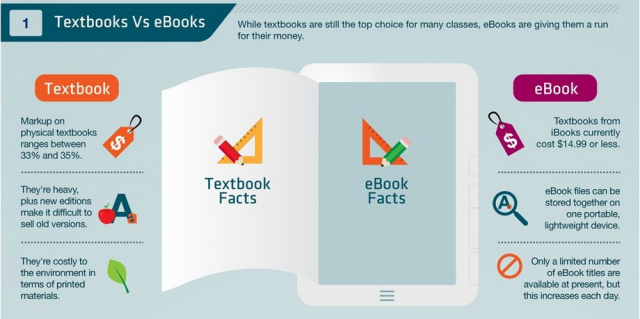 One of the main drivers for this tablet trend is the sheer economics of delivering education through electronic means as opposed to paper means.
Tablets can hold hundreds of books with no change in weight. A 4GB tablet can hold 3,500 e-books; a similar number of books would weigh 2 tons. And, e-books for tablets cost much less than print textbooks.
Secondly, studies have shown that students who use digital versions of textbooks score about 20 percent higher than students who used print textbooks. Studies by the US Department of Education indicate that students who use technology like tablets can reduce the time required to learn a concept by up to 80 percent.
The third biggest driver is the connectivity and accessibility of technology. In the past few years, there has been an explosion in the number of educational apps on app stores, users who can connect and collaborate online, and cross-platform learning tools. As of result of advancing technology, the price of tablet devices has also become very affordable for school districts.
There are two types of leaders pioneering this trend: corporations and academia.
Companies such as Apple are forging the way in fueling this trend and the reasons are apparent. Apple has been stressing the educational capabilities of the iPad, such as quick presentation creations, education gaming apps, information search capabilities, and video-based lecturing; not coincidentally, education spending on hardware was about $20 billion in 2010. Microsoft and others are following suit with their own tablets.
"Apple has got the world's biggest education sales force, they have a great device and they have a long history in education," said Tyler Bosmeny, the CEO of Clever Inc., an education software company.
Many schools and states are leading the way in adopting tablets as the new classroom necessity. Jeff Mao, a policy director for learning, is part of the statewide initiative in Maine that provides tablet and computerized devices to its public high school students.
"The iPads have created excitement about learning algebra, which indicates that students are more engaged in the classroom and that will equate to higher achievement," stated Susan Bedi, a spokeswoman from a California school district.
"Once these tablets get into the $200 to $300 range we are going to see a real aggressive uptake in the K-12 market," said Vineet Madan, a senior vice president at McGraw-Hill Cos. (MHP) education unit.
In the classroom, teachers are using tablet-based apps to gamify concepts so that students can compete and learn at the same time. Lessons are recorded and stored so that they can be watched again and again by the students in class and at home. The list of such innovations goes on and on. Are these signs from the teachers themselves that they are pushing for "tabletization" of education?
Still some controversy exists on the distractions tablets can pose to the learning environment and the consequences of dependence on electronics. As much as the opinions of leaders of the corporate and academic worlds tout tablets as positive disruptors in the field of education, there are a handful of teachers and thought leaders who believe that tablets are a distraction from learning since students can get sidetracked from their original tasks, especially with the Internet.
In addition, technology removes human-to-human interaction as a primary emphasis and people believe that this fundamental shift is contributing to communication problems as well as social ignorance.
To maximize the benefits of tablet-based education and minimize the drawbacks of distraction, there needs to exist a sweet equilibrium, which will include regulation or restriction. Controlled access to specific applications while still allowing for a certain freedom will allow students to gain information rapidly while not harboring ill will towards the tools of their education. A sweet equilibrium is certainly attainable—it's simply a matter of personalizing the parameters to fit the context of each educational situation.
Akansh Murthy is a web developer for healthcare and education technology, as well as a 2014 Fellow.
---
Photo Credit:
One Laptop per Child
The Guide to Millennial Giving
Subscribe to the Classy Blog
Get the latest fundraising tips, trends, and ideas in your inbox.
Thank you for subscribing
You signed up for emails from Classy