Part I: What is Google Plus?
When Google+ was first launched in June of 2011, it wasn't well received by all marketing professionals. David Meerman Scott, an online marketing strategist, said it best in a blog he wrote shortly after it was released, "I really want to hate Google Plus, because the last thing I need is a new social network." Scott had a good point, who wants to worry about another social platform?
Today, Google+ has over 250 million users and its growth rate is 33% per year. In 2013, The Business Insider reported that Google+ is on track to overtake Twitter as the world's second largest social media site.
Let's face the facts. Google+ is a powerful platform that cannot be ignored. Just like any business, nonprofits need to take advantage of Google+'s features and use it to increase the reach of their cause. Here is a list of 4 Google+ features and an explanation on how to effectively use them to optimize your Google+ page.
Part II: Plus Mentions & Hashtags Increase Engagement
Some people question the importance of tagging on social channels. With all the chatter going on, it's easy to miss notification and some networks, like Facebook, don't always send notifications to page owners. Thankfully Google+ users do not need to worry about that happening. Tagging will extend the reach of your post and it will also notify the user you are "+" ing in your post. This increases the likelihood that other people will plus and share your content.
Make sure that you are also using appropriate hashtags to reach your target audience. Like Twitter, users can search topics and conversations via hashtags. To get your nonprofit's content in front of more people, I suggest creating a standardized set of hashtags that your nonprofit uses when it publishes content – you can even create a specific campaign around your posts. These hashtags make your nonprofit more discoverable and will drive more people to the content on your website.
Check out UNICEF's Google+ Page. They effectively use hashtags to target their audience based on their work in certain areas and campaigns.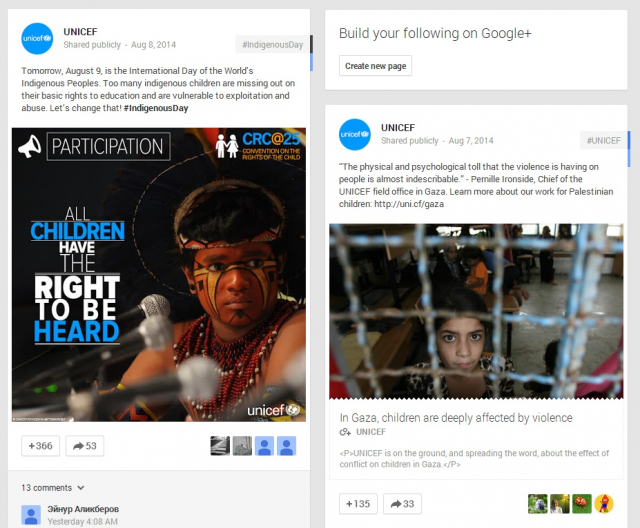 Part III: Actively Participate in Communities
Google+ Communities are a great place to do some solid relationship marketing. Like LinkedIn Groups, Google+ Communities are open to like-minded peers and a place to share industry specific news or ask questions. There are a number of nonprofit communities with active discussions that are worth taking the time to skim through and be a part of. I recommend: