3 Amazing Nonprofit Cycling Fundraiser Events
When was the last time you biked across the country? For most of us, the answer is probably never.
However, there are a few incredible cycling events that set out on this trek in the name of philanthropy. On par with the traditional run/walk, the cycling event has been a classic fundraising idea for nonprofit organizations. Some organizations take it to the next level by stretching the course across the country.
Due to their sheer distance and physical demands, cross-country cycling events challenge supporters to really step up for the causes they're passionate about. So how can you engage participants and increase your ride's chances of success?
Here, we take a look at three recent cross-country rides and how they engaged their supporters, along with takeaways from each to try in your next cycling event (whether it's local or cross-country).
1400 Mile Bike Ride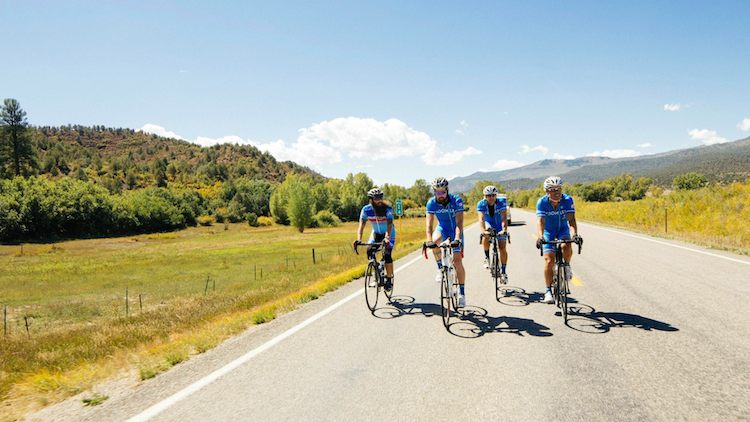 On the heels of National Prostate Cancer Awareness Month, the second annual 1400 Miles "Big Ride" spurred cyclists across the country from September 25th to October 8th to fight prostate cancer. Supporters participated in a 1,400-mile bike journey from Austin, Texas, to Denver, Colorado, to raise funds and awareness for prostate health. All the funds will be split between Pints for Prostates and the Prostate Conditions Education Council.
Since its launch, creator Davis Trucker's vision for the event has been to make the difficult conversation surrounding prostate health more comfortable. Bikes and beers were the resounding answer – so 1400 Miles partnered with breweries to perk up bike rides and fundraising events along the way. In fact, the Big Ride culminated at the Great American Beer Festival!
A 1,400 mile-ride is quite the challenging feat. Participants could participate in the entire ride, or they could break down their journey into a series of 5 legs. Each leg required teams to fundraise $2,800 per person. Depending on their fundraising results, teams could send a different member to complete each stretch.
Along the route, community rides and parties continued the rally around the cause. Community ride participants chose among a range of mile options, and they could either pay a flat registration fee or fundraise (with an upfront personal donation) to enter. Fundraisers were also offered additional incentives for raising more than the minimum, including jerseys, cycling kits and pint glasses. All tickets included entry to a follow-up party.
While the Big Ride missed its lofty $300,000 goal, the event engaged a community of passionate supporters and raised $43,380 for prostate cancer awareness and education.
The Takeaway:
Fundraise to enter each leg of the race: Asking people to raise a certain amount to enter your race is an excellent way to raise funds and engage supporters. If your race covers a lot of ground, you can stretch these benefits by applying a fundraising requirement to multiple parts of your event.
Instead of requiring a one-sum minimum to participate in the entire ride, break your race into a series of legs, and ask each person to fundraise a certain amount to enter each leg. This can break up a large fundraising goal into more tangible, achievable benchmarks. It can also engage your dedicated fundraisers to a whole new level, motivating them to hit each goal in order to complete your cross-country challenge.
The Free Wheel Foundation – The RIDE 430 Challenge
Powered by the Free Wheel Foundation, an organization that supports veterans and the families of injured and fallen heroes, the RIDE 430 challenge is a four-day, 430-mile journey that raises hope and support for our nation's injured military service people and their families.
From October 8th through the 11th, cyclists trekked through the steep mountains of northern Arizona, covering over 100 miles each day. Their physical strength was only matched by their fundraising prowess; every participant was asked to fundraise, and the average rider raised more than $6,600 by the end of the campaign. Altogether, supporters smashed the event's initial goal of $350,000, raising more than $440,000 for the extremely worthy cause!
Bridging the Gap Between Survivor and Supporter
The event raises money to support veterans and their families, but it also enables injured military heroes to participate in the challenge. This year, Airman Ryan Pinney, who is paralyzed from the waist down, participated in his first 430-mile journey on a hand cycle – a resource funded by the RIDE 430 Challenge. By providing adaptive sports equipment to injured veterans, the foundation empowers the very people it serves to take part in the ride, demonstrating the real, tangible results of its work.
The Takeaway:
Bridge the gap between your event and the people you serve: Sharing the stories of people you serve connects supporters to your cause on a deeper, emotional level. Intensify this emotional impact by finding a way to involve your beneficiaries in your actual event and connect them directly with your supporters.
While not every organization will be able to provide adaptive sports equipment for participants, there are still creative alternatives that can involve the people you serve and break the physical limitations of a typical bicycling event. Here are a few ideas on how to bring your beneficiaries along for the ride:
Create a "Virtual Riders" option (à la the ravis Manion Foundation's 9/11 Heroes Run) and highlight honorary participants and their stories
Complete the route in a vehicle carrying the beneficiary
Share a personal message from a beneficiary before the race, thanking supporters and participants
The Pablove Foundation – Pablove Across America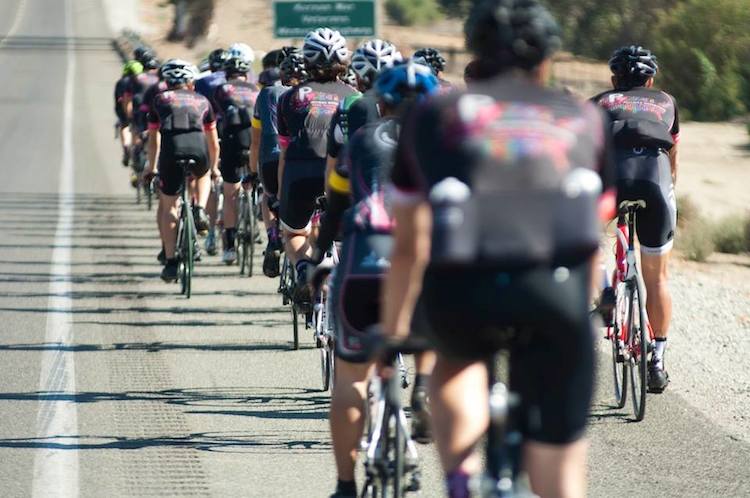 Our third cross-country ride comes from the Pablove Foundation, an organization dedicated to funding innovative pediatric cancer research, educating and empowering families affected by cancer, and improving the lives of children living with cancer through art programs. From October 17th to the 23rd, the foundation's sixth annual Pablove Across America ride took cyclists on a week-long journey from Austin to New Orleans to fight childhood cancer.
Year after year, the ride attracts both first-time participants and professional cyclists because it offers a professional-grade experience that supports a worthy cause. Throughout the course, professional mechanics and soigneurs provide all riders a training plan, roadside support and assistance, individual coaching, massages, hotel accommodations, and wholesome meals.
To earn one of the 40 coveted spots on the ride, each participant must raise a minimum of $7,000. Riders who opt for one of the 7 one-day rides are also asked to raise at least $1,000. Although Pablove Across America hasn't reached its $250,000 goal yet, the ride is still ramping up and has passed its halfway benchmark with an impressive $135,638.
The Takeaway:
Provide on-bike support and sustenance: You are asking cyclists to embark on a long, potentially multi-state course. Incentivize their participation by offering roadside support along the way. You might not be able to commission professional soigneurs for the entire ride, but there are other affordable ways to offer on-bike sustenance, enhance riders' experience, and provide support for your hardworking participants. For instance, you can:
Develop an instruction pamphlet with training tips and rules
Provide water and light meals or snacks during rest steps
Create maps and route markings for easy navigation
Offer an extra supply of spare parts or tools for bike maintenance
Recruit amateur cyclists and hobbyists to volunteer!
Whether you're planning a multi-mile course or cross-country journey, we hope these topnotch examples have inspired your event planning and ideas. In either case, don't be afraid to go the extra mile to engage your fundraising community. You might be surprised at how passionately they respond to your call!
Plan a Charity Run/Walk Like a Pro
Subscribe to the Classy Blog
Get the latest fundraising tips, trends, and ideas in your inbox.
Thank you for subscribing
You signed up for emails from Classy