Crowdfunding for Nonprofits: Nothing New
Crowdfunding has undoubtedly become an indispensable part of modern fundraising. Increasingly, development professionals are grappling with the same question: how do I make crowdfunding work for my nonprofit?
As we've mentioned before, the practice is not a particularly novel idea. Championed for years by politicians, nonprofit organizations and neighborhood bake sales, the pooling of money from a crowd is a tried, tested and validated means of successfully raising dollars for a cause.
However, it almost goes without saying that the Internet has wildly changed the way we can leverage crowdfunding for nonprofit organizations. Not only has the practice itself evolved into a stronger, version of its offline self, the Internet has also lent crowdfunding some superhero attributes that make it an incredibly attractive and productive, albeit somewhat mysterious, means of raising money.
And yet, as anyone who has watched a superhero movie or read any of the great Epics will know, even the most valiant and superhuman of characters have a ruinous weakness. So, what is the Achilles heel of crowdfunding for nonprofits? And how can your organization champion this weakness for success?
The Achilles Heel of Crowdfunding for Nonprofits: Expectations
We sometimes talk about the Internet as a realm of newly minted innovation, but in practice it has more often served as a medium for simplifying tasks that already existed in our daily lives – a set of ultra-convenient versions of those tasks we'd found so tedious in previous decades. We continue to write letters, but now they're delivered instantly. Instead of waiting in line at the bank, we deposit a check through a wireless hotspot. And so on.
Crowdfunding online is a similar manifestation of an otherwise very slow, inconvenient and difficult task: raising capital.
And although crowdfunding simplifies the physical aspect of fundraising, like eliminating the need to walk door to door selling candy bars for the school fundraiser, it doesn't mean publishing a fundraising page online allows you to sit back and watch money roll in.
Crowdfunding has become a tremendous way to fund products, companies and philanthropic efforts. But while it has equalized access to cash and thus leveled the playing field for almost innumerable, otherwise marginalized parties, it remains (almost) as misunderstood as a teenager's mood swings. A few isolated instances of massive success on crowdfunding platforms like Kickstarter, Indiegogo and even StayClassy seem to have shrouded the hard work it takes to run a successful campaign.
Nonprofit crowdfunding is really just an extension of an established fundraising model. Managing expectations around what crowdfunding can provide for your organization, as well as the work it takes to get there, will be a huge part of achieving campaign success(es).
Crowdfunding for Nonprofits Rule #1: Find the Right Crowd
One of the largest parts of managing the expectations around running a crowdfunding campaign for your nonprofit organization is pinpointing whom you'll engage in the process. Crowdfunding relies on a large number of (mainly) small contributions for success.
The famously successful campaigns you may have heard about gained momentum by appealing to either a very mainstream crowd or to an extremely defined niche (take, for example, the Pebble smart watch versus the Oculus virtual reality gaming platform). This means a campaign was able to spread through the sheer size of its audience or rapidly and widely within tightknit communities. (Not to mention they derive increased incentive to participate because you receive a product in exchange for backing the campaign. A donor to a nonprofit's crowdfunding campaign does not see a tangible, personal return on a contribution).
Remember that supporting a cause is a very personal decision and it might not be as impulsive as purchasing a product that looks cutting edge and cool. As an organization, achieving mass appeal can take years of well thought out marketing campaigns, engagement strategies and planning. You might find more success in identifying a smaller number of cause evangelists that will use the trust within their personal networks to spread the word about your campaign.
Identifying and engaging this key group of supporters before, or at least early on in, your campaign will help you avoid stalling out midway towards your goal. It will also provide the social proof necessary to gain the critical mass that will tip you towards success.
Crowdfunding for Nonprofits Rule #2: Choose the Right Platform
While the success of your campaign can rely on the platform you choose, it might not be for the reason you expect. Your crowdfunding platform should match your needs as an organization rather. It is unrealistic to expect a platform alone to drive traffic to your campaign.
A platform doesn't act as a prime piece of online real estate. A campaign's success is driven by the people behind it, powered by its supporters and steered by its fundraising and marketing strategy.
It's estimated that nearly a third of the 5.1 billion dollar crowdfunding market belongs to cause-related campaigns. That means there are a lot of options when it comes to choosing the right platform. Focus on the features that will help your team reach success: brand customization, peer-to-peer fundraising, and the platform's overall ease of use for your staff.
While people might browse Kickstarter or Indiegogo for the newest techie toy, the case is rarely true of nonprofit causes. Don't worry so much about whether or not people will stumble upon your campaign and be motivated to take action – that's taking a big risk. It's better to go with a platform you personally feel good about and trust and then take the time to create great content, stories, a strong social media presence and wrangle cause evangelists.
Crowdfunding for Nonprofits Rule #3: Empower Your Supporters
"Empower" can feel over used, but it really does hold weight when it comes to fundraising. There is no better catalyst for action than feeling you have all the resources, know-how and energy to take action on a cause that's really important to you.
Empower your supporters with the resources they'll need to feel confident sharing your cause with peers. Send supporters and e-mail subscribers a fundraising tips sheet, your organization's story, and Facebook banners or profile pictures so they can own the cause.
Get Started: Customizable Fundraising Tips Packet
Invest time into crafting messaging and images for supporters. You'll gain a more educated group of cause advocates. Not to mention, you will be reminding donors of the very reasons they supported your organization in the first place.
You can utilize the power of imagery and messaging to compel potential fundraisers and donors to take action immediately. Take this great example  from Action Against Hunger. They ask supporters to join an exclusive group of fundraisers, whose work will then fund meals for children in need; children like Mariam, Sham and Ousmane.
Crowdfunding for Nonprofits Rule #4: Try Peer-to-Peer Fundraising
With the right time and focus, any nonprofit can utilize peer-to-peer fundraising to expand reach. Peer-to-peer fundraising allows a supporter to own a cause and to reach out to their network in more personalized ways. On average, an individual fundraiser brings in around $568 and introduces 7 new supporters to an organization. While this does take planning, time, and effort, peer-to-peer fundraising can drive fantastic return on investment.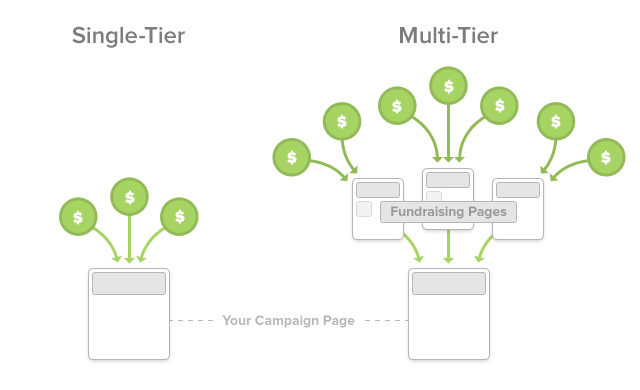 With peer-to-peer fundraising, you open opportunities to acquire new supporters through a fundraiser's networks.
Read Next: Why It's a Great Idea to Start a Year-Round Fundraising Team
Crowdfunding for Nonprofits Rule #5: You Might Fail
So far this crowdfunding thing has been a lot of work. You've had to:
Identify and recruit particular groups of people to support your cause
Find the right fundraising platform for your organization
Create resources to empower your crowd
Learn all about (an manage) peer-to-peer fundraising
And after all this, you still might fail to reach your fundraising goal. But that's no reason to give up! The wonderful thing about crowdfunding for nonprofits online is that it is experimentation's ultimate playground. Traditional fundraising campaigns are extremely rigid, but crowdfunding provides you infinite flexibility. Through the campaign, you can adjust deadlines, messaging, e-mail marketing, imagery and everything in between. Even if you don't meet a fundraising goal the first time you try, take the learning experience as a win. Your next campaign will be even better.
To better understand crowdfunding features and all the components to be utilized, download this guide:
The Anatomy of a Successful Crowdfunding Campaign
Take time to plan, be strategic and thoughtful. Most of all, don't give up or under-appreciate your supporters. When you nurture the relationships you build, campaign-upon-campaign, you'll start to see a movement grow.
---