How to Run a Giving Tuesday War Room to Crush Your Goals
Reading Time:
4
minutes
To get ready for Giving Tuesday, you and your team have invested a lot of time and energy into making the day a success.
But when the clock strikes midnight and Giving Tuesday begins in earnest, you need a plan in place to take you across the finish line. A Giving Tuesday war room, or common area for in-the-moment strategy development, is a perfect way to support your plan and ensure every item is executed effectively. Goals aside, it can also serve as a great bonding experience for your team as you work together to drive success.
Here are eight steps to consider as you prepare your war room for action.
1. Assemble Your Team
To save time coordinating back and forth during the hectic day, assemble key team players in one central area. For example, if your organization has a large conference room, you might secure it for the entire day and ask representatives from involved departments to work from your "war room" for the day instead of at their desks.
2. Consider Logistics
Decide where you'll run your war room and gather tangible items you'll need for smooth sailing.
Consider the following ahead of time:
What time will you all convene?
What will everyone do for meals?
Will you work late that night?
Who is responsible for set up and clean up?
What will you need to be productive?

(Laptops, monitors, whiteboards, pens, notepads?)
3. Assign Responsibilities
After you have an idea of who is available to help out and what the room will look like, revisit your campaign goals and determine how to best divvy up responsibilities. Some areas to consider include:
Who will post live on social media throughout the day?
Who will create any last-minute design assets needed for day-of social posts?
Who will man the phones?
Who will support donor inquiries on email?
Who will set up the room? Who will clean up?
Who will keep the room informed of your campaign's progress?
Who is the room's leader? Who will approve last-minute strategy decisions if needed?
Giving Tuesday Social Media Templates
28 free templates to engage your social networks
Get Started
4. Write Out a Schedule
To organize your day, it can help to map out your hour-by-hour expectations. Write it on a large whiteboard or poster paper on the wall to keep everyone easily informed. For every hour, note key initiatives that are taking place like:
Ask that team members do what they can to clear their schedule for the day well ahead of time. This way, everyone can be fully present on the day and the task at hand.
5. Involve Your Leadership
As always, you'll want to get buy-in for this type of endeavor from appropriate parties. But in addition to a stamp of approval, consider fun ways you might involve your leadership teams to boost excitement and convey to your larger staff just how important days like Giving Tuesday really are.
Statements made to your larger group, or entire staff from leadership in support of the activities are one way to demonstrate buy-in and provide an energy boost. In the same vein, you might post a message on social media from a C-suite member.
You could also ask your C-suite and board members to get in the trenches with you on this special day. Have your CEO respond to donor inquiries, your board members answer the phones, your C-level executives posting on your organization's channels—this all-hands-on-deck type of service and teamwork send a message to your staff and supporters that Giving Tuesday is special and a key part of your annual strategy.
A Nonprofit's Guide to Customer Service
Create an A+ donor experience
Download Now
6. Keep Energy High
To keep up everyone's spirits you're going to need ways to boost the room's energy.
We at Classy recommend sticking to the four main food groups: candy, candy canes, candy corn, and syrup.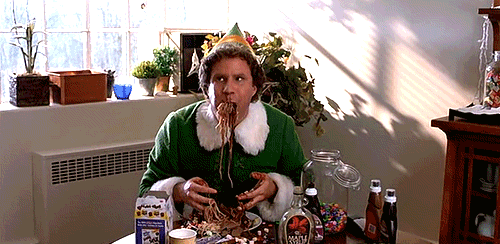 Source: giphy.com 
But in all seriousness, things like caffeine and healthy (and not so healthy…) snacks can go a long way when it comes to keeping spirits high.
Additional ideas to inject some fun into the process include creating a holiday playlist to play in the background, and projecting your campaign on the big screen to heighten the minute-by-minute roll in of donations.
7. Document the Experience
It's not just every day you hold a war room to support your mission. Document the experience throughout the day to show your community the behind-the-scenes action. Share photos, short video clips, and descriptive text to highlight particularly exciting or special moments.
Content like this is a great way to show your audience the extra care you're taking to make the day a success. The information you gather as a group will also help inform social media posts and email messaging that share just how close you are to achieving your goal.
8. Engage Your Entire Staff
Not every single staff member will touch Giving Tuesday-related tasks on the day. While they might not be in the thick of it, you can provide means for your larger staff to feel involved. Here are a few ideas for encouraging a little fun:
Decorate the office for Giving Tuesday
Provide an organization-wide breakfast or coffee
Engage staff with a fun competition, like a wager on exactly how much money you'll raise, or how many donations you'll secure
Stay up-to-the minute on Giving Tuesday to drive results. Bookmark Classy's Giving Tuesday hub below and use the data to keep your team and audience informed and excited as the giving ramps up.
Visit the Giving Tuesday Resource Center
Subscribe to the Classy Blog
Get the latest fundraising tips, trends, and ideas in your inbox.
Thank you for subscribing
You signed up for emails from Classy
The email you subscribed is