It's Time to Plan Your Best #GivingTuesday Ever: Here's How
Reading Time:
4
minutes
With six months left until December, nonprofit organizations are about to begin planning their holiday fundraising campaigns. One day of holiday giving should particularly catch their attention: #GivingTuesday. Since launching in 2012, #GivingTuesday has become a national philanthropic movement. Last year, donors gave 90% more than they did in 2012. Additionally, the average gift size increased by 40%, spiking from $101.60 in 2012, to $142.05 in 2013.
#GivingTuesday has become an important part of the giving season, and organizations should plan ahead of time to capitalize on this tidal wave, end-of-year opportunity. To help you get started, here are several pointers to jump-start your #GivingTuesday campaign.
For more Giving Tuesday tips check out our Giving Tuesday Resource Library by clicking the link below:
1. Start Reaching Out Now
While donations will likely be streaming in on #GivingTuesday, you're best off reaching out to supporters before the actual event. Reaching out to supporters early can make a huge difference in the number of contributions you'll receive day-of. In 2012, World Concern promoted their campaign early and raised $17,500 in the weeks leading up to #GivingTuesday!
Directly soliciting donors can help bring in contributions, but you can make the absolute most of #GivingTuesday by treating your efforts as a micro peer-to-peer campaign. Turn your loyal donors into fundraisers to dramatically increase donations and expand your network. While you're still months ahead, devise a schedule for reaching out to your core advocates, including your most involved volunteers, donors, staff members, and social media evangelists. Thank them for their support, and invite them to partner with you in kicking off the giving season with your #GivingTuesday campaign. By asking them to create fundraising pages this early into the holiday season, you are communicating that they are an important part of your community and end-of-year fundraising efforts.
2. Plan Your Communication Strategy
Now's the time to think about not just when, but how you will be marketing your #GivingTuesday initiative. Decide which communication channels will be most effective in reaching donors, and create a strategy to promote your campaign and distribute resources.
Last year, Loaves & Fishes Community Pantry optimized their chances of success by planning their communication strategy three months ahead of time. The organization implemented early campaign promotions through social media posts, e-mail appeals, and phone calls. By the end of #GivingTuesday, they had blown their $25,000 goal out of the water and raised $97,148.
Prepare your messaging and assets now. Think about how you will leverage different social networks, newsletters, phone calls, blog posts, and e-mails. When will you publicize your campaign on social media, and on which platforms? When will you send fundraising emails? Will you be calling supporters, and if so, how many and by when? Having a backlog of content to utilize during particular milestones leading up to #GivingTuesday will help define the campaign's success.
And remember: get creative with how you communicate with donors! There are a number of different resources and social channels you can use to engage supporters beyond a one-time message. For instance, Mashable, in partnership with Google+, hosted a 12-hour "Hangout-a-thon" on #GivingTuesday 2013, during which various guests and celebrities discussed a wide range of causes and encouraged people to get involved. Viewers had the option to donate directly to nonprofits during the Google+ Hangout.
Whether it's a Hangout, interactive Tweet Chat, or an additional custom hashtag for your #GivingTuesday campaign, consider how you can implement different social tools to increase engagement with your supporters.
3. Prepare Your Content
As mentioned in the previous section, start creating content for your #GivingTuesday campaign now. You'll want to distribute these assets both on #GivingTuesday and in the days leading up to it. Create assets that will enhance your social media outreach, like Facebook and Twitter cover photos and shareable posts like images, videos or infographics.
And make sure that these resources aren't just available to your organization. Distribute content to your fundraisers so they can both more effectively spread the word about your campaign and achieve individual fundraising success. These tools can include #GivingTuesday e-mail templates, sample social media posts and tweets, design resources for personal fundraising pages, and (as always) shareable images.
Visual content is especially handy to have ready in the pipeline. Because graphics are easily sharable and digestible, they are great tools to generate social shares and drive engagement. In the time leading up to the big event, create and distribute photos, short videos, and graphics that connect the charitable spirit of #GivingTuesday to your worthwhile cause.
Take Heifer International's infographic as an example. It inspires people to give by weighing Black Friday consumption statistics against their philanthropic value for #GivingTuesday.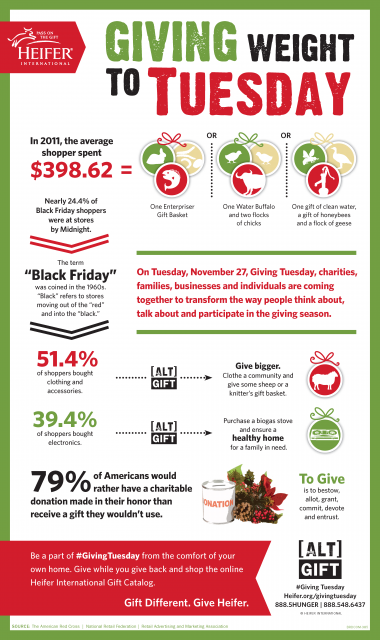 4. Find Matching Partners and Sponsors
Because it has become a national movement, #GivingTuesday gives nonprofits the perfect opportunity to find sponsors who are willing to match donations. A donation-matching period creates a sense of urgency that motivates supporters to get involved, and donors and fundraisers love to see that they will be able to double their impact.
In 2012, Panthera, a nonprofit dedicated to wild cat conservation, partnered with Recanati Kaplan Foundation, who agreed to match all gifts made to the organization on #GivingTuesday. Through social media blasts and emails, Panthera informed their supporters of the matching gift before and during the event. 450 individual donors answered the call by giving more than $300,000. All of these contributions were matched, resulting in an impressive $600,000 turnout. The cherry on top? 40% of the donors were first-time givers to the organization.
Six months out is a great time to begin seeking out matching donors and sponsors that align with your brand, and who will help excite your supporters for #GivingTuesday. Consider pitching your #GivingTuesday campaign to private foundations, local businesses, or even major donors. This opportunity allows everyone – the sponsor, your donors, and your fundraisers – to stretch their contributions, increase their impact, and get excited about giving to a worthy cause.
When it comes to the holiday season, it's never too early to prepare your campaigns for success. Kick off the peak giving season with a stellar #GivingTuesday campaign, so you can hit the ground running into the rest of your end-of-year opportunities!
---
Image Credit:
WestPhillyLocal.com
The Guide to #GivingTuesday for All Nonprofits Big and Small
Subscribe to the Classy Blog
Get the latest fundraising tips, trends, and ideas in your inbox.
Thank you for subscribing
You signed up for emails from Classy