Key Sessions and Speakers at the Largest Social Innovation Summit
We were privileged to have some amazing speakers and sessions at the 2016 Collaborative. This social innovation summit was a gathering of some 1,000 of the world's most inspiring and accomplished social sector professionals and culminated in the Classy Awards, a ceremony which recognizes programs for their excellence in social innovation.
The attendees and speakers of the Collaborative came together to gain a fresh perspective and newfound energy to tackle the world's most challenging social problems. Enough to whet your palate?
Here's a taste of the experience offered at the Collaborative.
Keynotes
This year at the Collaborative, we mixed up our approach to the typical keynote speech by featuring a small group of speakers who spoke around a shared topic. These TED talk-style speeches were designed to inform, inspire, and keep you engaged.
Keynotes covered topics such as The Future of Funding and What Does Social Innovation Look Like Today?
Specifically, The Future of Funding addressed the emerging finance trends that empower social impact organizations to solve problems. Speakers included:
Panel Sessions
Panel sessions gathered experts in the field for tactical and exploratory conversations on a wide range of topics. Here are just a few of the diverse subjects we dove into at this social innovation summit:
Why Some Stories Make Headlines and Others Fall Flat
Exposure can expand your impact. In this discussion, experts explained how entrepreneurs and nonprofit professionals can attract coverage and generate buzz in the media.
Social Impact Design
How can your organization design with the people you serve in mind? This session showcased how empathetic design-thinking can lead to more effective solutions.
Proven Leadership Strategies to Tackle Social Problems
From passion to transformational leadership to collaboration, this panel broke down the strategies that mobilize social organizations.
How Boston Built a Global Epicenter for Social Entrepreneurship
We brought local leaders together to learn how Boston fostered a community of social problem solvers to become the world's leading innovation hub. Subtopics included the role of the government, entrepreneurs, funders, academia, and more.
New Trends in Educational Excellence
We explored how specialized curriculum, customized learning experiences, and increased accessibility measures are advancing education.
Product Showcases
Attendees of the Collaborative also had an opportunity to view demonstrations of new technology and products that are pushing the space forward. These intimate displays allowed anyone to ask questions and have a discussion with the presenter and any fellow onlookers.
Examples of product showcases include,
charity: water's water pump sensor innovation
Air Sheperd's technology and its impact on poaching
How Greenwave is rebuilding ocean farms
Apopo's tuberculosis-detecting rats
Field Ready's 3D printed humanitarian equipment
The Lab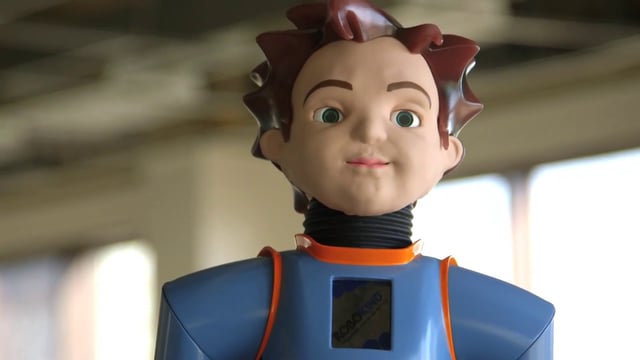 The lab physically displayed some of the latest and greatest innovations in the social space for attendees' discovery and perusal. This museum-style display let people come and go as they pleased to interact with and learn from the exhibits.
In the lab, we featured things like:
E-Nable's 3-D printing of prosthetic limbs
RoboKind's robots for autism
Mobile ODT's smart phones for cervical cancer detection
Mobile Stethoscope's mobile medical tools
Bamboo Bikes's energy efficient bike
Breakout Sessions
These sessions were especially instructional and informational, giving you the nitty-gritty how-to details you need to implement certain strategies.
Among others, we hosted a breakout session with consultant Jeff Shuck on Passion as a Strategy.
This session discussed how passion serves as a necessary driving force behind progress in the social impact space and how organizations can use their hearts, and not just their heads, to activate their teams.
Networking
"As a social entrepreneur, I am most excited about meeting other people that are dedicating every single day of their lives to addressing what they think to be the most important social problem they can address. I think a lot of us can focus on only one issue but when brought together with other entrepreneurs it elevates people's perspective about what's possible. It builds connections for relationships but also enables us to amplify our collective impact."

– Leadership Council Member, Ben Rattray, Change.org
There's purpose behind the name—the Collaborative is all about taking advantage of a chance to come together and connect. In order to "amplify our collective impact," it's essential to join forces to share and discuss best practices and the different perspectives that power success.
Luckily, sessions comprised about 60 percent of the Collaborative schedule, with the remaining 40 percent dedicated to networking events—giving everyone ample time to interact with fellow attendees. With extended lunches, happy hours, and a reasonable schedule that allowed time for real engagement, this event granted a unique chance to develop meaningful connections across the social impact space.
The Classy Awards
After three days of sessions and networking opportunities, this social innovation summit culminated in the prestigious Classy Awards Ceremony. This premier ceremony publicly acknowledged the Classy Awards Winners for the first time and announced them live onstage (only after they walk the red carpet and step-and-repeat, of course).
With compelling videos and an after-party to celebrate the Finalists and Winner's achievements, this feature event was full of additional networking opportunities.
The Collaborative was intentionally designed to put amazing actors from the social sector in the same room with like-minded individuals. We hope all our attendees had as much fun as we did!
---
Subscribe to the Classy Blog
Get the latest fundraising tips, trends, and ideas in your inbox.
Thank you for subscribing
You signed up for emails from Classy