More Chances to Fundraise with Mobile Payment Processors
Have you ever lugged clunky computer equipment to a run, walk or gala? Solicited a donation at an event only for the donor to realize they didn't have their checkbook? (Wait, is anyone still carrying around a checkbook?)
Like many things before the Internet or, even, before Internet mobility, fundraising was a restricted activity that required a great deal of planning and commitment to the what, where, when, why, and how of collecting gifts. While this planning and commitment still translates into other aspects of fundraising online, nonprofits have gained a great deal of flexibility in how, when and where an organization can collect donations.
Mobile payment processors have made it possible to turn any smart device into a point of sale, and they're generally pretty affordable. The beauty of mobile is the ability to turn your device into an on-the-ground fundraising tool – an instant portal for making secure donations at whatever appropriate opportunity, whether that's at a dinner date with friends or at a large event your organization is hosting.
Take, for example, an upcoming spring run or walk. A mobile payment processor and a couple of iPads (perhaps borrowed from volunteers or your staff) allow you to simplify and streamline the payment process for day-of registration or too accept on-the-spot donations from inspired attendees.
In this post we will discuss three of the most prominent mobile payment processors: Square, PayPal Here, and Intuit GoPayment. They're all great products, but their usefulness and affordability might vary depending on how your organization plans to use them.
First, the basics of mobile payment processors
With any of the providers, mobile payment is a fairly straightforward process. You download an app, register, and then receive a card reader in the mail that plugs into the audio jack of your mobile device. After opening the app, you can enter a payment amount and swipe a credit card through the reader. The customer or donor then uses the touchscreen to sign off on the transaction.
While the platforms differ in their pricing and extra capabilities, all three platforms include the following features:
Free to get started – all the companies offer their app and a card reader at no cost.
Process debit and credit cards but can also track cash and check payments
Are Android and iOS (iPhone / iPad) compatible
Accept Visa, MasterCard, Discover, and American Express
Now, here are the details that differentiate the three platforms.
Square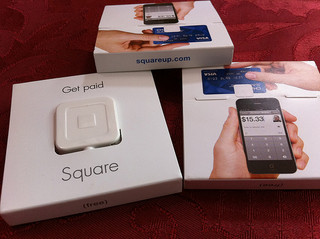 Differentiator:
Extremely straightforward, with minimal steps to start. You request a Square Reader and download their free point of service app. Enter your bank account information and you're ready to receive payment!
Pricing:
The cost for a sale with a swiped card is 2.75% of the transaction. The fee increases to 3.5% + $0.15 if the card number is keyed in rather than swiped. You only pay when you make a sale.
Payment + Refunds:
Payments are deposited directly into your bank account within 1-2 days. Users have access to their sales history. This processor would be especially helpful for a retail-based fundraiser because you can create a personalized register with your products for easy checkout. So, for example, if you set up a pop up shop with proceeds of the sale going to your nonprofit organization, this could be an easy way to track the sales and have the funds go directly to your organization's bank account.
You can refund a transaction in-full from within the app.
Bonus: Square has partnered with the Product (RED) Charity, selling a red card reader for $10. The proceeds of the sale go to The Global Fund to Fight AIDS and receipts from transactions will include a link for customers to donate directly to that cause if they choose.
PayPal Here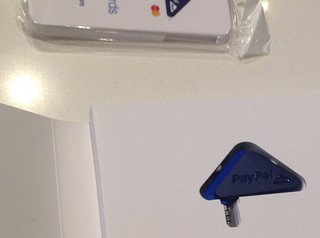 Differentiator:
What sets this processor apart is its functionality with PayPal. While it is not as simple as direct deposit into your bank, PayPal Here allows you to collect funds via PayPal. You will also show up on their app's list of businesses accepting PayPal.
Pricing:
There is a 2.70% transaction fee when you swipe a card for payment or pay with a PayPal account. Like with Square, the fee increases to 3.5% + $0.15 for a card entered manually.
Payment + Refunds:
Collect payment via a credit card or PayPal account. Deposits are made into the PayPal account registered with PayPal Here. (If you do not have a PayPal account, don't worry, you will create one as part of the application process.) Then, like any other PayPal account, you move funds from PayPal to your bank account at your convenience.
Users can refund a transaction in-full or in-part from within the app.
Intuit GoPayment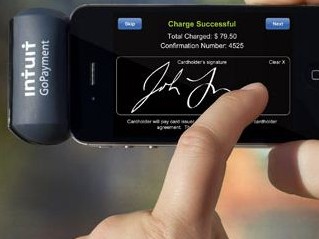 Differentiator:
Because this processor and Quickbooks are both owned by Intuit, your mobile transactions can be synced and managed within the Quickbooks accounting software. This integration is a huge plus that could save a lot of headache down the road.
GoPayment also processes transactions instantly, although their refund function may require you to leaving the app and go online (more on this below). If you plan on processing a large volume of donations through your mobile payment processor, the lower-rate/monthly fee plan could save you money.
Pricing:
GoPayment offers a choice of two plans. The first works similarly to its competitors: a 2.75% fee for swiped cards and 3.75% for a keyed-in card. The other option is to pay a monthly fee of $12.95 and the transaction fees are reduced to 1.75 and 2.75 percent, respectively.
Payment + Refunds:
Like square, payments are deposited directly in the registrant's bank account.
As far as refunds go, a transaction can be voided before 3 PM the day it is made. After 3 PM, the refund must be completed from a browser at the online Merchant Service Center.
Fundraise all the time
Adopting a mobile payment system can create more fundraising opportunities at your events or anywhere your organization is represented. Before, if a potential donor didn't have cash or their checkbook on hand, all you could do is tell them to go to your online donation page or mail in a check and hope they remembered later. With credit and debit processing on your mobile device, you make it simpler for people to give in any setting.
Classy Pay Powered by Stripe
Subscribe to the Classy Blog
Get the latest fundraising tips, trends, and ideas in your inbox.
Thank you for subscribing
You signed up for emails from Classy