Using Your Nonprofit Blog to Power Your Fundraising
Reading Time:
4
minutes
A nonprofit blog can bring a variety of benefits to your organization. In addition to helping attract new visitors from search engines, a blog filled with quality content can turn into a powerful magnet to draw existing supporters back to your website. It makes sense that if you are regularly putting out interesting articles, supporters will come back and visit your site more often.
And as supporters consume your blog content they will naturally feel more informed and connected to your organization. Eventually, your nonprofit blog can turn into a valuable communication channel for sharing relevant information and deepening relationships with supporters.
Take this example from Team Rubicon:
As you can see, the Team Rubicon crew uses their blog to keep supporters informed of their latest disaster relief missions, helping everyone stay up to date. Of course this example isn't actually of a blog post per se, but it still gets the idea across. The blog is being used as a communication channel to keep supporters connected to the organization's work. In fact, highlighting the Facebook post rather than the actual blog helps to illustrate another important point…
Because a blog is passive by nature (you aren't really broadcasting it out to anyone when you publish something) you need to rely on other communication channels to lead people back to it (especially at first). By leveraging social media and email to share your posts you can direct existing supporters back to your blog so they can read your articles. With time, many of your supporters will get into the habit of regularly coming back to check your blog.
As you continue distributing links back to your blog through email newsletters and social media you will build up a group of regular readers. And if you are paying attention to the appropriate search engine optimization fundamentals, you will also begin to bring in additional readers from search engines. With consistent posting, you can expect to gradually grow the number of visitors you are bringing into your nonprofit blog each month.
The really great thing about building traffic back to your blog is that it gives you a chance to motivate people to take further action on your behalf. Each time someone comes back to your website to read an article, you have another chance to engage them with your mission. And this is where your nonprofit blog intersects directly with your online fundraising strategy.
Blogging & Year Round Fundraising
We've said it before, but it bears repeating– the most forward-thinking nonprofits are using peer-to-peer as a year-round option that they add to their websites. By creating a permanent fixture on your website where supporters can easily create a fundraising page, you free people up to fundraise around the events in their lives that matter most to them. Birthdays, anniversaries, holidays, sporting events, and other milestones are instantly transformed into opportunities to support your nonprofit. And when you combine this "rolling peer to peer" approach with your nonprofit blog, you've got a recipe for recruiting and engaging new fundraisers throughout the year.
By embedding calls to action to "start fundraising" at the end of your blog posts you can make sure that each time your readers are clicking through to consume your content, they are also being offered the opportunity to support your nonprofit. Of course, most people won't take you up on the opportunity at any one point, but some will. And the one's that don't will continuously be reminded that you have an open-ended option for supporters to start fundraising whenever they want. Later on, when an event comes up in their lives that they want to fundraise for (say a birthday or a road race) you will be top of mind.
Even if you only get two people each month to start fundraising from calls to action on your blog, you're still looking at a pretty good return. Our platform data from 2012 shows that the average active fundraising page brings in about $568 from 7 different donors, with 4 of those donors being new to the organization. If you can get two fundraisers per month from your blog, you will bring in over a thousand dollars and acquire eight new donors. Not too shabby!
Because a blog is such a powerful way of generating traffic back to your website over time, it makes a perfect partner for a year-round fundraising program. Your blog serves as the engine that drives people back to your website, your content enhances your connection with those people, and then your calls to action help convert those visitors into fundraisers! Take a look at the call to action immediately below this post, and the one on the top right hand part of this page. If you simply changed those to "Start Fundraising" and "Pledge Your Birthday" you'd have two great ways of activating supporters with each new blog post you put out!
---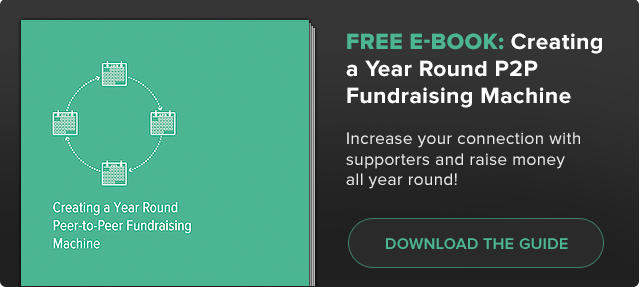 ---
Image Credit: Flickr User Timothy Tolle
Subscribe to the Classy Blog
Get the latest fundraising tips, trends, and ideas in your inbox.
Thank you for subscribing
You signed up for emails from Classy
The email you subscribed is