5 Lessons for Nonprofits from the Wild Success of a Potato Salad Kickstarter
Reading Time:
5
minutes
It was a story that swept the nation: a Kickstarter project set on making a batch of potato salad raised well over its $10 goal. Leave it to the hard-hitting Washington Post to get an interview with the project's elusive founder, Zack "Danger" Brown, and find out his motives.
He told the Post, "We will not be letting the Internet down."
It's natural to ask oneself how a seemingly regular man from Columbus, Ohio can (as of publishing this piece) raise over $70,000 – which the Post rightly acknowledges is not necessarily going towards any noble cause other than one batch of potato salad – but nonprofit organizations championing social and environmental issues daily may struggle in reaching their online fundraising goals.
Before we get all crazy with criticism, yesterday Brown appeared on "Good Morning America" and announced he planned to "do the most good" with the money he's raised. What, exactly, remains ambiguous. (Kickstarter prohibits raising funds for charity). A topic of debate has been made of whether or not collecting $70,000 for potato salad is ethically sound, but an excellent post about the phenomenon on the New Yorker's website explains why no one should care about how he spends the money: because that's "how the world works."
Regardless of your opinion about the unusual Kickstarter (and you can read literally hundreds of opinions in the project's comment section to help you decide), here are 5 takeaways nonprofit marketers can learn to achieve success in their own online campaigning.
Lesson 1: The Internet is Weird
If there is one thing I've learned growing up on the Internet, it's that there is a whole lot of weird out there. And I don't mean just creepy weird (don't go there), but really cool, awesome, surprising, unconventional weird. And those weird things get really popular!
This leads me to believe that, more often than not, people are much more open minded than we might expect; they want to discover, they want to encounter things/experiences/feelings/information that they might have never uncovered if it weren't for the World Wide Web's mind-boggling expanse.
Nonprofit organizations are working on so many amazing and interesting causes that people are just waiting to learn about and discover. Don't ever think your cause is "too obscure" to deserve wild and crazy success. That's step 1 to online campaigning success: don't put yourself in a box.
Lesson 2: Don't Take Yourself Too Seriously
Seriously, never underestimate the power of humor, sarcasm or irony online. Entire online empires, like Buzzfeed, were built on it. Some of the backers commented that their motivation to back the project was based on the fact that the ridiculousness of crowdfunding potato salad put a smile on their face. Even the most serious of topics can use a humorous twist to engage supporters.
Liberty in North Korea, an organization working to help North Koreans escape the country and find better lives elsewhere, does an incredible job of not taking themselves too seriously. Their cause is heavy, their goals lofty and their constituents stories' marred with oppression and harrow.
When it comes to campaigning, though, the organization is committed to lightheartedness and humor in a way that reverberate hopeful zeal and energize supporters' commitment to the cause. From copy to design to using funny .gifs in e-mails, they're encouraging involvement by carrying a theme of hope throughout their marketing efforts.
You don't have to be an award-winning stand up comedian to leverage this lesson – just don't take yourself too seriously, celebrate the successes of your organizations and its supporters, and recognize that people appreciate smiles in their day.
Lesson 3: Be Transparent
It didn't seem like backers had any regard for the complete illogical nature of backing someone's first foray into potato salad chefdom (or question why on earth it was accepted as a Kickstarter project anyway). Supporters cared, and appreciated, that Zack "Danger" Brown appeared honest, genuine and transparent about what he wanted to do and why.
His goal: "Basically I'm just making potato salad. I haven't decided what kind yet."
His caveat: "It might not be that good. It's my first potato salad."

While there is an onslaught of anger around the campaign – probably rightly so given people's dollars could have gone to infinitely more worthy and urgent causes – there is an obvious advantage to Brown's seemingly trite honesty.
Fundraising success is inextricably linked with establishing trust with potential donors. Visitors to your site and donation pages should feel that information about your organization is easily discoverable and should be able to see social proof that your organization is a trusted one. By featuring fundraisers, providing thorough financials and conversing with supporters regularly on social media, you'll establish that your organization is transparent, trustworthy and engaged.
To learn how to build an unbreakable circle of trust with supporters, try this post.
Lesson 4: Have Fun, Get Creative, Be You
Lessons 1-3 demonstrate that success really comes from being you. This section will be brief since its an accumulation of the previous ones, but I wanted to separate it from the rest to emphasize this idea. Personality and demonstrating personal passion go a long way in encouraging others to support your cause.
One of my favorite examples of "fun, creative, YOU" is a crew that throws an event called Desert Bus for Hope: an improv comedy troop plays the most boring game in the world, called Desert Bus, for days on end to raise money for charity.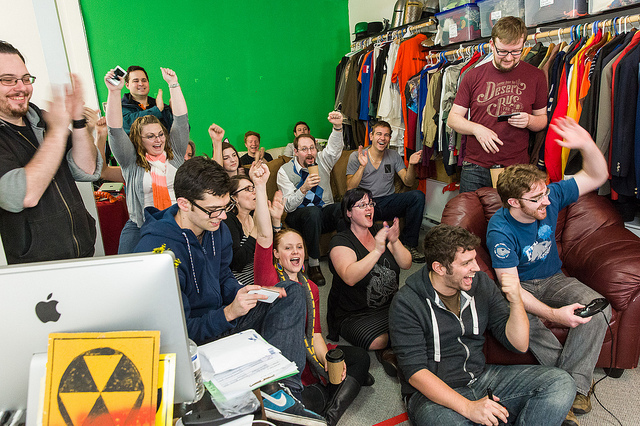 Read more about their incredible, personality-infused story, here.
Lesson 5: Causes Have It Better
Don't let this one-off potato salad success dash your enthusiasm about crowdfunding, online fundraising, the Internet or the human race. Causes are incredible because they are some of the most meaningful experiences we can be involved in – as organizations, teams or individuals.
While people do get sucked into hipster trends and part with their cold hard cash for odd reasons, there is nothing more motivating than initiating change through championing a cause you really believe in. Nonprofit organizations are the vehicles for change, and with the right communication strategies you're sure to encourage passionate people to be part of your movement.
---
Build a Strong Online Presence
---
Image Credit: Kickstarter
Subscribe to the Classy Blog
Get the latest fundraising tips, trends, and ideas in your inbox.
Thank you for subscribing
You signed up for emails from Classy
The email you subscribed is