Free Templates: Super Email Appeals for Your Next Fundraising Campaign
Crafting great email appeals for your fundraising campaigns might be much more important than you expect. Email marketing is still and extremely effective form of online marketing – it really does work. Spending time on your email messaging and content is absolutely required for running a fundraising campaign that motivates your contacts to become supporters.
Use this post to guide you through an idea 4-part email appeal series, complete with templates and best practices for before, during, and after your nonprofit fundraising campaign. (Note: In our examples, we'll be looking at a hypothetical year-end or holiday fundraising campaign, but these references can be adapted to any campaign you might run).
I: The Pre-Campaign E-Mail
The Parts, Explained:
1. Campaign Hashtag
If you haven't done so already, create a hashtag for your campaign to make your content discoverable across social networks. Include the hashtag in your email appeals, along with social share buttons, so supporters know how to follow along with your campaign, and make sure it's clearly visible in your message. Placing it at the top of the email, for example, ensures it will be one of the first things readers see after opening the email.
2. Attention-Grabbing Visual Content
Consider opening your message with visual content that brings readers face-to-face with your work and its impact. In addition to quickly capturing your reader's attention, visual media can help connect potential donors to your cause on a deeper emotional level and invoke action.
Present photos from the field to reinforce the narrative in your text, or include a short video teaser of your campaign. Because videos tap into all of a viewer's senses, they quickly create an emotional connection and can inspire further action. One marketing study found emails that included video content had 2-3 times the click-through rates than those that didn't.
3. A Direct Message
Develop a specific message that creates a deep connection with the reader. In our example, the nonprofit presented the challenge their cause addresses and introduces a particular beneficiary of their work. This is just one option to your email appeals, however. Get creative. You can also try:
A direct message from the field that demonstrates the work you accomplish on the ground
A personal note from a board or staff member about the progress you've made towards your mission this year, and what you hope to achieve in the New Year
A beneficiary's personal story that highlights your program's success
4. Potential Impact
Describe the impact that your donor's support will enable your organization to accomplish. Where will their donations go? How many people will your programs serve?
5. Quick and Easy
Encourage the reader to click through by emphasizing how quick and easy it is to take the next step, whether it's starting a fundraising campaign or making a donation.
6. Peer-to-Peer
While many nonprofits have traditionally relied on direct donation appeals for the bulk of their fundraising, consider implementing peer-to-peer fundraising in your campaign this year. While a direct donation appeal will allow you to tap into your existing supporter base, launching a peer-to-peer fundraising along with your normal fundraising efforts will enable you to reach new pools of supporters and increase contributions.
II: The Mid-Campaign Email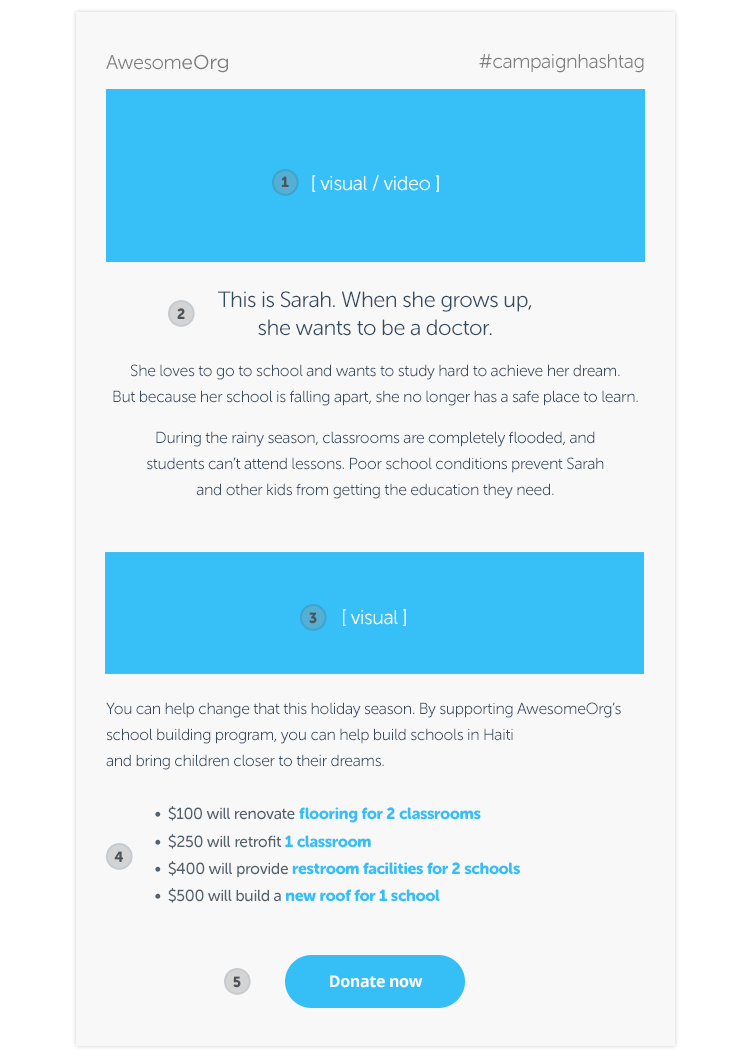 The Parts, Explained
1. Visual Content
As always, include visual content in your email appeals to strengthen your message's narrative. If you're highlighting a specific beneficiary, include the person's photograph to instantly create a personal connection with the reader and enhance the tangibility of your work, its impact and the people you serve.
2. Narrative Arc
Continue and develop the narrative arc you started in your previous email. Crafting a larger narrative framework for your email series can emotionally pull readers into your story, chapter by chapter. This example elaborates on the personal story of a specific beneficiary who was mentioned in the first email.
3. No Big Blocks of Text
With the average person's attention span maxing out at 8 seconds, you want to make sure you don't lose your reader in blocks of text. The brain processes visual information 60,000 times faster than text, so break up your copy with engaging images or video.
4. Impact, Impact, Impact
Increase supporters' excitement for your mission by highlighting the specific solutions their support will provide. Make these key points clear and easily scannable.
5. Call-to-Action
This is a fundraising email, so present a clear ask at the end of your message.
III: The Late-Campaign E-mail
The Parts, Explained
1. Last Chance
A few days (or on) December 31st, send an email as a "last chance" reminder for donors to lock down tax-deductible gifts for the year. A straightforward "last-minute" massage will fuel the urgency to make a contribution.
2. Bold Call-to-Action
Make your call-to-action concise, clear, and bold so donors know exactly how to continue to the checkout page.
IV: The Post-Campaign E-mail
The Parts, Explained
1. Campaign Results
There's a range of content ideas you can include in your follow-up thank-you campaign, but your first post-campaign email can demonstrate the total funds and impact generated during your campaign. Describe how this campaign's success will move the needle for your organization and its mission.
2. Sincere Thank-You
While your donors should have received an automated thank-you email immediately after donating, this is your chance to express genuine, heartfelt thanks to your supporters. Communicate your detailed appreciation for your donors and their direct contribution to the success of your organization.
3. Continuous Engagement
If you've included your campaign's results on your website or campaign micro-site, you can include a link to the impact page at the end of your message to drive traffic back to your site and sustain engagement.
Conclusion
Remember that your email appeals are crucial to your fundraising efforts, and it's always a great time to strategize your approach. We hope these templates and tips have gotten your mental wheels turning and ready to nail down a successful email campaign!
---
Dive Deeper with this Free Guide
Subscribe to the Classy Blog
Get the latest fundraising tips, trends, and ideas in your inbox.
Thank you for subscribing
You signed up for emails from Classy