In this day and age, people are becoming increasingly desensitized to the marketing messages they're bombarded with. Because of this general marketing fatigue, forward-thinking brands are constantly on the lookout for creative ways to keep people engaged. Thankfully, in a world where it's easy to numb out within seconds, some new social media outlets have popped up to help us marketers out.
If the title didn't tip you off already, we're talking about Vine and Instagram videos.
Vine, the 6-second video app, allows a story to unfold in either one continuous stream or in individual clips that create a stop-motion video. Released in January of this year, Vine took the throne as the #1 video-sharing application in the market only three months after its release. It still remains in the top 5 on Apple's charts today. Needless to say, it's a powerful tool that nonprofits can use as a visual storytelling device.
Instagram, the photo sharing app, also incorporated video-sharing this year in June, allowing its users to record and share videos of up to 15 seconds. The best part about these videos (besides the hip filters) is their ability to be shared and followed on a variety of social networking services, such as Facebook, Twitter, Tumblr, and Flickr. In just one click, you can open yourself up to multiple networks. This provides a direct channel for nonprofits to heighten their brand exposure while growing their audience and community.
But What Can You Do With Just a Few Seconds?
We know what you must be thinking. How can you create a lasting impression in just fifteen seconds, let alone six? Is it really possible to tell your brand's story in such a short timeframe?
Absolutely.
The short nature of these videos is actually what makes them so effective for marketing. Because of the time-constraints you are forced to get creative and only present the very best content. This is especially helpful for connecting with younger supporters who often have shorter attention spans, and who coincidentally, are also the people most likely to be found on these platforms. The shorter format forces you to catch the attention of your supporters quickly and stand out from the crowd.
Below are some tips on how to produce successful micro-videos for your cause, along with a few examples of brands (both for-profit and nonprofit) that are getting creative with their Vine and Instagram productions.
7 Creative Ways to Shoot Your Micro-Videos:
1) Storytelling
Communicate your organization's story in just six seconds. This can take multiple shapes, but one of our favorites is documenting a short "day in the life" of a client, or perhaps sharing an inside look at what happens at your nonprofit. Make your supporters feel like insiders by opening up the curtains of your organization. For nonprofits, being transparent with supporters has always been incredibly important; now you can use videos to enhance supporters' sense of access.
Burberry's video is an excellent example of this behind-the-scenes approach. To promote its next fashion show, the brand collects snippets of the models, location, and even a few pieces to really bring their audience backstage. Doesn't it instantly feel intimate?
2) Quick How-To
Try filming a short process of how to support your cause. It could be a child being embraced, someone's head being shaven to support cancer awareness, a stray animal being cleaned and fed, or a tree being planted. Give supporters an interactive how-to by capturing the process of how a follower can support your mission.
Another way nonprofits can use how-to videos is by answering frequently asked questions. In the video below, NatWest creatively answers a common FAQ in just six seconds, saving their followers precious time.
3) Show Off Your Personality
Take advantage of the stop-motion features and show off the culture of your brand. Each clip could be a different employee or part of your office, or you could take ingenuity by the horns and engineer your own creative masterpiece.
Notice how Red Vines' video instantly reveals the company's playful personality.
4) Show Direct Results
Capture the reactions and experiences of those being helped or affected by your cause. This will help you show the direct impact of your programs.
We see the impact of charity: water's efforts to install household water taps right in their video. While it used to take Sarpan Garmanga four hours to get water for her household from the nearest stream, it now takes her only 12 seconds (the duration of the video).
Tip: This is a great way to use the short format to your advantage. Notice how charity:water highlights the immediate effects of its programs by using the very brevity of the video to demonstrate its impact.
5) Promote an Upcoming Fundraising Event
Document people getting ready or strapping on their gear for your next event. This creates anticipation and can help build a sense of urgency to get involved.
Heal the Bay gives a sneak preview of its Coastal Cleanup Day, showing how it's an event that gets kids excited and involved in their community. And filming children doing anything cute will get you likes.
6) Crowdsourcing Images/Videos from Your Supporters
Get your supporters involved by having them be a part of your video! Have them submit photos or videos of their connections with your cause; they could become your next big stars.
English musician Ellie Goulding brilliantly used the Instagram platform to create the music video for her song "Anything Could Happen" in 2012. The video was a compilation of submitted Instagram photographs that used the various filters to represent lyrics from her song. Over 1,200 different photographs were submitted.
To Write Love On Her Arms often asks supporters to share images and videos on its other social media sites, and they repost these to their Instagram account, instantly expanding their audience.
7) Say Thank You to Donors
Videos also give your organization the unique opportunity to showcase its genuine appreciation. Give a personalized thank-you to your donors, and you will not only make your supporters feel appreciated, but also encourage them to remain long-time donors. We already know the value of personal follow-up, and seeing someone face to face is more intimate than even a well-written message. Beyond that, it isn't just one donor seeing this; you are sending a public message that you're all about the relationship.
Diabetes UK implements this approach to make their supporters feel special.
Hi @Crawls18 – we made you a little video… Keep it going! #thankyou http://t.co/GFjeWdfG

— Diabetes UK (@DiabetesUK) January 25, 2013
---
Have an Idea for a Fundraising Campaign?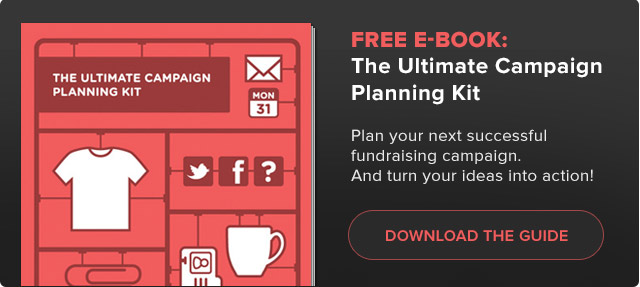 ---
Photo Credit:
Harry Thomas Photography